Jess Jocoy - Such A Long Way
Self-released
****1/2
An artist of fierce originality and charisma, Jess Jocoy is a dynamic singer and equally memorable songwriter, her soulful vocals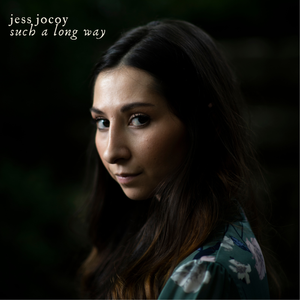 and descriptive lyrics excel on SUCH A LONG WAY, her debut full-length album. The Nashville-based singer-songwriter has indeed travelled a long way via Seattle karaoke bars, local singing competitions to Music City's Belmont University and a Bachelor of Fine Arts Degree, an office job at Rounder Records to winning the Uber Music Movers competition and self-releasing NEW HEART/OLD SOUL her 2018 debut EP. Though a little on the dark side, this album is full of hope, hence the closing song Hope (Such A Long Way), in which the haunted, halting guitars swirl around Jess's cracked, broken voice, making a hopeful hymn into a drawn-out, pained work of anguished beauty … it's just blissful, ethereal and so brutally honest.
This album isn't easy listening. It isn't supposed to be. It deals with the everyday, and the everyday is tough. You get through it though, if you are lucky. And if you are talented like Jess Jocoy, you get a brilliant record out of the misery, loneliness and heartache. Occasionally she will leave the listener in something of a quandary. Is The Ballad of Two Lovers a romantic love song or a sad admission of a relationship failure? The production of Somebody Somewhere prances in the light of country-pop and traditional undertones gently simmering in the background, with her emotive voice set against Will Kimbrough's hauntingly atmospheric guitar sound. Jess offers advice to a friend with Love Her Wild, in a no-holds-barred way as she boldly informs that genuine love demands full and total commitment with no half-measures. Like an 'agony aunt' she offers more pithy advice on She Won't Be Sad Anymore, advising a guy that it can only get better for his loved one as she recovers from a heartbreaking loss. Will Kimbrough and Juan Solorzano fashion a web of briars with their guitars, their low-key lines perfectly warped into complementary tangles, tapping a vein of cosmic country gold until the sun finally sets on a bright future.
Jess Jocoy embraces the darker, more sombre aspects of country and Americana. Filled with raw emotion, intricate guitar melodies and soulful vocals, her impassioned creations are a joy for your ears to behold. She delivers her songs of heartbreak, desire, loss and liberation as if her life depends upon it. By no means a 'light' listen, this album takes an emotional toll on you, but the weight you feel afterwards is a price worth paying.
March 2020