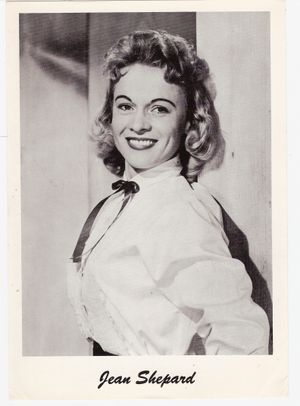 Jean Shepard, often referred to as The Grand Lady of the Grand Ole Opry, passed away on September 25, 2016 following a short illness. She enjoyed a highly successful country music career stretching back over more than 60 years and was still playing the occasional show dates and Opry appearances up until a few months before her passing. It was back in 1953 that the diminutive teenage singer made her debut on the American country charts with
A Dear John Letter
, a chart-topping duet with Ferlin Husky. She went on to score a further 45 entries on the country charts.
A bona fide honky-tonk singer, Jean Shepard was one of the first to release concept albums in country music with her ground-breaking 1956 release SONGS OF A LOVE AFFAIR. Gifted with a strong, incredibly beautiful voice, Jean emerged on the country music scene as a solo artist at a time when most female country musicians performed only as part of family acts. She was a pioneer for women in country and paved the way for more readily known country singers like Patsy Cline, Wanda Jackson, Loretta Lynn, Dottie West and Tammy Wynette.
Jean Shepard was born Ollie Imogene ('Jean') Shepard on November 21, 1933 in Paul's Valley, Oklahoma, but was raised in the San Joaquin Valley town of Visalia near Bakersfield, California. Her family of nine brothers and one sister with parents and assorted pets joined the famous Okie migration in the early 1940s, and took with them their love of country music. As a young girl, Jean listened to the Grand Ole Opry on the radio every week and saved her pennies to buy a Jimmie Rodgers record every year. In 1948 Jean and some high school friends started an all-girl western swing band called The Melody Ranch Girls. Jean sang and played the upright bass in the band.
One night while playing at Noble's Melody Ranch, Jean met Hank Thompson, who was also scheduled to perform. He asked her to play with him and later introduced her to musician Speedy West, who helped her get signed to Capitol Records in 1952.
Based in Hollywood, Capitol was beginning to build up a strong roster of country music acts. When Jean began recording for producer Ken Nelson, there was no precedent in country music for a young woman recording and touring on her own rather than as a member of a family team, couple, or as a band's token 'girl singer.' The teenager dared to sing
Twice The Lovin' In Half The Time
on her first single and would go on to have hard-country hits with songs like
Don't Fall In Love With A Married Man
,
The Root Of All Evil (Is a Man)
and
The Other Woman
—songs that presented a strong and—rare for that era—empowered female point of view, which later influenced artists including Loretta Lynn and Jeannie C. Riley.
"Years ago, you just didn't go on the road unless you were with a brother or a husband or a family, or people would just look down their noses at you," Jean said a few years ago. "I was under age, but that was also the reason for Ferlin Husky being my guardian. Wilma and Stoney [Cooper] were husband and wife. Rose Maddox worked with her brothers, Maddox Bros. and Rose. Kitty Wells worked with Johnny [Wright], her husband. Lulu Belle and Scotty were also husband and wife. They were all family, so to speak. But I didn't really realise that I was 'solo' until a woman told me; I never did give it any thought. I just did what I wanted to do. I'm a very strong-willed person, very outspoken—sometimes too much so, probably."
Though her first single,
Crying Steel Guitar Waltz
, failed to chart, it remained a long-time fan favourite. The girl-boy duets were popular with country audiences at the time so Ken Nelson decided to team her with another up-and-coming California-based artist, Ferlin Husky. They recorded
A Dear John Letter
, a song that struck a chord with audiences as it was a half-spoken duet about a soldier in the Korean War. The record became a massive hit in 1953 spending six weeks at number one on the country chart and also reaching number four on the pop chart.
The duo's follow-up,
Forgive Me John
, was another crossover hit, peaking in the top 10 on the country chart and the top 25 on the pop chart. Because Jean at 20 was still regarded as a minor, she couldn't legally travel out of State without a guardian, so her parents granted guardianship
for her over to Ferlin Husky,
so she could tour. Though she released a series of fine singles, including
The Glass That Stands Beside You, Two Hoops And A Holler
and
Did You Tell Her About Me
, it wasn't until 1955 that Jean scored her first solo hit with
A Satisfied Mind
, reaching number four on the country chart. That same year she also had hits with
Take Possession, Beautiful Lies
and
I Thought Of You
. Her success earned her an invitation to join the cast of ABC Television's Ozark Jubilee. She stayed with the show, which was filmed in Springfield, Missouri, until 1958 and worked alongside a cast of talented artists that included the Browns, Wanda Jackson, Brenda Lee, and Porter Wagoner. After leaving the show she moved to Nashville to be closer to the Grand Ole Opry, which she had also joined in 1955.
In 1956, she released her first album, SONGS OF A LOVE AFFAIR, with all 12 songs, which Shepard had a hand in writing, telling the story of a marriage ripped apart by an affair. Continuing to follow her own path, she was the rare female country artist that toured on her own breaking down doors for hundreds of female country artists who would follow.
Throughout the 1950s Jean became one of the most popular female singers in country music, and was second only to Kitty Wells in terms of recording success. Jean's secret was quite simple, she took country love ballads and put her whole heart into telling lyrics. Here was a lady who
meant it
when she sung of love gone bad, good times to look forward to, memories to cherish.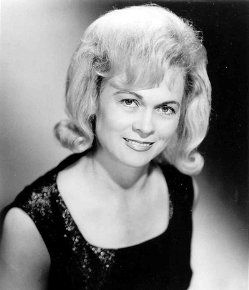 She continued to record, but as a hardcore honky-tonk singer she found herself in an age when smooth country-pop was in vogue. Though she continued to chart she found it hard to break into the top ten. Jean married fellow Opry member Hawkshaw Hawkins in 1960, and juggled her career with being a housewife and mother to their first son, Don Robin (named after Don Gibson and Marty Robbins, two of her favourite singers). Tragically, Hawkins was killed in 1963 along with Patsy Cline and Cowboy Copas in a plane crash. Jean was pregnant with their second son, Harold Franklin II, at the time.
Though Jean Shepard's personal life had been full of ups-and-downs; heartaches, tragedies and loneliness, she remained ever resilient. She took some time off from touring to take care of her children, then gingerly made a return to performing guided by country music musician and singer Benny Birchfield whom she married. In 1964 Jean scored her first top ten hit in eight years with
Second Fiddle (To An Old Guitar)
. She maintained her staunch hard-core honky-tonk style with the top 40 hits
A Tear Dropped By
and
Someone's Gotta Cry
and
Many Happy Hangovers To You
which reached number 13 in 1966.
That same year she recorded a series of duets with Ray Pillow, including
I'll Take The Dog
, which saw a return to the top ten and
Mr. Do-It-Yourself
. She topped off a highly successful year with the top ten solo hit
If Teardrops Were Silver
. Further successes came with
Heart, We Did All We Could
and
Your Forevers Don't Last Very Long
, both top 20 successes in 1967. By this time she had put together a self-contained touring show, Jean Shepard & the Second Fiddles, soon gaining a reputation as one of the finest road shows in country music.
The late 1960s saw Jean struggling to make the top 20 despite releasing some fine singles including
I Don't See How I Can Make It
and
A Real Good Woman
. She became more accepted as an album artist, but without the songs on the radio or jukebox, her albums didn't sell as well as they should have done. There was a brief resurgence with
Seven Lonely Days
, a top 20 hit in late 1969 and
Then He Touched Me
and
Another Lonely Night
in 1970.
By this time Larry Butler had taken over as producer from Marvin Hughes and one of her last albums for Capitol, JUST AS SOON AS I GET OVER LOVING YOU showed that Jean Shepard was still a force to be reckoned with in country music. At the end of 1972 she followed Butler to United Artists Records and instantly saw a positive change in her fortunes.
Her last hit for Capitol Records was
Just Like Walkin' In The Sunshine
in 1972 and her first single for UA,
Slippin' Away
, a Bill Anderson song, recorded in March 1973, became her biggest solo hit since the 1950s and also became something of a radio hit in the UK. Bill Anderson provided her with more hit songs like
Poor Sweet Baby, Mercy, At The Time, The Tip Of My Fingers
and
I'm Alright
. Jean repaid Bill by devoting her album, POOR SWEET BABY to eleven Bill Anderson songs going back in time to early Anderson classics like
When Two Worlds Collide, City Lights
and
Think I'll Go Somewhere And Cry Myself To Sleep
.
In 1975 Jean finally made her UK debut when she appeared at the annual Wembley Country Music Festival. She enjoyed further hits on United Artists with
I'll Do Anything It Takes (To Stay With You), I'm A Believer (In A Whole Lot Of Lovin')
and
Ain't Love Good
. In 1976, Jean recorded MERCY/AIN'T LOVE GOOD, before leaving the label the following year. In response, United Artists released a GREATEST HITS compilation. Between 1977 and 1978, she recorded for the smaller GRT label, releasing her last charting record in 1978 with
The Real Thing
.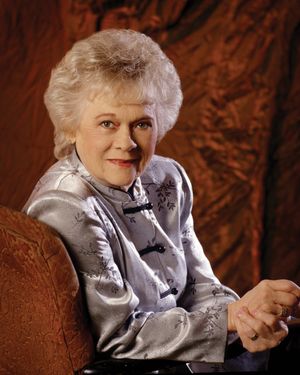 Opinionated and out-spoken, Jean Shepard has long championed the cause of preserving traditional country music in the face of a modern, corporate, mainstreamed Nashville. In the mid 1970s she served for a term as the president of the Association of Country Entertainers, an organisation dedicated to supporting classic country music in its purest form. This infuriated many radio people who stopped playing the records by Jean and several other members of the organisation.
After departing GRT at the end of the 1970s, Jean did not record again until 1981, when she released a final studio album for Laserlight Records titled, DEAR JOHN, which included remakes of her hits, including
A Dear John Letter
and
Slippin' Away
, but also included a new song,
Too Many Rivers.
She continued to perform at the Grand Ole Opry and tour, particularly in the UK, where she had a strong fan base. She teamed with fellow Opry Stars Jan Howard, Jeannie Seely and Skeeter Davis, and released an album called THE GRAND LADIES OF THE GRAND OLE OPRY.
Admired by her peers and emulated by countless up-and-coming female Country Music singers, Jean Shepard continued to be a strong influence in traditional music. In 2015 she celebrated 60 years as an Opry member. In 2011, she was inducted into the Country Music Hall of Fame and remained a prominent member of Nashville's music community whilst maintaining a busy road performance schedule.
Jean Shepard was without doubt an icon, and a ground breaking female artist who cut the strings and expanded boundaries for women in country music. A great classic country singer, she stood her ground when country music started getting a pop edge. All too often she has been overlooked and has been in the shadows of more readily-known artists, yet, if you study her music and her career, she was equally important as all of the others in building the heritage of country music. Jean Shepard won through by singing what she sings best—country music, pure and simple. She was indeed a country legend, a musical icon who made history numerous times in her sixty plus years in the country music world.