Jackson Grimm - The Bull Moose Party
Vault Records VR-014
****
Jackson Grimm's first full-length album is centred on storytelling and transcribing raw emotions into a highly irresistible musical form. It is very much a 'band' album, as both instrumentally and vocally, he shares the spotlight with his band members that he met at Warren Wilson Col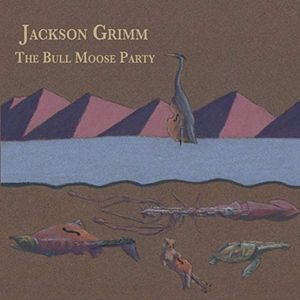 lege in North Carolina. Jackson plays mandolin and guitar and is joined by Eli Winkenwerder (banjo), Colin Martin (guitar, mandolin) and Jake Yochem (bass) with producer Josh Gosforth adding fiddle and guitar. Their music combines elements of country, blues, swing and straight up bluegrass. You can visualise the cinematic landscape as the music stomps, flows and mingles with singer and songwriter Jackson Grimm at the heart of the pulse. His songs are about belonging, fear, love, self-doubt, heartache and desolation; darkness versus light and escape—especially escape in this darkly underground mix of hangovers, anguished love, mournful blues and lonesome country. The unique blend of classic country sounds, back porch blues and stomping scrapyard bluegrass, creates a sound that's both familiar and compelling.
The opening Appalachia Calling shines a light not only on Jackson's vocal chops, but also his talent as a soulful, southern songwriter. With three-part harmonies and catchy chorus Jackson and his pals have sculpted a unique sound that gives a new voice to a traditional inspiration. A prime example of his genre-blending and bending is the bluesy Middle American Blues, then he steps boldly into traditional country with If Not For You. It pulses with mournful mandolin and banjo, sawing fiddle, a steady rhythm section, and sorrowful vocal harmonies rounding out the good dollop of poignancy, heartbreak and melancholy. Very jolly stuff!
Listen to the opening strains of Tulsa and be transported to a lonesome highway, the endless fields stretching out ahead. A fast, exhilarating, unpredictable ride, each verse follows another like the stretch of blacktop between exits, resolving in a chorus that's breezy and uplifting without unsettling the song's downhearted lyric. Far from maudlin … it keeps on moving, headlights on, until the last note. Jackson Grimm is entirely convincing while performing straight bluegrass (Last Train Home) or a more complex hybrid of the same (I'd Hold You (But I Don't Wanna Hold You)), employing plenty of Southern-fried vocal grit. Dusty with some shimmer, Evangelina is a forlorn lament of regret. If you shut your eyes and hum along, you'll find yourself walking along the banks of a river, a few miles from home, kicking stones thinking about life as you ruminate.
This album walks the genre lines of country, bluegrass and rootsy Americana with ease. With one foot planted firmly in Appalachian music culture and the other always expanding and evolving, Jackson Grimm and his band have created a unique sound ready to be embraced by music fans old and young.
June 2019