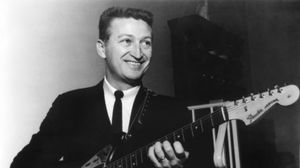 Harold Bradley, original member of the famed 'A Team' of studio musicians who helped define the Nashville Sound, passed away on January 31, 2019, at Vanderbilt University Medical Center in Nashville. He was 93. The brother of country music legend Owen Bradley, Harold Bradley is reportedly the most recorded guitar player in history. Playing lead guitar, rhythm guitar, bass guitar and banjo, he can be heard on recordings by Patsy Cline, Willie Nelson, Roy Orbison, and Elvis Presley. Harold would often mute the bass strings, creating a muffled, rhythmic effect that allowed the bass to become a more melodic extension of the drums. This style is known as 'tic tac' bass. It has since been employed on thousands of Nashville sessions.
Harold Ray Bradley was born on January 2, 1926 in Nashville. One of six children, his father, Vernon, was a salesman for Cumberland Tobacco Works for 46 years while his mother, Letha Maie (Owen) Bradley, was a housewife. He first became interested in the tenor banjo but switched to the guitar after his older brother Owen convinced him that the banjo was going out of style. When he was 15 his cousin invited him to play a club date at the White Horse in downtown Nashville.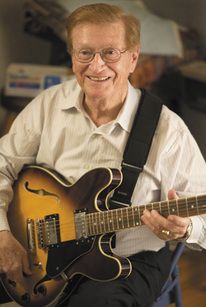 This became a regular Saturday night gig which led to his brother Owen, who, by the early 1940s, was already a respected bandleader on WLAC, persuading Harold to join the Musicians Union.  Little did he know that some 50 years later he would be President of the Nashville chapter of the American Federation of Musicians.
Owen arranged for Harold to tour with Grand Ole Opry star Ernest Tubb as lead guitarist in his band The Texas Troubadours during the break between his junior and senior years in high school. Following graduation, Harold joined the US Navy in 1944 and was discharged in 1946, after which he attended the George Peabody College (now a part of Vanderbilt University) in Nashville, studying music. Whilst at college he began playing in his brother's local dance orchestra, which featured the future pop stars Snooky Lanson and Kitty Kallen as vocalists and he also accompanied singers Eddy Arnold, Bradley Kincaid and others when they appeared on the Grand Ole Opry.
His first recording session was with Pee Wee King and his Golden West Boys in Chicago in December 1946. Four tracks were recorded including the infamous Steel Guitar Rag with Don Davis on steel, Harold on lead guitar and Cowboy Copas on rhythm guitar. At this time Nashville wasn't a recording centre and so it wasn't until November 1949 that Harold undertook his first Nashville session at the old Castle Studio in the Tulane Hotel, when he played acoustic guitar on Red Foley's Chattanoogie Shoe Shine Boy, which became a No. 1 country and pop hit in 1950.
The studio was built by Harold and Owen (who by that time was one of the most popular bandleaders in America). The small studio was utilised regularly for several years at the same time as Harold's session career began taking off. He often worked three sessions a day,
on various instruments. Known for his spare, soulful playing, Harold's six-string bass and lead and rhythm guitar was featured on landmark recordings by Hank Williams, the Everly Brothers, Marty Robbins, Elvis Presley, Loretta Lynn, Jim Reeves, Slim Whitman, Johnny Tillotson, Roy Orbison, Brenda Lee and many more throughout the 1950s.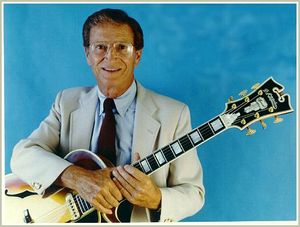 In 1954, Owen and Harold pooled their resources to purchase a house on 16th Avenue South in Nashville to convert into a film and recording studio. They created a recording space in the basement but after a few months realised that it was too cramped for comfort. They purchased a surplus Army Quonset Hut which they placed at the back of the house to use as television studio to film musical performances.
In late 1955 they moved the recording studio into the larger Quonset Hut space and within months they were handling recordings for Columbia, Decca, Capitol and Mercury record labels. During its first year of operation, the Quonset Hut produced major hits like Gene Vincent's Be-Bop-a-Lula, Marty Robbins' Singin' the Blues and Sonny James' Young Love.
Bradley's Film and Recordings Studios became known locally as Bradley's Barn and for years was the most successful recording facility in Nashville and was instrumental in the development of the area of 16th, 17th and 18th Avenue South becoming known as Music Row. By the time Columbia Records purchased the facility in 1962, the Bradleys, along with visionary record executives like Chet Atkins and Don Law, had established Nashville as a major recording centre.
The legendary studio was in constant use until 1982 and alongside hundreds of country music sessions, artists including Bob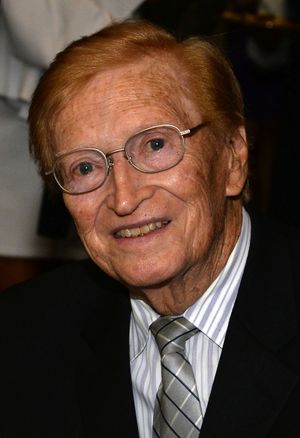 Dylan, the Byrds, Simon & Garfunkel, Elvis Costello and Andy Williams recorded there. It was then turned into office space until 2006 when Mike Curb (head of Curb Records) bought the structure and had it restored. Today it serves as a recording classroom for Belmont University.
An original member of the famed 'A Team' of studio musicians that also included Bob Moore, Buddy Harman, Floyd Cramer, Chet Atkins, Owen Bradley, Grady Martin, Hank Garland, Fred Carter Jr, Pete Drake, Jerry Byrd and Lloyd Green, who helped define the Nashville Sound, Harold never strayed far from his brother Owen and, in a large way, the Bradleys were among the key architects of the Nashville sound and style of recording, helping to build a recording industry where previously there was none. By the late 1960s, the group's laid-back, no-frills approach drew folk and rock luminaries like Bob Dylan, Joan Baez and the Byrds to Nashville to record with them.
In October 1962 Harold entered Bradley's Barn, then renamed the Columbia Recording Studio, to record BOSSA NOVA GOES TO NASHVILLE, the first of three pop instrumental albums that he would release on Columbia Records. He featured songs like Devil Woman, I Can't Stop Loving You, Little Bitty Tear and Walk On By, all of which were synonymous with the Nashville Sound, but with a Latin feel.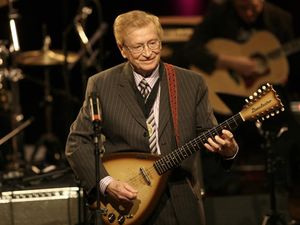 A year later came MISTY GUITAR with a mixture of film themes and romantic ballads including Stranger On the Shore, Exodus, The Third Man Theme and It's All in the Game. A couple of single-only releases followed—Maria Elena and Sugarfoot Rag—in 1963-64 before his third and final album, GUITAR FOR LOVERS ONLY, was released in early 1966 to complete Harold's solo recording career.
Harold's reputation for dependability and excellence landed him session work with some of the best names in the business and kept him busy for years. Roy Orbison's Only the Lonely, Brenda Lee's I'm Sorry, Patsy Cline's Crazy and Tammy Wynette's Stand By Your Man are among some of the most notable hits he played on.
Harold also produced numerous television variety shows, movie soundtracks and recordings for Eddy Arnold, Mandy Barnett and others and made a brief appearance in Robert Altman's acclaimed 1975 film, Nashville.
Later in his career, as subsequent generations of studio players rose to prominence and he worked fewer sessions, Harold became active in the Nashville chapter of the American Federation of Musicians. From 1991 to 2008 he was the union's president. He was also vice president of the international division for more than a decade. During his tenure the union advocated fair wages, pension funds and other benefits for working musicians.
He was the first president of the Nashville chapter of the National Academy of Recording Arts and Sciences, the organisation that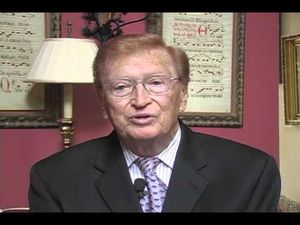 puts on the Grammys. In 2006 he was inducted into the Country Music Hall of Fame. He was the first instrumentalist without a significant career as a solo artist to be so honoured.
A consummate professional, Harold Bradley's secret was to know when not to play, yet if a record needed improvisation and imagination, he could do that too. Along with the other 'A-Team' players he was instrumental in moving country music and Nashville from its hayseed hillbilly background into a worldwide success story as he humbly stated in a 2013 interview,
"One day, my brother came up and he said, 'We've got 25 out of the top 50 songs,'" referring to the profusion of hit singles that featured Nashville's A-Team. "All of a sudden I'm thinking, 'That stuff we did in the studio, people are listening to that all over the world.'"