Hank Sn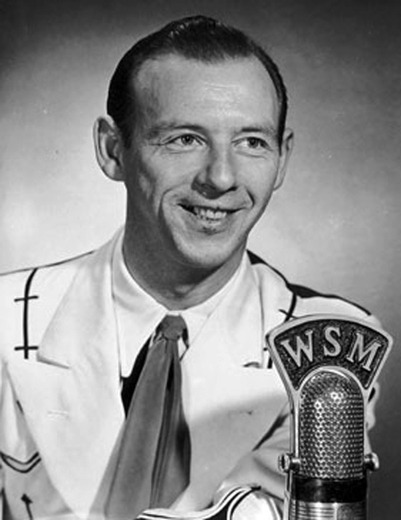 ow, 'The Singing Ranger,' left behind a body of recorded work that has rarely been equalled and is unlikely to be by any of the current stars of today. A true pioneer, he was at the forefront of the growth of Nashville into Music City. Throughout his long and memorable career Hank maintained a dignity and quality with both his music and his lifestyle that is a lesson to all those who try and follow in his footsteps. With his rich, flexible baritone voice and hard-driving, deep-picking guitar style, Snow specialised in the whine and twang of traditional country with weepy ballads and cliché-ridden lines. Self-appointed hipsters have long laughed at 'The Singing Ranger,' who sang corny ballads in his very own style, but there are horses for courses, as they say, and the man always had a certain charm with the right song. He had a substantial international impact on the evolution of country music, and songs like I'm Movin' On, The Gold Rush Is Over, I Went To Your Wedding, I Don't Hurt Anymore, Miller's Cave, Beggar To A King and I've
Been Everywhere remain country standards, many of which have been well-covered by singers from all styles of music. When he toured the UK for the first time in 1969, he even attracted Beatle Ringo Starr, a long time Snow fan, to his concerts. His success stemmed from total dedication to his music and his continual striving for perfection. He consistently fought against what he believed to be over commercialisation of country music. Throughout the late 1950s and early 1960s he steadfastly refused to follow in the footsteps of Jim Reeves, Patsy Cline, Marty Robbins, Ray Price and Eddy Arnold in using string arrangements as part of the pop-crossover Nashville Sound. In the early 1970s he stood his ground against the infiltration of country music by such pop acts as Olivia Newton-John and John Denver. He spearheaded the formation in 1974 of the Association of Country Entertainers, whose aim was to maintain a discernible country music sound in the face of all the pop-infiltration that was threatening the distinctiveness of the music. At the time, Snow felt more than a little embittered that his records were not being played on country radio.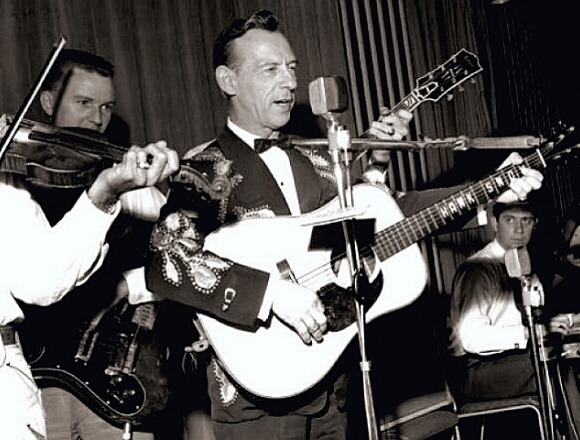 Canada's greatest contribution to country music, Clarence Eugene Snow was born May 9, 1914 in Liverpool, Nova Scotia. At a time when most boys are still learning grammar, Hank was being plagued by life's cold hard realities. Poverty and divorce struck quickly at the two people he loved the most, his mum and dad. When he was eight years old, he moved in with his grandmother, following the divorce of his parents. Four years later, he re-joined his mother when she re-married, but his stepfather was an abusive, violent man who frequently beat Hank. Tired of the abuse, Snow ran away from home when he was 12 years old, becoming a cabin boy on a fishing boat. It was here that one of the most important single events in his life took place. After several weeks at sea and after the day's strenuous labours were over, one of the crewmen pulled out an old guitar and suggested that Hank sing. He did and at that moment the die was cast. He quickly taught himself to play the guitar and whenever duties on board allowed, he sang his heart out. When he ran out of the songs he knew the words to, he improvised songs of his own. After barely escaping death in a shipwreck, he gave up the sea to become a lumberjack.

He listened to Jimmie Rodgers records and in his late teens he began singing in Nova Scotia clubs. Dubbing himself 'Hank, The Yodelling Ranger,' he began performing on local radio station CHNS-Halifax. He had been warmly received by local audiences and their response bolstered the young singer's confidence enormously, for this was his first professional job as a musician. Encouraged by the station's engineer, in April 1935 he sent a hand-written letter to A.H. Joseph, the head of A&R at RCA Records, Montreal. Though he received a favourable reply, it was to be another year-and-a-half before he got the opportunity to travel the 600 miles to Montreal for an RCA Victor audition. In the meantime, he had married Minnie Blanche Aalders, and he and his young wife became proud parents of son, Jimmie Rodgers Snow.

Hank recorded his first session on October 29, 1936 in a makeshift studio in a run-down Montreal church. Cutting two self-penned songs, The Prisoned Cowboy and Lonesome Blue Yodel, they were released on RCA's Bluebird label. The record hardly set the world alight, but did well enough for Hank to be invited back for a second session a year later, when he recorded another 8 songs. The Blue Velvet Band from that session became the first of a series of major Canadian hits.

Within two years he was the number one best-selling Canadian artist. He was moving forward, becoming successful in his homeland, but unable to establish himself across the border in the United States. Twice Hank journeyed to Hollywood and both times he returned to Canada disappointed and nearly broke, but with his spirit unbroken. In 1948 he decided to give the States a final try—travelling to Dallas where he did a live show over radio station KGVL and appeared at the Roundup Club.

After that trip, RCA Victor began to release some of his Canadian recordings in the United States. His rise to stardom in the US began as the records sold well in Texas and then spread to the east Tennessee area. A small start, but still it looked encouraging. Then, in the fall of 1949 Hank appeared as a supporting act in a show headed by Ernest Tubb. The Texas Troubadour befriended Snow and helped to get him on the Grand Ole Opry, which proved to be a turning point in Hank Snow's career.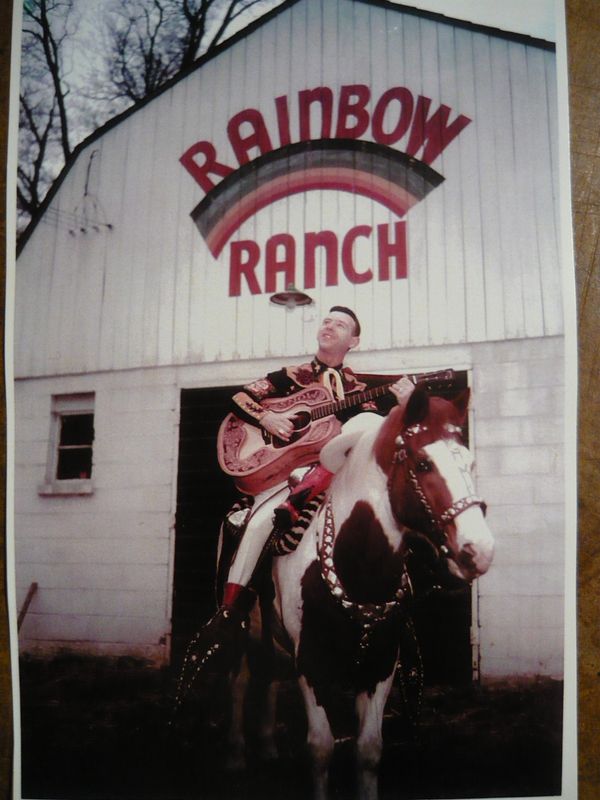 'Ernest brought me to the Grand Ole Opry when you had to have a hit record to come there,' Hank explained many years later. 'I had everything else but a hit record. It took him over a year to convince the people at WSM that I should have a try, and that he thought I had some talent.' At the time Hank was in Fort Worth close to starving. Following his first Opry appearance in late 1949, his recording of Marriage Vow became a top 10 hit. The following year he became an Opry member, that same year releasing the self-penned I'm Movin' On (the first of his many great travelling songs), a massive hit that spent 44 weeks on the country charts, 21 of which were at number one. By this time he had modified his original nickname, 'The Yodelling Ranger,' to 'The Singing Ranger' when his high voice changed to the great baritone that graced his hit records. He formed his long-established Rainbow Ranch Boys, which down through the years featured some of country music's finest musicians including noted fiddle player Chubby Wise and steel guitarist Kayton Roberts.

Between 1951 and the end of 1955, Snow had a remarkable 24 top ten hits, including the massive hit single I Don't Hurt Anymore, which spent 20 weeks at number one in 1954. Snow not only played his trademark travelling songs, but also country-boogie, Hawaiian music, rhumbas, and cowboys songs. By the middle of the decade, he was a star not only in the United States and Canada, but, throughout the world, gaining a particularly strong following over the years in the United Kingdom.

Apart from being one of country music's sharpest and wittiest lyricists, Snow was also a disciple of the pioneering Jimmie Rodgers. As such he treasured train songs, fascinated by the iron beasts' early appearance on the landscape, the possibility of release they offered and the sub-culture they spawned among drifters and hobos.

According to Hank, the music of Jimmie Rodgers, America's Blue Yodeller, was a major influence in his early career and his repertoire was scattered with dozens of train songs, the most notable being The Golden Rocket and The Last Ride. Like Rodgers, Hank was far more than an accompanist on the guitar. An accomplished instrumental soloist in his own right, having played 'lead' guitar on several of his own recordings and having recorded several albums with guitarist Chet Atkins. Other similarities could be found, from the same intensity and vibrant feeling that each put into their songs.

Hank pioneered the concept album, recording a number of thematic records beginning in 1955 with OLD DOC BROWN & OTHER NARRATIONS and continuing with such groundbreaking albums as RAILROAD MAN, SONGS OF TRAGEDY, WHEN TRAGEDY STRUCK, GLORYLAND MARCH and TALES OF THE YUKON along with such tribute albums as SINGS IN MEMORY OF JIMMIE RODGERS, THE JIMMIE RODGERS STORY and HEARTBREAK TRAIL (a tribute to the Sons Of the Pioneers).

Over a 25 year period, Hank scored 7 country chart-toppers and a further 40 top 10 country hits. He recorded more than 80 albums and in excess of 2,000 songs. Following his 1965 top 10 success with The Wishing Well, he didn't enjoy another top 10 hit until 1974's Hello Love, which proved to be a one-off success, being the last major hit of his career. In a story that sounds all too similar to today's constant and critical battle between country music traditionalists and the progressive country proponents, Snow found his music was just not being accepted by the younger record buyers of the mid-1970s.

Despite his declining record sales, his profile remained high through his concerts and several lifetime-achievement awards, including his induction to the Nashville Songwriters International Hall of Fame in 1978 and the Country Music Hall of Fame in 1979. In 1974 he was a major player in the Association of Country Entertainers.

Formed by Snow and other traditionally oriented singers, the Association had decided the 'uptown, Fifth Avenue' direction of country music and the trend toward radio stations adding the likes of Olivia Newton-John to their playlists while dropping the Roy Acuffs and Ernest Tubbs had to be stopped. But then unexpectedly, in September 1976, Hank resigned as president of the Association of Country Entertainers, at the time he cited some realistic, hard decisions were behind his departure from the helm of the association.

'I've been with the organisation since its birth,' Snow stated at the time, 'and I've gone along with its goal of preserving the identity of country music. I've also said I'd never change the style of recording I've had for 40 years. I've changed my mind after a complete study of the matter for the past five months. I've talked to many people, including sessions at RCA with Jerry Bradley, sales and promotion people and the RCA heads in Toronto. They have changed my mind, I can truthfully say I was wrong.'

'On the road, people would ask me to record with more fiddles and old country steel. The same people who asked that do not buy Hank Snow records. There's a whole new generation of DJs and programme directors in the US and Canada. Judging from my record sales of the past 3 years, I've been doing something wrong. If you can't beat them, join them.'

Snow's decision contradicted some of the tenets of the association's philosophy. 'I'm taking a complete turnaround,' he added. 'I'll use different arrangements and get more of an uptown sound. I'll play what the general public wants—they're the ones who buy the records. My old fans are gone.'
 
The new direction failed to infuse his record sales and if anything he fared even worse on the charts with his highest entry coming with I'm Still Movin' On, a new version of his 1950 hit, which peaked at No. 80 in 1977. Four years later Hank Snow's recording career ended when RCA dropped him after a 45-year relationship (the longest one-label association ever). Snow was very upset with the label's treatment of him, and never recorded again.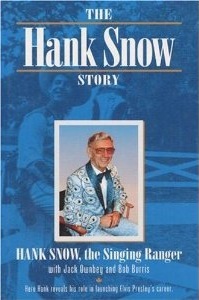 He remained active on the Grand Ole Opry into the 1990s, and he spent a lot of time working for his Foundation for the Prevention of Child Abuse which he had established in 1976. He published a lengthy autobiography The Hank Snow Story, in 1994. Hank Snow died on December 20, 1999 in his Nashville home. He did achieve the ultimate recognition that every country music entertainer strives for: He was voted the 30th member of the Country Music Hall of Fame in 1979. His Liverpool, Nova Scotia birthplace now houses the Hank Snow Music Centre, featuring many famous, personal memorabilia of their native son. Situated in Liverpool's historic CN Railway Station, the exhibits include his '47 convertible Cadillac, along with interactive displays telling the history of country music, the early days of railroads and is also the home of the Nova Scotia Country Music Hall of Fame with country music archives and library housing displays of various Canadian country music stars, including Carroll Baker, Wilf Carter, Ronnie Prophet, Lucille Starr and others.

With small stature and huge voice, Snow was a country traditionalist who gave much more to the business than he took. He climbed up the ladder of success from an extremely humble beginning as cabin boy, to lumberjack, to clerk, to insurance salesman and finally to the position of one of country music's most travelled ambassadors, appearing in his somewhat colourful and stagey cowboy attire at venues all over the world. Unlike many country singers of the 1950s and 1960s, he possessed a very distinctive sound and style. When you heard Hank Snow, you knew instantly who you were listening to.

Recommended Listening

Old Doc Brown (RCA/Stetson 1988)
This Is My Story (RCA 1966)
Hank, The Yodeling Ranger (Bear Family box set 1993)
The Singing Ranger Volume 1 (Bear Family box set 1989)
The Singing Ranger Volume 2 (Bear Family box set 1991)
The Singing Ranger Volume 3 (Bear Family box set 1992)
The Singing Ranger Volume 4 (Bear Family box set 1995)
The Thesaurus Transcriptions (Bear Family box set 1994)
The Essential Hank Snow (RCA 1997)
The Gold Rush Is Over (Bear Family 2007)
Snow on the Tracks (Bear Family 2008)
Under Western Skies (Bear Family 2008)
Snow in Hawaii (Bear Family 2008)
Snow South of the Border (Bear Family 2008)
When Tragedy Struck (Righteous 2009)
I'm Still Movin' On: Singles Collection 1961-1979
(T-Bird Americana 2011)