Gretchen Peters - The Night You Wrote That Song: The Songs of Mickey Newbury
Scarlet Letter Records/Proper Records PRPCD158
*****
When I first heard about this album I was childishly excited, but when the disc arrived and I was getting ready to place it in the CD player, apprehension kicked in. For more years than I care to remember, Mickey Newbury has been one of my favourite singer-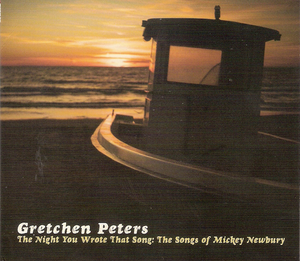 songwriters. Way back towards the end of 1969 Mickey's LOOKS LIKE RAIN became one of my all-time go-to albums. It was unlike anything else I'd ever heard up until that time. Wonderfully affecting, deeply atmospheric the seven tracks were linked by eerie rain sound effects to create an ominous cinematic soundscape that blended lush instrumentation with raw and compelling storytelling. Over the years Mickey Newbury continued to create a body of work that was second to none. Never overly prolific but always an enthralling listen. How was Gretchen Peters, one of my favourite singer-songwriters of the past 25 years, going to match the 'god-like' Mickey Newbury. As soon as the opening piano notes of The Sailor, seeped out of the speaker, my fears dissipated as I relaxed and sat back to let this incredible album wash over me.
Before I settle in to review the album, I think a little background info about Mickey Newbury is essential, as he is very much an oft-forgotten and overlooked name from Music Row's golden days of the 1960-1970s. Newbury, whose sonorous voice has been a comforting companion for my life since I was a mere teenager more than 50 years ago, came to Nashville in the 1960s and penned songs influenced by poetry, writers ranging from Jack Kerouac to Oscar Wilde and such contemporary folk songwriters as Bob Dylan. He's remembered as a songwriter's songwriter. Along with fellow songwriters such as Kris Kristofferson, Willie Nelson, and Tom T. Hall, Newbury helped revolutionise country music in the 1960s and 1970s by bringing new, broader musical influences as well as a frank, emotional depth to the music—while at the same time never losing respect for tradition. Newbury infused his country music with haunting beauty and spiritual melancholy, creating an impressive collection of introspective, emotionally complex songs that are more spiritual cousins of the work of Leonard Cohen than that of Roy Acuff. His songs were covered by singers ranging from Jerry Lee Lewis to B.B. King, from Ray Charles to Ronnie Milsap, Eddy Arnold to Waylon Jennings, Tom Jones to Johnny Rodriguez. He could just as easily write a stone country weeper such as She Even Woke Me Up to Say Goodbye as a bittersweet celebration like How I Love Them Old Songs or a bitter lament such as Poison Red Berries.
The 'poet of the dark night of the soul,' to which he good-naturedly agreed. Newbury loved writing sad songs. He wrote sad songs and he just wrote the hell out of them. He was a quiet liberator of songwriting in Nashville, injecting a new humanism and democracy into songs that no longer had to deal mainly with the baser aspects of humanity. They took songs about cheating and drinking and carousing to a higher plane, he once joked. But he wrote marvellous little dramas about all aspects of the human experience. He was also a 'quiet outlaw,' declaring his own independence by recording on his own terms in a little independent garage studio, outside the mainstream Nashville system.
Like Newbury. Gretchen Peters has also worked outside of the Nashville mainstream whilst providing such performers as Martina McBride, Suzy Bogguss, Patty Loveless, George Strait, Pam Tillis, Faith Hill and Trisha Yearwood with some of their most meaningful hits. She bucked the system by turning her back on the established labels and setting up her own Scarlet Letter Records and creating records that were artistically fulfilling rather than chasing the accepted commercial marketplace. Of all the female singers out there, Gretchen Peters is the only one that could have pulled off this 'tribute' to Mickey Newbury so successfully. This is not as much an album as it is a world, one that doesn't reveal itself in haste but rather unfolds over time and through multitudinous layers. Heavily steeped in Newbury's storyteller lyrical style and cleverly framed by uncluttered, acoustic-rich arrangements, the record breathes with nuance and space. Gretchen and her co-producer husband Barry Walsh
possess a gleaming eye for detail as they create a kind of subliminal richness that seems to bring a golden light to whatever situation you find yourself listening to it in. Together they trace Newbury's evolution as an off-trail songwriter distilling his songs into an original voice of power and depth for today's listeners.
Darkly enthralling tales abound like The Sailor, a sparse, acoustic ballad with a hauntingly beautiful voice that will resonate with many people out there looking for some meaning and depth to their music that sets the mood for the whole album. I've heard many memorable versions of She Even Woke Me Up To Say Goodbye, but somehow Gretchen brings new depth to this classic country weepy. The instrumentation is simple yet full with just an acoustic guitar and Dan Dugmore's pedal steel trading glimpses of emotion behind Gretchen's passionate bare-bones vocal. Just Dropped In (To See What Condition My Condition Was In) features Will Kimbrough's atmospheric funky electric guitar creating a nightmarish feel that is hinted out in Newbury's psychedelic lyrics. The title song plays like an open letter of support and advice. Dugmore's pedal steel and Barry Walsh's accordion play centre-stage, creating a haunting, almost Gothic, vibe that swells and retreats before it glides and settles into a calming resonance.
Frisco Depot is a long-forgotten genuine classic. In the tradition of old southern Americana, but with a feel of something current; storytelling with soul that I never ever tire of hearing and this version is pure magic. Equally as impressive is San Francisco Mabel Joy an epic tale steeped in dark American gothic of murder and betrayal carried along by Charlie McCoy's wistful harmonica and Dan Dugmore's ghostly pedal steel. Leavin' Kentucky transports the listener back to the 19th century with an old-time fiddle sawing away in the background of an Appalachian yarn further enhanced by swirling organ and tasteful electric guitar. Saint Cecilia is slow, heartbreakingly painful and always deeply poetic with gorgeous interplay between piano and harmonica underpinning Gretchen's plaintive vocal. The album closes with the sublime Three Bells For Stephen, Mickey Newbury's affectionate and heartfelt tribute to Stephen Foster that is indescribably exquisite.
Literate and melodic, these songs are worth a listen for those who appreciate a healthy dose of substance, but also want a mix of traditional roots and an invigorating style that is sadly missing from so much of today's mainstream country music. Across this record, you could spend days unravelling the songwriting … an album that reveals its instrumental and lyrical multitudes on every new listen. Gretchen Peters confirms that her strength lies in her clarity. Her enunciation is so sharp and straightforward, there's no way you won't hear her unforced delivery reveal the strength of Mickey Newbury's lyrics and stories.
March 2020