George Hamilton IV - July 19, 1937 – September 17, 2014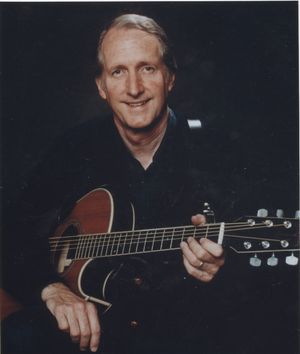 I've followed George Hamilton IV's career for more years than I'd really care to remember. From his days as a teen-beat balladeer through the folk-country years of the 1960s, his pop-country crossovers, heartfelt tributes to Ernest Tubb and West Coast country, his Canadian flirtation and more recent Christian music. Throughout his fifty-eight-year career he held firm to his integrity and never over-stretched his vocal range. He was never a great singer to be talked about in the same breath as say Marty Robbins, Merle Haggard or Gene Watson, but ol' George knew his limitations and kept within those parameters.
I first met George way back in 1967. It was his first trip to the UK, mainly a toe-in-the-water promotional visit that saw him guest on the BBC Country Meets Folk radio programme. I was already familiar with his music, having collected some half-dozen of his albums and several singles. Apart from his low-key performance, what impressed me most on that first meeting was his personality. There was none of the expected 'star' aura about this highly successful country star. He was very much the genial, southern gentleman with impeccable manners and a friendly manner. When you chatted to him you knew that he was hanging on to every word and was genuinely interested in what you had to say.   
Over the years our paths crossed on numerous occasions and we got to know each other on a more personal level. It never ceased to amaze me that George always remembered our children's names, even if we went a couple of years without meeting up. I set up several shows for George in the UK and his easy-going manner and professionalism made these shows the easiest that I've ever promoted. When news reached me that George had suffered a heart attack and then a few days later, whilst I was in Nashville, that he had passed away I was devastated, not because we'd lost a great country music performer, but because the world had lost one of the very best human beings it's been my pleasure to know.
Known since 1972 as the International Ambassador of Country Music, George 'Hege' Hamilton IV was born on July 19, 1937 in Winston Salem, North Carolina. He became a country music fan after watching Gene Autry and Tex Ritter films at Saturday matinees and listening to his grandfather's collection of Jimmie Rodgers' recordings. He bought his first guitar at age 12, earning the necessary cash on a newspaper round and began buying Hank Williams' records. Two years later he rode a Greyhound bus to Nashville, a trip he was to take many times over the next few years. He would stay at the YMCA, hang out at the radio stations, attend the Grand Ole Opry, and met people like Chet Atkins, Eddy Arnold, Hank Snow, Ernest Tubb and others.
Though he has worked with many country musicians in his career, George has said it was the late Chet Atkins who had the greatest impact on his life.
"Chet kind of took me under his wing and was very kind to me. He took me backstage and introduced me to a lot of my heroes and eventually became my record producer ... Other than my daddy and Dr. Billy Graham, he was the greatest man I ever met. Of course, he's in heaven now, and I'm sure the heavenly choir has a good thumb-style guitar picker helping out up there."
Later George began a high school band at Reynolds High, Winston Salem. In his senior year he made a demo recording of Little Jimmy Dickens'
Out Behind The Barn
and sent the results to talent scout Orville Campbell. Through Campbell, Hamilton met John D. Loudermilk, a budding songwriter and singer. It was the evening of June 18, 1956 that the then 18-year-old Hamilton recorded his first single, the teen ballad, the Loudermilk-penned
A Rose And A Baby Ruth
. Originally released on the small Colonial Records, and then picked up by ABC-Paramount, before the year was out that debut record had made the American top ten and sold more than a million copies. George found himself booked on Alan Freed's show during the autumn of 1956, also gaining a place on various package shows featuring Buddy Holly, Gene Vincent, Chuck Berry and the Everly Brothers. He got to go to Australia in 1958 on one of the package shows, and recorded
The Teen Commandments
with Paul Anka and Johnny Nash.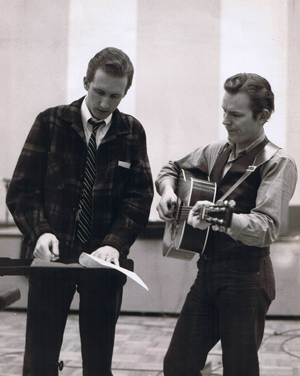 Even in those early days of his career, George demonstrated versatility and musical integrity. He hosted his own ABC-TV series in 1959, and though he was mainly recording teen ballads, he did get to cut SING ME A SAD SONG, an album of Hank Williams' songs, traditional folk songs such as
Aura Lee
, popular standards including
Carolina Moon
and even rockabilly tunes. It could be argued that George was never really a bona fide rockabilly or rock'n'roller—certainly he lacked the aggressiveness of the likes of Elvis, Gene Vincent or Carl Perkins—but his 1956 version of his self-penned
If You Don't Know, I Ain't Gonna Tell You
is pure 1950s rockabilly, the kind that has never been successfully recreated in later years. Just a four-piece band it drives along neatly with some finely-picked electric lead guitar and a twangy lead vocal from George.
Frustrated by his teeny-bopper image, George made a determined effort to concentrate on his first love of country music. From the outset of his recording career he had regularly recorded country songs like Webb Pierce's
Even Tho'
and Stonewall Jackson's
Why I'm Walkin'.
In January 1960, George moved his family—wife Tinky and young son Peyton—to Nashville and fulfilled his lifelong dream of becoming a country music singer. After several guest performances on the Grand Ole Opry, George was asked to join. His first appearance as a member was on March 5, 1960, when one of his musical heroes, Ernest Tubb, introduced him to the audience. Later that year he scored his first top ten country hit with
Before This Day Ends
.
That success prompted his long-time friend and mentor Chet Atkins to sign George to an RCA Victor recording contract and he returned to the country top ten in 1961 with Harlan Howard's
Three Steps To the Phone (Millions of Miles)
.  Two years later he topped the country charts with
Abilene
, a record that also made the pop Top 20. At the time there were little signs of the pioneering spirit that George Hamilton IV was to become known for, but back in the 1960s George IV was a country music trendsetter. Something of a 'maverick' he was at the cutting edge of country music as he helped drag it kicking and screaming from the dated Hank Williams' style into the new folk-country that evolved some ten years later into Outlaw music. But at the same time, he never overlooked the music's roots and recorded albums dedicated to Ernest Tubb and the Bakersfield Sound, both at odds with the then prevalent 'Nashville Sound,' and constantly reminded us all about the contributions of the Carter Family, Jimmie Rodgers and others.
Along with Bobby Bare and Waylon Jennings, he became a leader of the folk-country movement, taking country music into new directions. George certainly kept his ear to the ground. Behind that fairly bland voice was a hip observer of what was good in contemporary country music. For several years he was a successful country singer with his finger on a very commercial folk sound, recording songs by the likes of Joni Mitchell, Leonard Cohen and Gordon Lightfoot years before it was fashionable to do so.  His name became synonymous with Canada so much so that many mistakenly thought that George Hamilton IV was indeed Canadian.
George's association with the North Country goes back to the mid-1960s when he played a gig at the famous Horseshoe Tavern in Toronto. It was at the club he first met Canadian singer-songwriters Gordon Lightfoot and Ian & Sylvia. George was to go on and record sixteen of Lightfoot's songs and forge a close friendship. He was also credited for being the man who introduced such Canadian singer-songwriters as Joni Mitchell, Leonard Cohen, Buffy St Marie, Bruce Cockburn, Dick Damron, etc to American country listeners. In fact, in the mid- to late-1960s George Hamilton IV was at the cutting edge of country music.
George's first recording of a Canadian writer took place in September 1965 when he recorded Ray Griff's
Something Special To Me
, a song that didn't gain a release until two years later. Griff from Vancouver had moved to Nashville in 1964 and had had his songs recorded by country artists such as Johnny Horton, Jim Reeves, etc several years earlier. He was signed as an artist to Nashville labels MGM, Dot. Capitol and RCA without scoring any major top ten hits, but as a writer he has been consistently successful for more than forty years.
It was in January 1966 that George really began his love affair with Canadian writers and over the next few years he recorded such classic songs as
Early Morning Rain, Four Strong Winds, Urge For Going, Take My Hand For A While, Ballad of the Yarmouth Castle, Song For A Winter's Night, Suzanne, Together Alone, Shake The Dust, Both Sides Now,
etc
—
all classic folk-country songs given polished, sensitive and meaningful interpretations by a singer who was certainly forging new directions in the face of the countrypolitan sounds that were dominating Nashville at the time.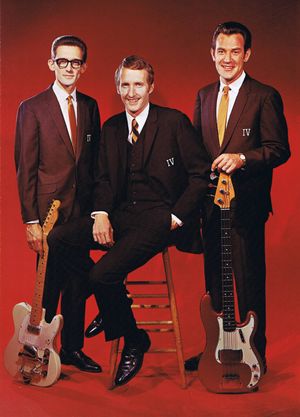 These Nashville sessions featured some of the top A-team session guys—such well respected names as Ray Edenton, Jerry Kennedy, Floyd Cramer, Charlie McCoy, Fred Carter, Bob Moore, 'Pig' Robbins, Junior Huskey, Jerry Reed, Jerry Carrigan, Pete Drake, Wayne Moss, John Hartford, Red Lane, David Briggs, Grady Martin, Chip Young, Weldon Myrick, Johnny Gimble, Buddy Spicher, etc. Amongst the back-up singers were a young Sandy Posey, Joe Babcock, Priscilla Hubbard (formerly Priscilla Mitchell), Buzz Cason, Norro Wilson, and also special guest musicians Gordon Lightfoot, Lenny Breau, Stu Basore, Sonny Osborne, Chet Atkins and John D Loudermilk. As you'd expect with players of that calibre the quality is first class, but also the musical arrangements were at all times inventive and not a case of just playing another good ol' country tune by numbers. Much thought was put into how the song, the vocals and instrumentation were structured. It's the reason why these recordings have stood the test of time in a way that so many of the recordings of that time have not.
George always had the command of traditional country roots as a well-integrated part of his style, drawing from the original Jimmie Rogers to Merle Haggard. But on top of this, he had the feel of what was happening in the music of the day and its artists such as James Taylor and John Denver. He 'brought' many outside composers to country music ears including James Taylor (
Carolina In
My Mind
), Buffy Sainte Marie (
Take My Hand For A While
) and Michael Martin Murphey (
West Texas Highway
) as well as supporting and 'discovering' many of Nashville's newer writers like Bobby Bond (
Anyway
), Gary Paxton (
Travelin' Light
) and Lee Clayton (
Claim On Me
). George wasn't exactly the world's most dynamic singer, but he did have a certain warmth and presence and many were surprised at just how 'country' he could be especially on songs like
She's A Little Bit Country, Back Where It's At
and
Country Music In My Soul.
In Canada George hosted his own TV show, North Country, for five years and though signed to RCA-Nashville, in the early 1970s he moved over to RCA-Canada and split his recordings between Nashville, Canada and the UK. His UK connection began in 1967 with a short promotional visit. Two years later he was one of the American stars of the First International Festival of Country Music held at the Wembley Empire Pool. His friendly, unflappable approach led to George becoming the Festival compere and a stalwart of the Festival returning year after year. By this time in the early 1970s he was filming both Canadian and British television series, was involved in regular tours of the UK and right across Europe, including being the first country star to tour behind the Iron Curtain.
All of this foreign travelling took its toll on his commercial success in America. His last Top 10 country hit came in 1970 with
She's A Little Bit Country
and his final Top 20 hit was the following year with
Anyway
. By 1974 he no longer bothered the American country music charts. In 1972 Billboard magazine bestowed upon him the title International Ambassador of Country Music and for the next 40 years it seemed as if George Hamilton IV was on a personal mission to live up to that name. And he did, in spectacular fashion, so much so that he kept country music front and centre in people's heart and minds around the world.
In 1976 he left RCA Records and signed a new contract with the UK-based Anchor Records and worked in the studio with producer Allen Reynolds, who at the time was enjoying great success with Don Williams and Crystal Gayle. With the changing times and notable indifference displayed toward him by critics it might have seemed that the best thing for George would have been to fade out quietly, admitting that he had had his day, that the rage for folk-country had finished. But he proved everyone to be wrong, though not enjoying any kind of commercial success in the States, he was producing the best work, both recorded and in concert, of his long career.
Working with Reynolds proved to be a perfect match and FINE LACE AND HOMESPUN CLOTH, FEELS LIKE A MILLION and FOREVER YOUNG, released in 1977, 1978 and 1979 respectively, were excellent albums. The music was not a departure from his usual style, rather a logical progression in his career development and maintained the distinctive sound that had already sold millions for the North Carolina singer. His choice of material was always interesting and ranged from a bright reading of Townes Van Zandt's
I'll Be Here In The Morning
through Harlan Howard's superb but underrated
Two Ships That Passed In The Night
to the gospel-tinged
Mose Rankin
from the pen of Billy Ed Wheeler. The musicianship throughout was without fault giving the albums extra bite. Who else would dare to take an old Scottish traditional song like
Wild Mountain Thyme
and sing it almost straight, or dip back into traditional American folk and come up with a bright new version of
Rangement Blues
, then mix in contemporary material like Bob Dylan's
Forever Young
and Gail Davies'
Someone Is Looking For Someone Like You
and make it all work? George Hamilton IV was indeed a brave man. He sang with feeling, if not technical expertise and Allen Reynolds production was appropriately immaculate.
A deeply religious person, growing up in Winston-Salem, George Hamilton IV said church was a major part of his life. He was 10 years old when he made his commitment to Christ on Palm Sunday, 1948. But it wasn't until he was invited to tour behind the Iron Curtain in the 1970s that he realised the price Christians around the world were having to pay for their beliefs. People were being persecuted, even sent to prison. Students were denied acceptance at colleges and universities because they belonged to Christian churches.
"It was a rude awakening,"
he told me several years ago.
"I realised how much of a baby Christian I was and how much I had taken for granted."
Returning to Eastern Europe several times through the years, George continued to be deeply affected by the struggles facing Christians there. In 1973 he recorded his first gospel album, SINGIN'' ON THE MOUNTAIN, with Arthur Smith. A couple if years later came BLUEGRASS GOSPEL and in the ensuing years he has made many more gospel recordings. After being invited to sing at Dr. Billy Graham's crusades in the early 1980s, George began sharing his own beliefs in song and testimony at churches and Christian concerts all over the world, asking only for a love offering as payment.
As his country music career became less and less commercially successful, he devoted more and more time spreading the gospel in what he described as 'up close and personal concerts' which allowed him to see the immediate response of the audience. George always stated that he was not a preacher.
"I'm not qualified to be one,"
he would explain,
"and don't claim to be. I'm a confessor. What I have to say is more confessional than preaching."
His gospel performances were always 'non-threatening,' in that: "non-Christians or fence-sitters or backsliders or baby Christians like I once was can come to it and get something out of it without being preached at or as we say, 'Bible thumped.'"
Over the years George undertook many gospel tours throughout The British Isles when he played mainly churches with themed performances based on Thanksgiving, Easter or Christmas, all portrayed in an entertaining mix of music and bible readings. There's little doubt that these performances introduced many newcomers to his music, but more importantly, he also helped many of those 'fence-sitters' to become more involved with their Christian beliefs by gentle persuasion and his own example of how he lived the 'good life' himself.
He still maintained a close association with country music, remaining an active member of the Grand Ole Opry right up until he passed away. In fact in more recent years he stayed closer to home and hosted backstage tours of the Grand Ole Opry, relating the show's history with personal anecdotes from his own long relationship with the show. He was the first—and only—country performer to star in his own summer season in Blackpool. Also he was the 'narrator' in the highly successful West End and touring show Pasty Cline The Musical from 1994 through 1996 with Irish singer Sandy Kelly portraying Patsy Cline.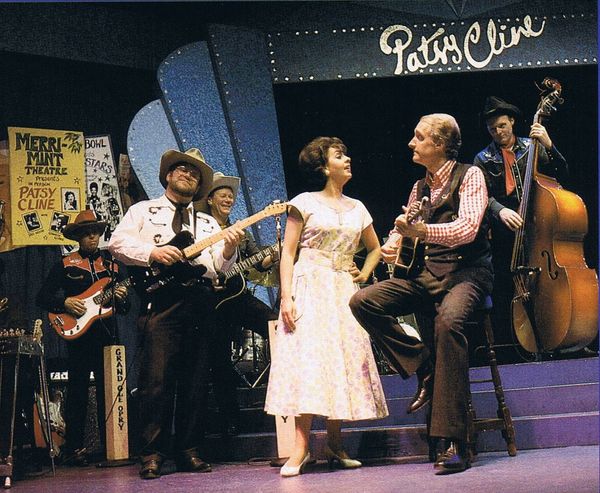 Though he no longer featured on the charts, he still recorded prolifically right up until shortly before his passing. Amongst his diverse albums were the TV-advertised SONGS FOR A WINTER'S NIGHT, the nostalgic OLD FASHIONED HYMNS AND GOSEPL SONGS FOR THOSE WHO MISSED THEM, the traditional country flavoured IN THE HEART OF TEXAS, AMERICAN COUNTRY GOTHIC with the Moody Brothers, COUNTRY BEAT with Czech country band Jiri Brabec & Country Beat,
HOMEGROWN which teamed him with son George 'Hege' Hamilton V, EASTER IN THE COUNTRY, a collection of inspirational recitations under the title of TREASURED KEEPSAKES, OLD COUNTRY CHURCH, THANKSGIVING IN THE COUNTRY (A Harvest Festival Collection), STREETS OF LONDON, WE WILL MEET AGAIN a duet album with Irish singer Sandy Kelly, PATSY CLINE MUSIC AND MEMORIES from the popular stage musical in which he starred, HAMILTON'S OTHER COUNTRY (a collection of Scottish songs) and A TRIBUTE TO LUKE THE DRIFTER.
His awards and credits are much too numerous to list here, but suffice to say that the humble and unpretentious George Hamilton IV achieved much more within his chosen profession than he could ever have hoped for when he first stepped into a recording studio way back in 1956. In my humble opinion good ol' George was one of Nashville's groundbreaking country artists as he blazed a country music trail right across Europe. Though in some quarters he was often regarded as something of an old-fashioned anachronism, he remained as hip as ever with his finger very much on the pulse and was always adventurous in his choice of song material.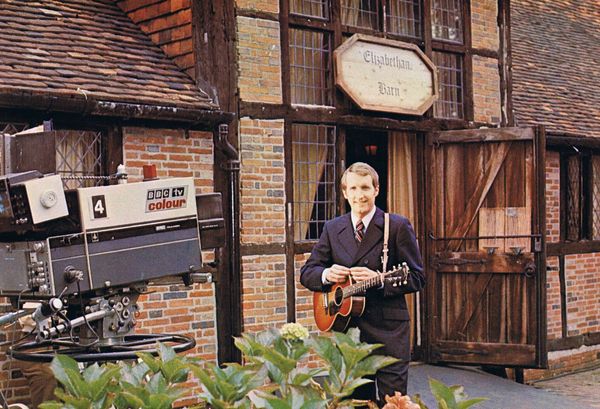 Throughout his career he continued to follow his muse, regardless of the current trends or commercial expectations. At the height of his success in America, he branched out into the international market, building a career for himself in Canada, the UK and across Europe. It turned out to be an astute move, as while many of his contemporaries found their marketability in the States dwindle, he maintained a thriving career across the world that kept him on the road for more than 50 years right up to the very end. He was due to return to the UK in late October 2014 to tour with Irish singer Sandy Kelly for the Patsy Cline 50
th
Anniversary Tour. The tour will still take place with his son George 'Hege' Hamilton V and should be a fitting tribute to a pair of genuine country music legends. Hopefully the CMA will belatedly induct George Hamilton IV into the Country Music Hall of Fame, an induction that by rights should have happened during his lifetime.