Gene Watson - Outside The Box
Fourteen Carat Music
*****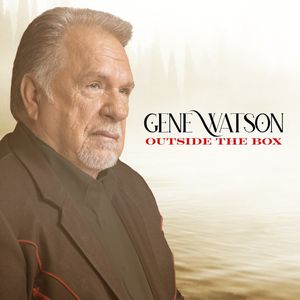 What can I say about Gene Watson that I've not already said? Alright, confession time, I've been a massive fan of the Texas balladeer since I first heard him way back in 1972, so I cannot help being more than slightly biased. Very simply, OUTSIDE THE BOX is a beautiful album. Gene, alongside producer Dirk Johnson and the crack studio musicians, create a spacious soundscape that jostles listeners hearts and souls and then soothes with a palpable intimacy and an enduring hope and love that echoes long after the album's last note. Gene delivers with an ageless quality that belies his 80 years. More mellow and convincing than ever, he includes songs from all generations, and proves that he hasn't lost a note in his incredible multi-octave range. In total, the album is drenched in the holy spirit of classic country. It's 12 songs of astonishing songcraft: relentless yet fragile, bold yet familiar, light yet incredible. It's a tribute to these songs that Gene has recorded them, and it's our fortune that he's shared his distinctive versions with us. Anyone who loves classic country music should love Gene Watson: his gentle singing, his reserved manner in his performances, the music and singing in the foreground, are what distinguish him. What pushes OUTSIDE THE BOX beyond being just another great country record is the well-constructed vignettes and sound sculptures rooted in moments of stereotypical arrangements elevated into visceral, at times therapeutic, experiences. It is a source of empathy and hope for those feeling uncertain and alone.
A set of love lost and gained romantic entanglements, he has chosen songs from the back catalogues of Merle Haggard, Etta James, Jimmy C. Newman, Willie Nelson and Brook Benton alongside a trio of new songs from Nashville-based Erin Enderlin. One of these, I've Got One Of Those Too, is a duet with bluegrass queen Rhonda Vincent. Authentically country and full of heart-breaking vulnerability, this time honoured portrayal of a pair of recent singletons on the cusp of gingerly stepping out with each other is pure emotional soul. It's a bittersweet feeling tied into a powerful steel and fiddle-driven track. Plaintive fiddle sets the tone for The Blues Are Alive And Well, a melancholy, country-tinged piece—not the expected blues tune—about a man drowning his sorrows and dealing with the aftershocks of his wife falling for someone else. The third Erin song, They Played It, is a heartfelt tribute to the legendary Music Row A-team session players—the unsung heroes of country music success stories of the past 60-70 years. Special reference is given to the late blind pianist Hargus 'Pig' Robbins … a nice touch being the recreation of his signature piano intro to Behind Closed Doors, which for many years was attributed to Charlie Rich.
Gene turns back the clock to 1967 when he was an aspiring local Texas country singer playing the honky-tonks and barrooms. In those days he regularly covered Merle Haggard hits, and one of his favourites was Loneliness Is Eating Me Alive. Penned by Hank Cochran, this was the B-side of Merle's number 2 country hit I Threw Away the Rose. The epitome of a country weeper, the main character outlines life without his woman as he begs her to return home to the accompaniment of tinkling barroom piano, sawing fiddle and weeping steel. Gene Watson's art seems to reside in a unique voice that can ooze sadness in song or exude an antique yearning quality. This comes through powerfully with It Looked Good On Paper. Penned by­ Carl Jackson and Pam Tillis, this is a song I recall by Randy Kohrs and Dolly Parton, but in the hands of Gene it becomes a masterpiece of post-divorce heartbreak. The catchy, cheerful melody of If She Only Knew makes the song seem more lighthearted than it is—the message here is actually fairly deep—as he describes the way his loved one is slipping away from him as her dementia gradually takes a hold. This gets to me every time I play it. There are so many more gems to discover amongst these dozen tracks including a Willie Nelson duet (Wonderful Future), a touch of country blues (Lie To Me) and a revival of a vintage country love ballad previously recorded by Jimmy C. Newman and Englebert Humperdinck (I'm Holding Your Memory).
October 2022