Gene Autry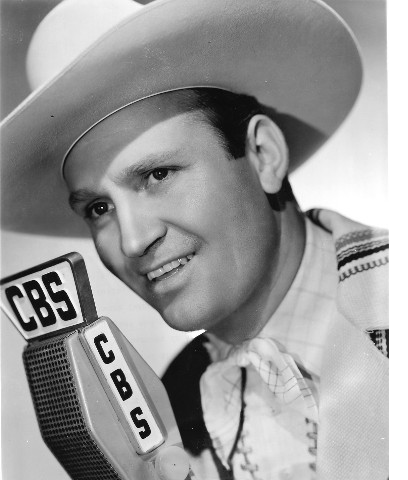 Singing cowboy Gene Autry did much to popularise country music, not only on the silver screen, but also to an international audience. The most successful of all singing cowboys to break into movies, his influence on what we now know as country music was tremendous. Through his films and recordings, Autry made country and western music appealing to middle America, bringing those genres from marginal to mainstream. His songs always had great charm and are outstanding for their simplicity and brevity. There can be few anywhere in the world who have not at some time heard hits like That Silver Haired Daddy Of Mine, You Are My Sunshine, South Of The Border, Back In The Saddle Again and the perennial Christmas favourite Rudolph The Red-Nosed Reindeer. He was a consummate entertainer who succeeded in many aspects of the entertainment world. Not only was he a much loved film star and radio entertainer, but he also covered an amazing amount of stylistic terrain in his recordings, including early blues, country, pop songs of the day, movie music and children's music.

Gene Autry rose to superstardom and became a multi-millionaire through a combination of personal style, hard work, charisma, and sheer grit. Born Orvon Gene Autry on September 29, 1907, in Tioga, Texas, he learned music from his mother, Elnora, on a mail-order guitar and sang in the choir of his grandfather William's Baptist church. During high school, he toured with a medicine show and by his late teens, was employed as a railroad telegrapher in Oklahoma. It was in a railroad office in Chelsea, Oklahoma that Autry met the celebrated humorist and entertainer Will Rogers, who heard him play and encouraged him to pursue a career in music. That fateful encounter led to Autry travelling to New York in 1928 in search of a record contract. That visit did not bear fruit, and he returned to Oklahoma where he performed on Tulsa radio and made public appearances. A second trip to New York in October 1929 resulted in his first Victor recordings. Autry initially recorded non-exclusively for a host of labels before cutting a string of hits for Okeh and Columbia. His first sides bore the deep influence of Jimmie Rodgers, the Singing Brakeman and father of modern country.

Autry worked extensively with Jimmie Long, and brothers Frank and Johnny Marvin and of all the singers at that time who tried to emulate the Jimmie Rodgers' sound and style, he was the closest. Producing records for a variety of labels including Gennett, Victor, Columbia, as well as various low budget labels he sold lots of records during the Depression era. He gradually moved away from blues to a smoother, more traditional hillbilly styling hitting paydirt in 1931 with his first major national hit, a sentimental duet with Jimmie Long, That Silver Haired Daddy Of Mine. There followed more sentimental ballad hits, mainly with such original numbers as My Old Pal Of Yesterday, Missouri Is Calling. I'm Always Dreaming Of You, My Carolina Mountain Rose and The Little Ranch House On The Old Circle B.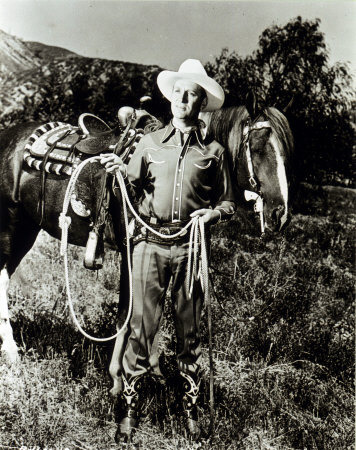 He began to tailor his western image with appearances on WLS Chicago's National Barn Dance as Oklahoma's Singing Cowboy. It was Autry's movie breakthrough that set his career on fire. He was by no means the first cowboy to sing on screen. But Autry was the first to attain stardom as a singing cowboy in a series of Hollywood 'horse operas' in which the music counted as much as the fisticuffs. Autry's soft-spoken persona and mellow singing style proved immediately popular onscreen. After supporting Ken Maynard in the 1934 feature In Old Santa Fe, he won a youthful following with the curious 15-chapter western/science fiction serial The Phantom Empire in 1935. That same year, he received his first full-fledged starring vehicle, named after his hit recording of Bob Nolan's cowboy classic Tumbling Tumbleweeds. In all, Autry starred in 91 movies produced by Republic and Columbia from 1935 to 1953. US movie exhibitors consistently named Autry the No.1 western star during the late 1930s and early 1940s.

As his movie fame grew, Autry cut a number of hits. His biggest smashes included his theme Back In The Saddle Again (1939), South Of The Border (1939) and his cover of Jimmie Davis' You Are My Sunshine. In 1939 Autry started airing his own CBS Radio show, Melody Ranch, which ran nationally, interrupted only by the star's World War II service, through 1956. On his return from the Army Air Corps, Autry picked up where he left off. His biggest postwar records weren't western ballads but Christmas songs—the self-penned 1947 tune Here Comes Santa Claus and, in 1949 Rudolph The Red-Nosed Reindeer. The latter was a mega-hit on its original release on Columbia, and Autry re-recorded it in 1956 for his own Challenge imprint. Sales figures from the period are not conclusive, but it is generally considered that Rudolph was a multi-million seller and, with Bing Crosby's White Christmas, one of the two largest selling singles prior to the arrival of Elton John's Candle In The Wind 1997.

A nascent radio tycoon in the early postwar era (he owned stations in a number of markets, including Phoenix, San Francisco, and Seattle), Autry was also an early believer in TV who ultimately owned the Golden West Broadcasters chain. TV kept his image vital among baby boomers. From 1950-1955, 91 episodes of the Gene Autry Show, which closely followed the formula of his movies, re-ignited the popularity of the hard-riding, sweet-singing sagebrush troubadour. Though Autry would operate his Republic record label through the 1970s, he began winding down his recording career in the late 1950s to concentrate on various business ventures. By the mid-1990s, his personal wealth was estimated at $320 million. The original singing cowboy died October 2, 1998 at his home after a long battle with cancer. Lightly acoustic, tightly western, and more than slightly brilliant. That was Gene Autry.

Recommended Listening

The Essential Gene Autry (Columbia 1992)
Blues Singer 1929-1931: Booger Rooger Saturday Night (Columbia/Legacy 1998)
The Singing Cowboy Chapter One (Varese Sarabande 1998)
The Singing Cowboy Chapter Two: With His Little Darlin' Mary Lee (Varese Sarabande 1998)
That Silver Haired Daddy of Mine (Bear Family box set 2006)