Live at the O2 Shepherds Bush Empire, London, March 2, 2014
Unlike way too many successful American mainstream country music acts, Eric Church is committed to making his music better known in the UK. He's doing it in the same way that he did back home … playing to the fans, old and new, and building a solid foundation. But he's not prepared to compromise his artistry by repeating himself musically and lyrically in order to gain an easy ride into the hearts and minds of music fans. He showed that on a wet Sunday evening at a packed Shepherds Bush Empire. It was very much a partisan crowd. I couldn't detect any detractors, the audience was totally involved in the vibe that Eric Church, his songs and his band created. They sang along with every word and were captivated by his on stage persona and delivery.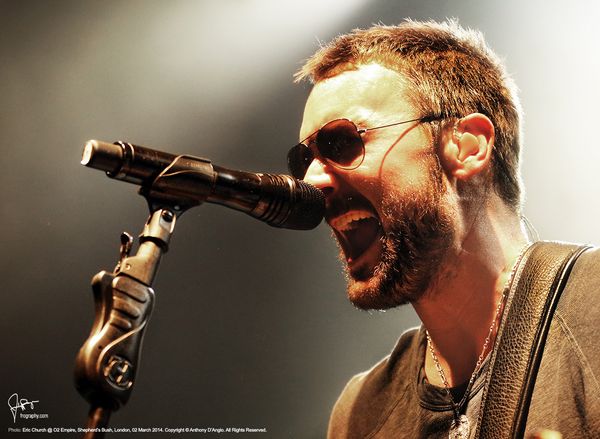 At the heart of a good show are great songs, and Eric Church is renowned for his honest and relatable writing. Songs like his first number one,
Drink In My Hand
, or
Homeboy
and
Sinners Like Me
—the latter was something of a chart failure, yet remains a fan's favourite—along with such other gig standouts as
Jack Daniels, Like Jesus Does
plus
Cold One, Like A Wrecking Ball
and
Roller Coaster Ride
from his latest THE OUTSIDERS, are what keeps Church on the road and on the charts. His personal experiences are woven into each song, from his days playing the bars and dives in North Carolina to dealing with break-up issues to just needing to have a good time. Church trusts his fans to listen to what he has to say, and they trust him to bring them through life's familiar roller coaster of fear to confidence and tragedy to redemption.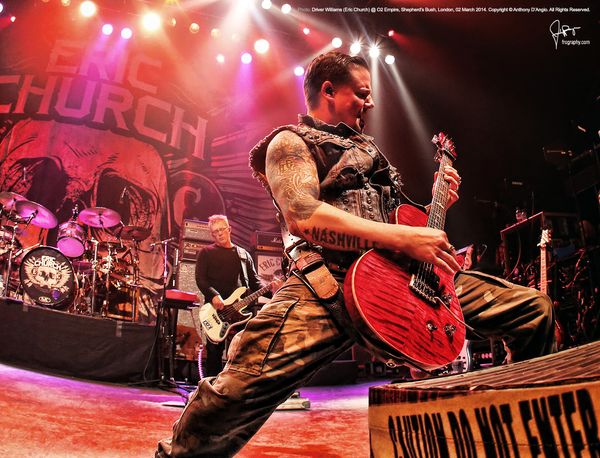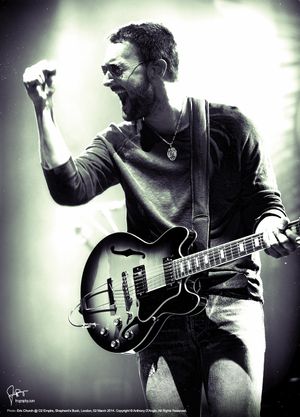 A consummate entertainer who has paid his road dues, Eric was in his element as he utilised every square inch of the stage, screaming with unalloyed joy off mic and thumping his chest like Tarzan to show us how delighted he was to be here. His band, several of whom have been on the journey with him since those early barroom days, is one of the finest modern country units out there today. Tonight, both Eric and his musicians were relaxed. They were very much at the top of their game coming off a string of successful UK dates that had set them up for their biggest London gig so far. He unashamedly sipped at his glass of Jack Daniels throughout the show, holding it up to the crowd as and when he performed one of his several drinkin' songs. The crowd cheered each time and when it came to
These Boots
, the females in the audience (and they seemed to outnumber the guys), took off their boots and waved them proudly in the air. A few braver ones even threw them up on stage … Eric obliged by signing them.
The whole show was great. One of the best concerts I've seen so far this year. He closed with
Creepin'
but returned expectedly for a three-song encore, finally finishing with his biggest hit
Springsteen
, the crowd chants of 'Oh, whoa, whoa… Oh, whoa, whoa' still echoing in my head as I headed for the underground, a warm glow for all to see across my beaming face. 
Photos credit: Anthony D'Angio