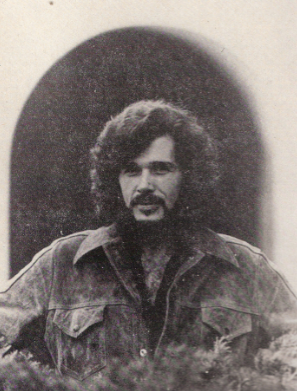 First published in Country Music People, October 1978
Eddie Rabbitt might still be a relatively new name on the American country scene, but in the four years that he's been recording he has rapidly established himself as a top artist. Not only does Eddie write all the songs, sing them with skill and publish them, but he has also made them highly successful in the American country charts.
Since his first single,
You Get To Me
, made the top twenty in the autumn of 1974, Eddie has not looked back, chalking up an impressive dozen hits with three making the coveted top spot. But when Eddie first hit Nashville some 12 years ago, it was as a songwriter that he first established himself. Roy Drusky recorded
Workin' My Way Up From The Bottom
, a gently melodic song included on his IN A NEW DIMENSION album, and during the next seven years several more of Eddie's songs were recorded by various country and pop artists.
The Sounds Of Goodbye
by George Morgan and Tommy Cash, with Johnny's younger brother also taking
Your Lovin' Takes The Leavin' Out Of Me
high into the country charts in the autumn of 1969 and
Love Me And Make It All Better
being recorded by Bobby Lewis, Jack Greene and several other artists.
By the early 1970s Eddie was really making the grade as a writer when Elvis Presley recorded
Kentucky Rain
and scored his 50
th
million seller and Ronnie Milsap took
Pure Love
to the top of the charts and went on to be named Male Vocalist Of The Year.
Last winter Eddie made a short promotional visit to Britain and was very eager to talk about his life, career and songs. At the time he was riding the crest of a wave which began with
Rocky Mountain Music
two years ago. He is still riding high, which has led to the postponement of a planned British tour until next spring at the earliest.
Born on November 27, 1941, in Brooklyn, New York, Eddie spent his childhood in New Jersey, not exactly an area noted for its country music connections. The son of Irish immigrants, who moved to the States in the depression period of the mid-1920s, Eddie was musically influenced by his father, Thomas Rabbitt, who used to play Irish jigs on the fiddle at weekends at Irish parties or get-togethers.
His New Jersey accent is still apparent, even though he has been in Nashville since 1967. "I came to Nashville thinking it was going to be easy to break through and by sheer luck it started off pretty good with Roy Drusky recording
Workin' My Way Up From The Bottom
, but then it became harder and trying to live off the proceeds from that one song was just about impossible."
"I was hanging about with other writers like Kristofferson and Chris Gantry. We used to hang about in a place called Wally's Club House and Eddie Miller, he wrote
Release Me
and a bunch of other songs, gave us all kinds of moral support. Eventually I signed a writers contract with Hill & Range, who paid me $37.50 a week. It was just enough to live on until the royalties started to come in. They were in a position to place my songs and over the years people like Willie Nelson, Tom Jones, Roy Clark, Jack Greene, Tommy Cash, and of course, Elvis, have recorded my songs".
Eddie is naturally proud of his success, but is quick to point out that it takes a good deal more than just luck or talent. "You've got to hang out and make yourself available to people. Stay close, and let your songs drift into the right circles. Start making as many connections as you can. The music business is just like any other business."
That advice may not meet the approval of people who dwell on artistic freedom and condemn the songwriters of Nashville for writing 'formula' songs, but then again, how would you suggest an aspiring writer should get his songs across to the public?
Throughout his writing, Eddie Rabbitt has concentrated on strong melodies and songs with a light, summery touch. "I grew up with a lot of Irish music around the house, I'm sure that has influenced my own writing. Those melodies and minor chords I put in my music probably come from that. Though country music is a large percentage of what I do, I don't want to get locked into one area, because I write a lot of different kinds of music and I like doing three-part harmony, minor chords and pop music."
Eddie's smash hit of last year,
I Can't Help Myself
, is a neat example of modern pop-country, although after the umpteenth play, its mannered vocals do tend to become a little wearisome. The snazziest country single of 1977 all the same! Des O'Connor has included it on a recent album and it has become well-recorded on the Continent where Eddie Rabbitt is building up quite a sizeable following.
Possibly Eddie's best-known song in Britain is
Kentucky Rain
, recorded by Elvis Presley in 1970 and included on Eddie's latest album. He explains how Presley came to record the song, "I had written
Kentucky Rain
and a top producer in Nashville wanted to sign me to a major label and record the song for a single. I was quite excited. It seemed at long last my chance to become a recording star had arrived. Then my publisher, Lemar Fike, who ran the Hill & Range publishing company and knew Elvis, was preparing some material to take to him and
Kentucky Rain
was included on the tape."
"I told him not to play
Kentucky Rain
for Elvis, as I was going to record that song. Well, he played it and Elvis liked it enough to consider it for his next single. I had to decide if I should let Elvis record it, probably have a hit, or keep it for myself and chance that my first record would do nothing and the song would be forgotten. Also, I knew the producer would tear up my recording contract if I couldn't record that song. In the end the decision went to Elvis and he sold over a million copies of it!"
It was a decision that was to pay handsome dividends for Rabbitt. Presley recorded two more of his songs,
Patch It Up
which was included in the film Elvis—That's The Way It Is and
Inherit The
Wind
. With the money he made on
Kentucky Rain
, Eddie decided to invest in his own publishing company, which he named Briar Patch Music, and one of his first successes was with
Pure Love
, which Ronnie Milsap recorded and has since been recorded by dozens of artists. Then Mel Street took
Loving On Borrowed Time
high into the country charts and singers from both the country and pop field were regularly requesting Eddie Rabbitt songs. For a while the New Jersey songwriter's initial purpose for coming to Nashville—to be a singing star—was forgotten.
"I discovered very early on, when I reached Nashville, that any guy who is good in his home town comes to Nashville to become a star. It was really depressing seeing all these talented guys around who couldn't get a thing going. If they couldn't get a break then I thought I would never get one," then he grins ruefully and adds, "But I'm Irish and a little stubborn so I stayed and broke down the barriers."
It all began happening for Eddie Rabbitt as a singer in 1974 when he met up with David Malloy, the son of Jim Malloy, a noted producer who was involved in the Mega label set up that launched Sammi Smith to stardom with
Help Me Make It Through The Night
some eight years ago. Eddie takes up the story: "Between Even Stevens, who I write with, and David Malloy, who is my producer, we have come up with some interesting sounds that I guess are a little different, some might call my records progressive."
By 'stealing' time in the recording studios, Rabbitt and Malloy were able to put some of their ideas and songs on tape. They had been working in the studios at odd periods when no one was around, neither of them able to pay for the expensive time they were using, but this little bit of cheating certainly paid off. Mike Suttle of Elektra Records happened to hear some of what the pair had put down, enthused about the result, he immediately signed Eddie Rabbitt to a recording contract.
His initial single was the self-penned
You Get To Me
, a mid-tempo ballad featuring some inventive steel guitar work from Hal Rugg and a hypnotic hook that weaves its way into your brain. The production is nicely adventurous without over indulging in too much gimmickry. It gave Eddie Rabbitt his first top twenty hit in the American country charts and the next two singles,
Forgive and Forget,
written in collaboration with Even Stevens and
I Should Have Married You
, further established him in the charts and led to the release of his first album, EDDIE RABBITT, in the summer of 1975.
Debut albums which indicate 'promise' are one thing, but those which actually start making good on their word from the start are another entirely. This album contained eleven potential hits. One of my favourite tracks is a ditty titled
Sweet Janine
, a moody, reflective song treated with tended loving care and devoted to his wife. Eddie struck me as a very happily married young man as he spoke about the lady of his life.
"We live in a sort of English Tudor house out in the country. We're really happy together and both enjoy history and old houses and things. Usually we travel together and I would really like to bring Janine over here the next time I come so that we can see the sights. She is interested in my career and has been helping me with German language lessons. I've just been across to Germany and that was quite an experience, I can tell you."
Eddie Rabbitt is quite well known in Germany. His song,
Rocky Mountain Music
, as recorded by a German pop singer, turned out to be a gold record last year and several more of his songs have been recorded by German artists. It may seem strange that a New Jersey country singer with Irish connections is making a name for himself in Germany, but perhaps that just illustrates the wide appeal of Eddie Rabbit's music
With his fourth single,
Drinkin' My Baby Off My Mind
, Eddie really established himself making the top ten and eventually topping the charts in the early months of 1976. It was this success that made Eddie think seriously of going on the road and becoming an entertainer. Up to that time he had never performed in public and had no wish to until he had everything just right. "I spent months rehearsing with my band to get things just the way I wanted them to be. If you spend time in the studio making a record just right, then I believe when you do a show you must do your best to recreate that same sound." He elaborates a little: "I wouldn't go out on the road until I had a full band and road manager. I used to be in a house band, backing up various solo acts when they came through, and I know just what it's like trying to play with someone who comes in just in time to have maybe only one quick rehearsal before the show. It's hard."
Eddie formed his band to go out on the road following the release of his second album, ROCKY MOUNTAIN MUSIC in the summer of 1976. Bill Rehrig is his road manager and fiddle player, Michael Spriggs, who plays on most of his recordings and was born in Sussex, before emigrating when he was twelve years old, is lead guitarist, Chuck Hammond is the bass payer, Barry Kelley on steel guitar, Andy Byrd on keyboards and drummer Jimmy Hyde.
ROCKY MOUNTAIN MUSIC marked Eddie Rabbit's introduction to British country fans with the title tune, a number one country hit in the autumn of 1976, receiving substantial air play in Britain when it was finally released in the early months of 1977 and the album gaining a mixed reaction from the critics this side of the Atlantic.
To my ears the album had a distinctive sound right from the start, which is rare enough these days. Rabbitt displays a strong melodic sense with plenty of creative ideas to go with it. There is plenty of outstanding original material, including the beautiful,
There's Someone She Lies To
with Rabbitt's voice rising over a synthesiser, but isn't. Several of the songs fall neatly into the honky tonk format, lyrically, if not always musically. These include Eddie's two mammoth hits,
Drinkin' My Baby Off My Mind
and
Two Dollars In The Juke Box
, plus the superb
I Can't Get This Ring Off My Finger
, yet another song written with Even Stevens.
Eddie has a high regard for Bruce Noel Stevens, better known as Even, on each of his album sleeves he gives him credit for both his songwriting ability and moral support. "I met up with Even Stevens a few years back and we ended up living next to each other and were soon writing songs together. Somehow we hit it off perfectly and have written literally hundreds of songs together. We just throw lines back and forth and it clicks into place."
Like Rabbitt, Even Stevens has also embarked upon a singing career, although to date he has not enjoyed notable success, but does have a very interesting album, THORN ON THE ROSE on the market. Produced by Jim and David Malloy, this is heavily influenced by Shel Silverstein, who has worked with Stevens on many successful songs, but that's another story altogether. What is of interest now is the songs of Eddie Rabbitt featured on the album, and one of these, Delta Queen, is a real gem, with a country-ish backing utilising fiddle and banjo. Another song the pair worked on,
A Piece Of The Rock
is a gospel tune that includes lines from
Joshua Fit De Battle
and
Someone's Being Born
, with the gospel feel helped along by the Oak Ridge Boys and various background singers.
Both Eddie Rabbitt and Even Stevens have come to the fore as songwriters in the last few years, and in both instances it is their flair for melody that has led to the wide acceptance of their songs. Rabbitt's third album, simply titled, RABBITT, is full of bright, breezy rhythms, tender ballads and the cream of Nashville's session scene adding their contributions to his pleasantly melodic vocals.
Jewelry Store
, a song written by Alan Ray, is a perfect ballad performance, vocally and instrumentally, a mood carried on through,
We Can't Go On Living Like This
, another enormous hit for Eddie this time last year. This song examines a marriage that has become more functional than natural, while
I'm A Little Bit Lonesome
, deals with a musician's life on the road. The painstaking perfection of this album has to be admired. There's not a rough edge in sight and everything about it is finely crafted and a definite triumph for Rabbitt.
"I get a great kick out of being in the recording studio making my songs come alive. I like to give the songs the best arrangements and production that is possible. With David Malloy and Gene Eichelberger, who engineers most of the recordings, we really work as a team, throwing ideas around. We are not strictly country people, having grown up with rock and pop music, and I think those influences come out in the recordings."
This year, Eddie Rabbit has made more strides both artistically and commercially, as a recording artist. His latest album, VARIATIONS, marked a slight departure from his previous LPs and brought him into the pop spotlight.
Song Of Ireland
, a song written about his own feeling about his Irish heritage blended with a traditional Irish fiddle tune,
Mist In The Meadow
, played by his 78-year-old father, Thomas Rabbitt, is possibly the most heartfelt piece of work Eddie Rabbitt has yet created.
This album is full of other excellent songs like
Hearts On Fire
, the spectacular opening track. An exciting arrangement of a hypnotic song as commercial as they come. There was no question about this one. Melody, rhythm and commercial appeal and an incredible hook made for an instant hit record. It was the first single lifted off the album.
You Don't Love Me Anymore
, another song written by Alan Ray, is a delicate ballad highlighted by strings and Rabbitt's tender vocal work.
His use of multi-tracked vocals, a technique which he uses sparingly with a meticulous attention to detail, is startling, especially on the beautiful
Caroline
. Then there is
Kentucky Rain
(also recorded by Elvis) and
The Room At The Top Of The Stairs
, all superbly constructed songs with intelligent lyrics and excellent melody lines.
There was no two ways about it—Eddie Rabbitt had come up with another very considerable achievement. Songwriter, singer, publisher and entertainer, and to each facet of his career Eddie brings a touch of perfection and professionalism. It is an attitude that has so far paid high dividends, and if we are lucky, then next year could see this highly talented guy take the British market by storm.