Dewey & Leslie Brown - Jealousy
Bell Buckle Records
****1/2
These days musicologists and cultural historians seem to be in agreement that what we know today as bluegrass and old-time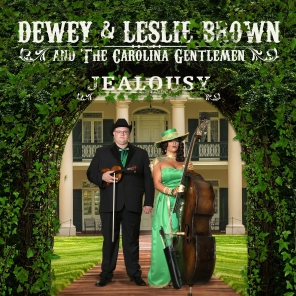 music has its roots in the mixing of the folk music of immigrants from the British Isles, with that of freed or escaped slaves of African origin in the Appalachian region. Many of these people were poor and lived simple lives in the mountains, were looked down upon by 'polite society' in the urban areas, and they kept to themselves. Husband-and-wife couple Dewey and Leslie Brown recreate those Appalachian roots having established themselves as masters of the bluegrass tradition. They harbour no allusions other than their intents. They eschew any sort of innovative stance in favor of a traditional tapestry, a seasoned sound built on bluegrass basics and a timeless template. They sound tight without sacrificing ferocity, and they wield a raw power that carries through to their records. It's also worth noting that the pair's songs evoke a sound that seems as if it was borne from another era, a time when the space between people was negligible, and one's view of the world was tinted and toned in a sepia sort of hue. If you're a traditional bluegrass fan, there's not much—if anything—you won't like about this fine album that's filled with great, classic-style singing and picking from Dewey (fiddle, vocals), Leslie (upright bass, vocals) with band members Brandon Henson (banjo), Kendall Gales (mandolin) and Tim Spence (guitar).
Both Dewey and Leslie have enjoyed many years singing and playing music. Dewey played fiddle as a member of Ralph Stanley's Clinch Mountain Boys for 11 years until Ralph passed away in 2016. Leslie, who grew up in the Appalachian Mountains of Vansant, Virginia, is coal miner's daughter raised on mountain music and clog dancing. Steeped in bluegrass and old-time music, the couple own and operate the Liberty Showcase Theater, The Reidsville Showcase Theater and Maplewood Hills Event Center in North Carolina. They wrote all bar one song on this, their second album, which throbs with every possible outcome of living and loving, as Dewey and Leslie cement their work as outstanding and vital to the old-timey bluegrass music scene.
The banjo-fiddle interplay that supports Mean Ole Thing takes you home, on the deep down low of the traditional bluegrass legacy. If you close your eyes and listen, you can easily believe you're hearing a first generation band grinding out bluegrass the way Bill, Earl, Lester, Ralph, and Carter envisioned it. They go deeper into the mountains with the foreboding Only Six Came Back. Penned by Joe Newberry, Dewey manages to weave a dark and engaging spell as they transform an all-too-common Appalachian tragedy into a dire warning of staying on the right side of the Lord. Not only do they play for salvation, they hit the right notes for unity. Ain't Nobody Gonna Take My Woman feels like one big hot breath of fire. Sonically, it is a blink-and-you-miss-it song taken at ludicrous speed as Dewey warns all-and-sundry to keep away from his loved one. Other tracks—the contemplative ballad Mother's Day and the sobering story of Dana in particular—temper the energy but not the enthusiasm, ensuring that the commitment to their cause remains consistent throughout.
Leslie brings a high lonesome sound to the longing Fountain Of Memories, an ode to her family and childhood home in Virginia. They offer both a short and long version of this sad tale of family disagreements and heartbreak. Performed in a duet style that floats on the line between bluegrass and old-time music, the heartfelt homage is particularly poignant, indeed, personal sentiment shines through with clarity and conviction. Leslie and special guests Donna Ulisse and Valerie Smith are all in perfect sync on Maybe I'm Crazy, creating a unified sound that flows freely with precision, craft and cohesion. With delicate vocal harmonies they create a romantic connection that lingers through a well-balanced combination of a memorable melody and adroit execution. The light-hearted Her And The Car And The Mobile Home, an enticing duet performance, brought back memories of those classic Porter'n'Dolly recordings of the early 1970s. Naturally, there's no shortage of adept instrumentation either. Jealous offers opportunity for a jaunty extended jam, while the down-home designs of Let's Go to the Fair suggest there's no danger of them ever faltering.
December 2021