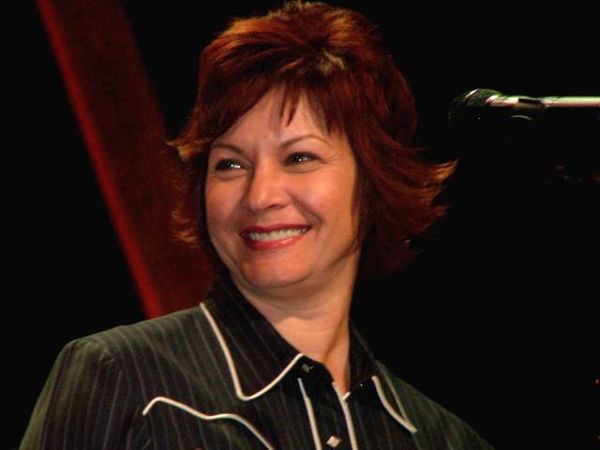 Dawn Sears, one of country music's finest, yet vastly underrated, hard-country vocalists, passed away on December 11, 2014 at her home in Gallatin, near Nashville, after a two-year battle with lung cancer. She was 53. Though in recent years she'd become best known as the female vocalist with the acclaimed Time Jumpers in Nashville, I first became aware of Dawn Sears some 23 years ago with the release of WHAT A WOMAN WANTS TO HEAR, her debut album on Warner Bros. It was a stunning country album, right in the neo-traditionalist style with lashings of steel guitar courtesy of Sonny Garrish and Paul Franklin, the distinctive fiddle of her husband Kenny Sears and some fine acoustic guitar from Don Potter flitting between the clean and concise electric guitars of Dan Huff, Brent Mason, Reggie Young and Danny Parks. But central to it all was the voice of Dawn Sears with her innate feeling for the country music lyric and the superb song choice.

Dawn Sears was born in East Grand Forks, Minnesota in 1961 into a family that loved music, especially country music. She was just 14 when she won her first talent contest at a VFW Hall in Grand Forks, North Dakota. At 17, she was touring with a band throughout the West and Midwest. In 1986, her travels would take her to Las Vegas, where she met fiddler Kenny Sears. Six months later, the two were married and living in Nashville.

They were regulars performing on TNN's Nashville Now and due to that exposure she gained a recording contract with Warner Brothers, who released her debut album, WHAT A WOMAN WANTS TO HEAR, in 1991. Though the album was loved by the critics, all three singles, San Antone, Till You Come Back To Me and Good Goodbye, failed to chart. Alongside several new songs by such Music Row heavyweights as Troy Seals, Mike Reid, Lisa Silver, Bob DiPiero and Donny Kees, Dawn demonstrated her passion for traditional country music with her superb renditions of Curley Williams' Half As Much and Harlan Howard's Odds And Ends (Bits And Pieces).

Following the poor sales of the album Dawn parted company with Warner Bros. Vince Gill was in the midst of putting together a new road band to tour behind his huge successes with When I Call Your Name, Pocket Full Of Gold and Look At Us and needed a good female harmony singer. Out of all the Nashville hopefuls he chose Dawn Sears, and she remained a working partner with Vince for the next 22 years.  

In 1994, while a member of Vince's band, Dawn  became the first artist signed to the reactivated Decca label in Nashville. Working with producer Mark Wright, her 1994 album, NOTHIN' BUT GOOD, more than lived up to its title. Slightly veering more toward pop-country, again it featured some superb song material, especially the Kim Richey co-written Runaway Train, which gave Dawn her sole country chart entry, reaching number 62 that summer. Again she dug back into country music's rich past with a spirited revival of Red Simpson's Close Up The Honky Tonks with Patty Loveless providing the vocal harmonies. Her self-penned Little Orphan Annie, a moving tribute to her parents, was about as traditional country you could get on a major label in 1994.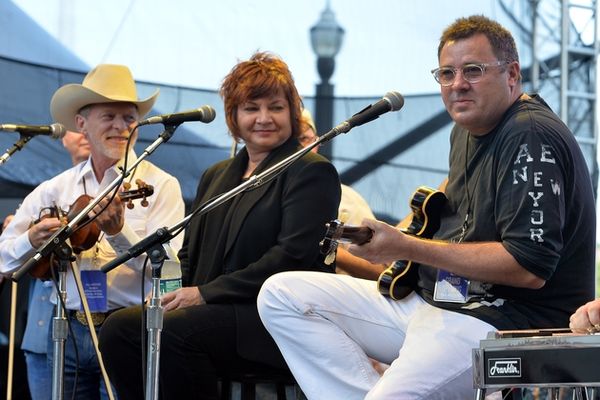 Again, the album failed to set the sales charts alight and so her association with Decca was short-lived. Dawn kept busy, not just on the road with Vince Gill, but also adding her voice in the studio to recordings by Gill, Tracy Byrd, Jim Lauderdale, Merle Haggard, Ronnie Milsap, Reba McEntire, Patty Loveless and many more.
She self-released an eponymous album in 2002, by which time, along with her husband, Kenny, Dawn was a founding member of the western swing ensemble the Time Jumpers. The band, comprising A-list Nashville studio musicians, came together in 1998 in order to jam together, drink and reminisce. Realising that Monday nights were slow in Nashville venues, they took on a Monday night residency at the mainly bluegrass Station Inn. In 2012 they moved to 3rd And Lindsley and became so popular that they have recorded several albums, gained four Grammy nominations and also appeared on recordings by other artists including Reba McEntire, Miranda Lambert and Leann Rimes. They were already attracting large crowds every Monday night when Vince Gill began sitting in with them in 2010. A couple of years later he became a full member of the Time Jumpers and plays with them most weeks when he's in town.

In February 2012 Dawn Sears was diagnosed with lung cancer. During treatment she continued to perform regularly with the Time Jumpers as and when she was able to. This past October Reba McEntire headlined a benefit for the ailing singer which featured performances by the Time Jumpers and Riders in the Sky. For the past two years Dawn had worked tirelessly raising funds for lung-cancer research including speaking on television talk shows, radio and to the press to highlight the disease and help create a better understanding of the daily battle and challenges that people with cancer of any kind face.

Dawn Sears was a brave lady who battled cancer with fortitude and optimism. I saw the Time Jumpers perform several times during my visits to Nashville and was always knocked out by the sheer power and emotion of Dawn Sears' vocals. She could move effortlessly from vibrant up-tempo tunes through heartbreaking country ballads to jazzy-flavoured torch songs, imbuing each of them with total credibility and passionate emotion.