Craig Market/Thomm Jutz - Nowhere To Hide
Self-released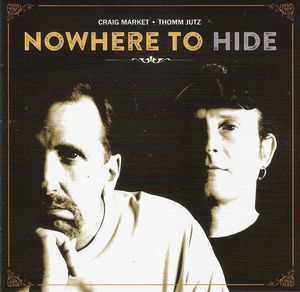 Being familiar with the work of Thomm Jutz, I just knew that I was going to enjoy this album. Craig Market is a name I wasn't too familiar with, yet I should have been, as he's written many songs I am familiar with and played on albums that I've enjoyed over the years. Together they have created an album that has become addictive, yet I know not why that is. Basically, NOWHERE TO HIDE is just the two of them playing their Martin guitars and singing a dozen co-written songs. Nothing more, nothing less, and as such, it could have been boring as hell. Yet it isn't … it's just plain addictive, an album that I instinctively reach for when I'm not sure I know what I want to listen to next. 
Their music uses no smoke or mirrors. There is definitely no glossing over of any aspect of this CD… they write lyrics that haven't been written before and I suspect that both have lived or experienced every word in these songs. It is well-known that Jutz, an experienced producer and recording engineer, prefers that live sound over studio polish, and that's exactly the effect this record delivers. It's like eavesdropping on a couple of friends picking and singing on that proverbial old back porch. Craig and Thomm have been creating music, both in their own right and as sidemen for others, traversing the back roads of America and the highways and byways of Europe for years. Both have built a music career on those travels, funnelling everything—the characters they've met, the things they've seen, the sounds they've heard, the stories they've learned—into a mix of rich, detailed folk-country music and rootsy Americana.
Like a twilight journey through canyons, with noctilucent clouds on the horizon, these songs flow with refined grace and raw force. The opening
Every Pilgrim Needs A Highway
was inspired by the people we've all seen standing by the side of the road and though it talks eloquently about individual characters, the lyrics resonate with a universal theme of searching and seeking that is such an integral part of the human psyche. Travelling plays a pivotal role throughout these songs.
Midnight 402
revives the almost lost tradition of train songs and moves along at a fair lick but with thoughtful lyrics that lifts it way above the norm in this genre. Though
More Than The Miles
is written from the perspective of a travelling musician and the one left behind at home, it can be applied to most of us and how we face up with our loved one to chasing a dream. I felt a close affinity to the thoughts expressed in
That's Enough
. I've seemingly spent a lifetime chasing deadlines; racing through life and all too often missing out on the simple joys of just living. Having recently got myself off that treadmill, this song of inner contentment really resonated with me. This is just so wonderfully honest and true.
There are also some compelling story songs, seemingly becoming a lost art within the confines of commercial country music. I love songs like
Some Place In France
, which you have to really listen to for the full story to unfold. This one is particularly touching, even more so when you realise that it's based loosely on a true story. Though there are only two acoustic guitars throughout this set of songs you'll stumble across interesting arrangements. Their excellent musicianship is evident, but this is a songwriters' album. Craig and Thomm communicate feelings and ideas in an open and heartfelt way, while keeping your musical ear intrigued with unique guitar picking and the dozen songs are full of love lost and found, hope and despair, anticipation and anguish. Together they turn phrases 'til you're dizzy, all the while plucking your heartstrings or capturing a sharp, lonesome vulnerability that never seems lost or brooding.
thommjutz.com/nowhere-to-hide