Country To Country 2015 - Review
Last year I was unable to attend the Country To Country Festival due to recent eye surgery. I invited Laura Baldwin, a young, aspiring journalist, to cover the Festival in my absence. She did a fantastic job, coming up with what I consider to be the finest C2C 2014 write-up that I've seen (and I've read quite a few). So this year I invited Laura again to cover the Festival, and she's stepped up to the plate with an outstanding, honestly written appraisal of the main arena concerts … read on and see if you agree 
C2C Review
As Dierks Bentley closed his emotional set at last year's Country2Country Festival, he promised to tell his friends Luke, Jason and Miranda 'that country music has a new home in London.' Buddies Luke Bryan and Jason Aldean took Dierks up on his recommendation, taking their first steps onto the European stage to lead what was widely hailed as a 'Bro-country' event at the O2. Whilst Miranda didn't make the trip (surely a hot tip for the future), Brandy Clark and Lee Ann Womack more than held their own amongst the boys. Lady Antebellum were the one act to bring an eclectic audience together as they closed the most successful C2C Festival yet.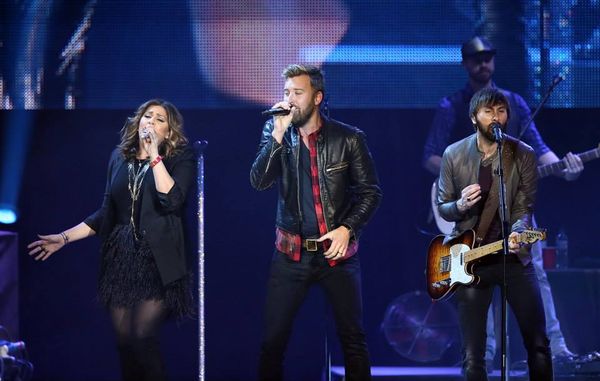 Following a wonderful contribution to Friday's Songwriters event at the O2 Indigo, singer-songwriter Brandy Clark moved to the main arena to kick off Saturday's show. In songs such as
Get High
and
Take A Little Pill
she tackled gritty, down-to-earth subjects through good-humored stories, a wry smile often lacing her lyrics. Her soft tones and easy on the ear melodies caught the attention of the audience, however, her stage presence seemed more suited to an intimate club than the cavernous O2. Brandy broke from her debut album 12 STORIES to perform acoustic versions of two of her best-known, number one hits—
Better Dig Two
(The Band Perry) and
Mama's Broken Heart
(Miranda Lambert). These spirited chart-toppers sparked a great reaction from the crowd who were perhaps unaware of her successful songwriting background. A tender rendition of
Hold My Hand
, was followed by a heartfelt reference to Lee Ann Womack as 'one of my favourite acts of all time,' before she closed with
Hungover
.
Sam Hunt was the first to take to the Satellite Stage, a new feature at this year's C2C that provided emerging artists with the opportunity to perform short sets whilst the main stage was prepared for the next act. This format worked well—Sam was cool, calm and confident as he and his guitarist, Tyrone Carreker, punched out three hit singles from his number one debut album MONTEVALLO:
Break Up In A Small Town
,
Leave The Night On
and
Take Your Time
. His distinctive, rap-infused style was well received by an enthusiastic crowd, many of whom left their seats to get closer to the action and gather around the small stage.
Country great, Lee Ann Womack bounced onto the main stage looking radiant in a bold floral dress and red high heels. She was in no mood to play second fiddle to the boys revving their trucks in the wings and promised to turn the O2 into 'a big Texan honky-tonk.' Emphasising what she described as her 'hardcore' country roots, Lee Ann pulled the 'churchy'
All His Saints
from her latest album THE WAY I'M LIVIN' before dipping into the treasure trove of her back catalogue with gems including
Never Again, Again
,
Twenty Years And Two Husbands Ago
and
I May Hate Myself In The Mornin
' chosen 'because it is just so country.' Accomplished bluegrass musician Aubrey Haynie was a notable member of Lee Ann's superb band. His skilful fiddle playing on
Don't Listen To The Wind
complemented exquisite vocals that rang effortlessly throughout the O2. The emotive
Send It On Down
alongside
Solitary Thinking
led a section where bluesy undertones created a reflective mood. Lee Ann ended with a beautiful combination of crowd favourite
I Hope You Dance
followed by the upbeat
Ashes By Now
. The song's defiant message seemed appropriate for a country star determined to show that she remains at the top of her game.
Back at the Satellite Stage an excited crowd gathered to get close to actor-cum-singer Sam Palladio. Starring in the hit TV series Nashville has catapulted Sam to the forefront of the UK's country music drive. Fans of the show sang along to soundtrack favourites
Fade Into You
and
If I Didn't Know Better
. Self-penned
Lightning Bones
felt rather untidy and strained but Sam's performance was saved by his engaging storytelling in
Wake Me Up In Nashville,
a touching song inspired by his granddad.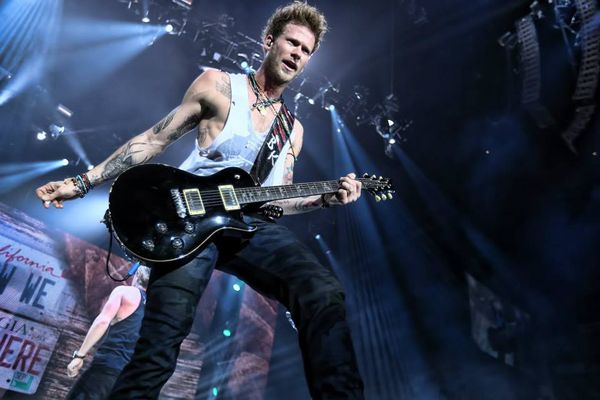 Carefully penned, traditional and reflective offerings from Brandy and Lee Ann were soon sidelined when the boys from Florida Georgia Line ignited their testosterone-fuelled set. Fast and furious, they raced around the huge stage, launching themselves from speakers in vests that showcased an extensive collection of tattoos. The volume was turned up and the seats shook—FGL were driving C2C down a dirt road to a different country music destination. Their adrenaline-laced anthems were performed against a backdrop of videos rotating the unashamed triumvirate of Bro-country appendages; girls, beer and trucks. Tyler's powerful, rock-like vocals and Brian's tireless enthusiasm soon worked its magic on Festival goers who were up on their feet and singing to catchy hits
Round Here
,
Stay
and
Get Your Shine On
. The more thoughtful
Dirt
provided a moment of respite with the crowd lighting up the O2 with their mobile phones. It was a brief breather; the boys quickly returned to familiar up-tempo numbers
This Is How We Roll
and
Sun Daze
before a sing-along performance of their 2012 breakthrough hit
Cruise.
FGL muscled out their crowd-pleasing repertoire with impressive energy and a punchy, distinctive style that showed why they've rocketed from university friends to main stage headliners in such a short time.
Excitement was high in anticipation of some hip-shaking magic from current CMA Entertainer of the Year Luke Bryan on his first trip to the UK. He appeared on stage wearing his signature tight jeans, t-shirt and Buck Hunter cap, his Colgate smile winning over the audience even before he started to sing.
That's My Kind Of Night
was a safe start and pressed play on a conveyor belt of country hits. Crowd favourites 
All My Friends Say
,
Someone Else Calling You Baby
and
Kiss Tomorrow Goodbye
were joined by the more recent
Crash My Party
and
Rollercoaster.
Luke dedicated songs to 'whiskey drinkers' (
Rain Is A Good Thing
), 'farmers' (
Shut It Down
) and 'UK country girls' (
Country Girl Shake It For Me)
. Standing in the shadows of London's Docklands, these references seemed a long way from the land of spring breaks and Georgia peaches. Nevertheless, the O2 was receptive to Luke's infectious southern charm. The intensely personal
Drink A Beer
was the most poignant moment of the night with the crowd joining in the chorus and holding up their drinks in solidarity.
Drunk On You
cleverly re-booted the tempo and teed up a lively finish with
I Don't Want This Night To End
. It was a crowd-pleasing close and proved why Luke Bryan, on his first trip this side of the Atlantic, was given top-billing.
Sunday was National Women's Day, a celebration that was clearly not in the diaries of C2C organisers when the weekend line-up was planned; the first three main acts were 30-something, male solo artists from Georgia.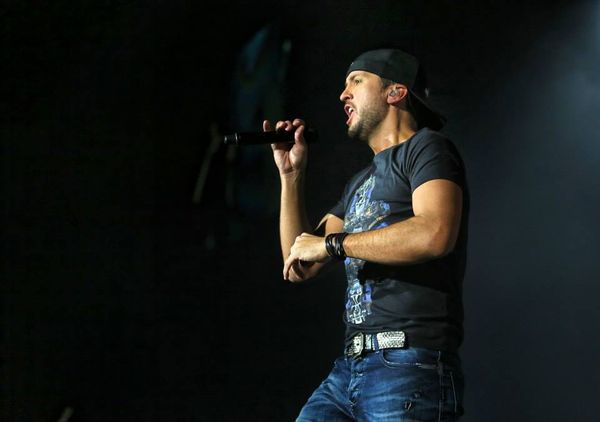 First up was Kip Moore. He played to his strengths, opening with
Reckless (Still Growing Up)
and
Come And Get It,
songs that exercised his rock-style and distinctive vocal rasp. Kip's authenticity is his strong suit; he's done the hard yards, co-written every song on his deluxe album UP ALL NIGHT and clearly appreciates his breakthrough as a solo artist. It seemed important for him to connect with the audience and he certainly succeeded.
Crazy One More Time
and
Hey Pretty Girl
were set highlights and Kip finally let loose on
Beer Money,
taking out his earpiece to soak up the crowd's admiring reaction and shouting 'let me feel it in your heart.' As his confidence grew, he delivered a nod to his UK audience through a safe acoustic cover of Oasis'
Don't Look Back In Anger
before closing with the rocky
Somethin' 'Bout a Truck.
Buoyed by their reaction, Kip extended his audience love-in by pledging to stay in the main lobby until he had met everyone that wanted to join him. He was true to his word and eventually left the O2, no doubt with a new set of fans in tow.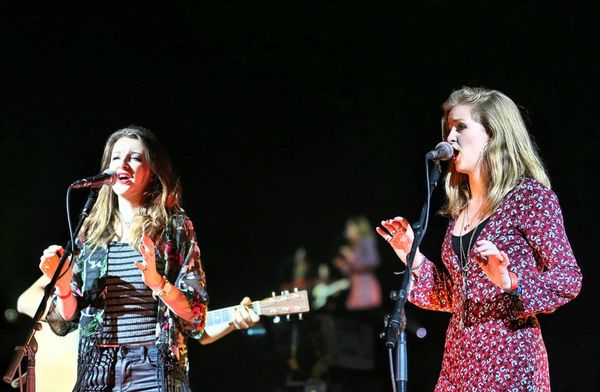 Ward Thomas were rewarded for their popularity on the pop-up stages last year with a deserved upgrade to the main arena. Hampshire twins Catherine and Lizzy jumped onto the Satellite Stage barely able to contain their excitement. Through well-written songs, impressive vocals, impeccable harmonies and infectious energy, the girls demonstrated their versatility and potential. A pacy
Push For The Stride
was followed by the fun story behind
Town Called Ugley
while
Cartwheels
showcased the twins' softer and mature side. Ward Thomas might have taken selfies to capture their moment in the O2 spotlight but they left the appreciative audience with the sense that performances in front of large, admiring crowds will soon become part of their musical life. 
Bob Harris introduced the next act to the main stage, promising the crowd they were 'about to rock out in a big, big way.' He wasn't wrong. Brantley Gilbert returned to the C2C stage after two years to the sound of throaty motorcycles, setting the tone for his show. A knuckle-duster microphone signposted the road ahead. He belted out
Country Must Be Country Wide, Hell On Wheels
,
If You Want A Bad Boy
and
My Baby's Guns N' Roses
over a crashing band driven hard by four guitars that often collided with his vocals. Hit songs
Bottoms Up
and
Small Down Throwdown
engaged pockets of fans but despite his ultra-confident stage presence, Brantley didn't connect with the wider audience. His references to brawls at his shows in the US caused by the themes of
Take It Outside
and
Read Me My Rights
fell flat with a family audience, as did his aggressive homily about shooting hypothetical burglars. When he lifted his vest to reveal two tattooed guns that spanned his back, it crowned what felt like a rather self-indulgent, noisy and unfulfilling return to C2C.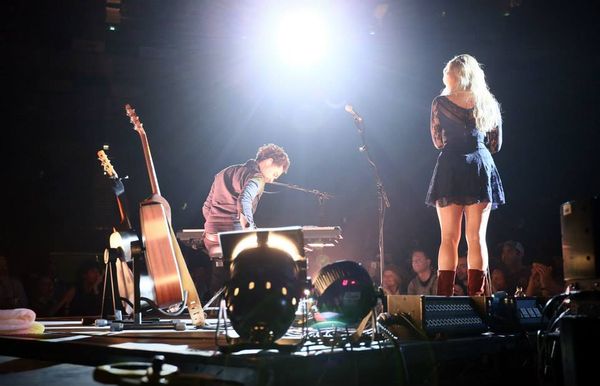 UK duo The Shires restored some calm with their laid-back, poppy tunes and polished harmonies.
Nashville Grey Skies
' positive take on country music in the UK was particularly relevant; their appearance coincided with news that their debut album BRAVE had entered the top 10 on the UK album charts (the first homegrown country act to achieve this).
Friday Night
had a fun, Ed Sheeran-like sound before it rolled into a cover of Bruno Mars'
Uptown Funk
. The US based lyrics of
State Lines
seemed slightly ironic after
Nashville Grey Skies
but the song was delivered with touching sentiment. Kip Moore certainly enjoyed the performance, encouraging his Twitter followers to 'check um out y'all!'
Next up was current ACM Male Vocalist of the Year, Jason Aldean. An experienced stadium performer, he delivered a confident, big-ticket show with some pyrotechnics thrown in for good measure. His rich, distinctive vocals were impressive as he called upon material from each of his six albums, all certified single, double or triple platinum. There was no time for romance, Jason was all about Bro-country bromance, favouring the rocking
Hicktown
,
Crazy Town
,
She's Country
,
That's The Only Way I Know
over more mellow classics like
Fast
,
The Truth
or
Why
. The closest the audience got to laid-back were the mid-tempo
Amarillo Sky
and
Fly Over States
before drummer Rich Redmond got the chance to show off his famed enthusiasm on the Brantley Gilbert penned
My Kinda Party
and
Dirt Road Anthem
.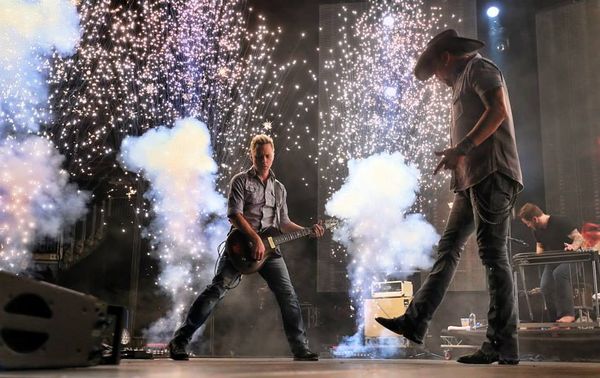 In a driven show there was no time for idle chat, although Jason did find a moment to make reference to his curious absence from Spotify and iTunes (now fixed) that might have restricted his audience outside of the US. A popular selection of songs from OLD BOOTS NEW DIRT, Jason's current album that debuted at number one on the Billboard 200, included
Tonight Looks Good On You
,
Sweet Little Somethin'
and the fastest selling country single of 2014,
Burnin' It Down
.
Two Night Town
provided a melodious interlude, with Kurt Allison's cool pedal steel guitar crooning in the background. Jason was certainly here to please although it wasn't until right at the end of his set that the audience seemed to connect with him in larger numbers. He promised to return and it felt as if he would enjoy a solo headline show much more than being awkwardly sandwiched between Brantley Gilbert and Lady Antebellum.
Mexican waves and a buzz of excitement heralded Lady Antebellum's arrival. It was clear that some at the O2 had just come to see the headliners—the champagne bars in the arena finally clearing. As regulars this side of the Atlantic, the trio is a tried and tested winner with a UK crowd and were by far the most popular act of the weekend. Accompanied by the biggest band of the festival, Hillary, Charles and Dave put on a typically relaxed but polished performance that had the audience bathing in a refreshing combination of female vocals, soothing group harmonies and accessible country sing-alongs.
After a gutsy start with
Bartender
and
Long Stretch Of Love
, the two opening tracks from current album 747, Charles took off his jacket and the crowd felt his intent; the evening was now getting started. The mesmerizing
Just A Girl
and
Lie With Me
preceded an anthemic rendition of
Compass.
This announced an upbeat section extending into sure-fire favourites
Love Don't Live Here
,
Lookin' For A Good Time
and
Downtown.
The mood in the arena was infectious, leading Charles to jump off the stage into the audience and challenge them to move to a higher level: 'it feels like at a 7 and we need to get to an 11.' Hillary talked of being humbled, saying the experience summed up what they dreamed about as children—the perfect introduction to
American Honey
and a nostalgic airing of
Islands In The Stream.
The band stayed in emotional territory with an acoustic section.
One Great Mystery
led into an enchanting medley of
Dancing Away With My Heart
,
Wanted You More
,
Goodbye Town
and
Hello World
, moving songs that the crowd had been yearning for all evening.
We Owned The Night
was a fitting finale and with confetti falling and the crowd calling for more, Dave came to the piano and played the iconic four-note motif of the sextuple platinum, Grammy Award winning
Need You Now
, sending the crowd into a dizzying spin a full five years after its UK release. Charles gushed: 'I want to remember this moment' and called the band together for a photo with the adoring O2 audience as its backdrop. Lady Antebellum undoubtedly owned the night, bringing C2C 2015 to a truly harmonious conclusion.
Laura Baldwin