Cole Quest and the City Pickers - Self (En)titled EP
Omnivore Recordings OV123
***1/2
Cole Quest and this New York City band have created a kickin' powerhouse of a bluegrass-flavoured set of six songs. Recorded at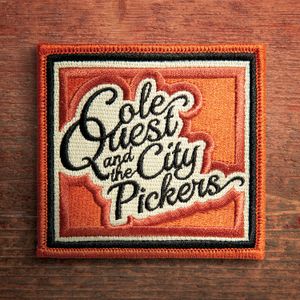 Brooklyn's Conveyor Studios in January 2020 and produced by Grammy award-winning producer Steve Rosenthal, the core band comprises Quest (Dobro, lead vocals), Mike Mulhollan (banjo), Christian Apuzzo (guitar, lead, harmony vocals), Larry Cook (bass, harmony vocals) and Matheus Verardino (harmonica) with added support from Sean Trishka (drums), Sam Reider (organ, Wurlitzer) and Erik Alvar (bass). Cole Quest Rotante, the grandson of Woody Guthrie, is an acclaimed web designer who plays music as and when he can, coming to terms with his family legacy while continuously searching for new territory to explore in his passion for roots music. In his storied journey, alongside playing bluegrass music with the City Pickers, he's also been involved with Paper Anniversary, the Locksmiths, Gangstagrass, Karen & the Sorrows and others. Cole penned four of these songs with a sense of urgency running through them, each one resonating like a bright moment in these highly troubled times. This isn't an album for revivalists (but I'm sure they'll find a foothold if need be). This is a record for those seeking to extend the groove forever into the horizon and melt right back into the wet soil, wood and concrete that vibrates under us all. The band purveys an earnest intent that finds ready comparisons with newgrass outfits such as Town Mountain, Steep Canyon Rangers and other like-minded contemporary combos and could easily become dynamic festival favourites in their own right.
Cole fires on all cylinders with his voice, even keeled at times (If I Still Had You) and then boisterous and full throttle at others (Ostrich Therapy). His songwriting talents show through too, as on The Bitcoin Gambler which extols the virtues of pulling back a bit from being over-cautious in our high tech, fast-paced lifestyle with the kind of humorous approach that John Prine made his very own. Christian Apuzzo handles lead on Way Over Yonder In the Minor Key, a song co-written by Woody Guthrie and Billy Bragg. Starting out with a bluesy banjo theme, then alternating with haunting harmonica and soulful Dobro to accompany his mountain-rich twang. It's a very effective hook that should stick in the ear of anyone with a taste for traditional bluegrass.
When the band strikes up a driving instrumental—in this case, the aptly titled 7-11/Foggy Mountain Rock—the upbeat attitude is still all too apparent. Feeding on the grass n' gas vibes of Muscle Shoals bound Stones, this is best described as bluegrass/rock fusion, where Cole's Dobro interweaves with banjo and guitar in electrifying fashion with the addition of swirling Hammond B3 and harmonica. Grab your friends, a mason jar of moonshine and get ready to cotton-eyed Joe under the stars to this medley of Cole's original 7-11 and the update of the old Flatt & Scruggs tune. In contrast, My Sweet Little Girl a warm slow roller with shades of nostalgia, is a fond remembrance of the passing of a much-loved animal companion. Sweetly performed, but not too sickly with the saccharine.
The catchy hooks and the blend of instrumentation, unlike any other, along with the robust revelry that accompanies many of the songs, would likely find even the most stoic critic professing abject admiration for this outfit—make sure you don't miss out on Cole Quest & the City Pickers.
April 2021