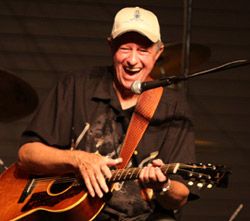 Chip Young, one of Nashville's finest studio musicians, producers and recording engineers, passed away almost a month after undergoing triple-bypass surgery, at St. Thomas hospital in Nashville, on December 20, 2014. He was 76. His distinctive thumb picking style can be heard on countless recordings and hundreds of hit records made in Nashville between the early 1960s and the 2000s. Amongst the most notable are Dolly Parton's
Jolene
, Billy Swan's
I Can Help
, Charley Pride's
Kiss An Angel Good Morning
, Gary Stewart's
Your Place Or Mine
and the thumb-picking on Vern Gosdin's
Way Down Deep Inside My Soul
. From 1966 through to 1977 he was Elvis Presley's first choice studio guitarist and as a producer he worked on albums with Joe Ely, Delbert McClinton, Jerry Reed, Lerry Gatlin, Sha Na Na, Deryl Dodd, Jeanne Pruett, Mickey Newbury, Kris Kristofferson, Lee Clayton and Billy Swan.
He was born Jerry Marvin Stembridge, on May 19, 1938, in Atlanta, Georgia. He began his music career in his late teens playing guitar with Jerry Reed and singer-songwriter Joe South. He toured extensively with South and eventually signed with Atlanta-based Lowery Music, where he began writing songs and playing on publishing demos. In 1960, fellow Atlantan Felton Jarvis (who would later become Elvis' producer) helped launch his engineering career. Young joined the Army in 1961 and on the day he was discharged from the army in 1963 he moved to Nashville to back his friend Jerry Reed on tour.
When not out on the road with Reed, Chip Young eased into studio work and soon became one of the most in-demand session guitarists of the 1960s playing on recordings by Eddy Arnold, Skeeter Davis, Waylon Jennings, George Jones, Willie Nelson, Jerry Reed, Bobby Bare and dozens more. Starting in May 1966, he played his first session for Elvis Presley on the Grammy-winning HOW GREAT THOU ART album, which was also the first Elvis album produced by Felton Jarvis. Chip then went on to work on virtually all of Presley's sessions through to the legendary singer's passing in 1977.
He was also a member of the late 1960s/early 1970s country-psych-pop ensemble The Neon Philharmonic alongside Don Gant, Kenny Buttrey, Norbert Putnam, Tupper Saussy, Jerry Carrigan and several other Music Row musicians. They scored a top 20 pop hit with
Morning Girl
in 1969 and recorded for Warner Bros, MCA and TRX Records.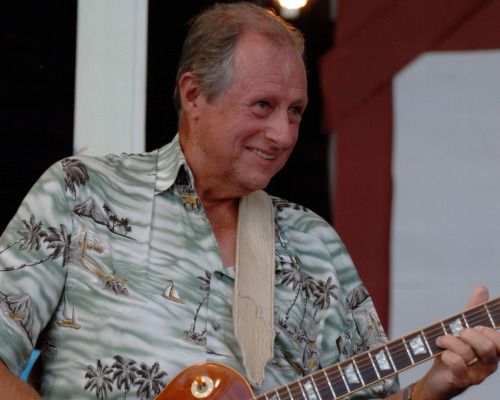 In 1968, Young bought a farm in Murfreesboro, Tennessee, about 35 miles southeast of Nashville. He built his own studio, Young 'Un Sound, in the two-room log outhouse on the sprawling 1830 antebellum farm home. It was one of the first 16-track studios in and around the Nashville area. The studio was about 15 by 20 feet in size, and that was including the control room, which was separated from the live area by a log wall and a door. The walls and ceiling were all log, 21 inches wide, the wood floor had a carpet on top. Everything was recorded direct, except for the drums, for which Chip had built a booth and also added a screened-in porch where he could do string overdubs.
Over the years he worked with lots of major acts at the studio including Teresa Brewer, Johnny Mathis, Jimmy Buffett, Jerry Reed, Joe Ely, Delbert McClinton, Larry Gatlin, Tom T. Hall, Reba McEntire, Johnny Rodriguez and the Statler Brothers. Amongst the most important and iconic recordings he produced there was Billy Swan's
I Can Help
in 1974.
The million-selling single that had taken Swan 20 minutes to write, was recorded in just two takes. When he wrote it, Swan perceived it as 'an up-tempo blues song,' by the time Young had worked his magic on it,
I Can Help
was transformed into a jaunty, organ-backed paean to romantic benevolence and became a neo-rockabilly pop classic. Contrary to popular legend, Swan didn't play the distinctive keyboard part of
I Can Help
, it was Memphis session musician Bobby Emmons on his portable Farfisa, which he had brought to the session. Chip further underscored the track with subliminal guitar lines on his Fender Telecaster, before adding the descending lead solo that would provide the song with its signature sound. That guitar solo helped transport the melody out of its blues vein and, accompanied by a shuffle-type drum pattern, imbue the track with a rockabilly feel that had never been Billy Swan's conscious intention.
I Can Help
hit number one on Billboard's Hot 100 and Country charts in November 1974, selling over a million copies in the US, another million overseas, and peaking at number six in the UK. Chip recreated the solo as an overdub when Elvis Presley recorded
I Can Help
for his TODAY album in March 1975. Chip Young maintained a busy studio schedule throughout the 1970s and 1980s, both as a first choice guitar player and as a highly sought after producer. He played on such seminal albums as Waylon Jennings' LADIES LOVE OPUTLAWS (1972) and LONESOME, ON'RY & MEAN (1973), the Oak Ridge Boys' HAVE ARRIVED (1979), Willie Nelson's A HORSE CALLED MUSIC (1989) and Martina McBride's TIMELESS (2005). As a producer he was responsible for Joe Ely's self-titled MCA debut in 1977 and the follow-up HONKY TONK MASQUERADE, Delbert McClinton's VICTIM OF LIFE'S CIRCUMSTANCES (1975) and Deryl Dodd's ONE RIDE IN VEGAS (1996).
In 2000, Young released HAVING THUMB FUN WITH MY FRIENDS, an album of guitar duets with other studio legends, including Chet Atkins, Grady Martin, Jerry Reed and Scotty Moore. More recently, he had played on recordings by My Morning Jacket, Todd Snider. Bobby Bare Jr, and Candi Staton. He was inducted into the National Thumbpickers Hall of Fame in 2009 and the following year he was honoured as part of the Country Music Hall of Fame and Museum's Nashville Cats: A Celebration of Music City Musicians series.
A highly respected country music guitarist, Chip Young played a vital and important role in the development of Nashville as Music City. My good friend Chris Scruggs, himself a skilled musician, best sums up this quiet unassuming musician and his impact on country music: 'Chip Young was a quintessential Nashville Cat and a true southern gentleman. He was a master of his craft yet was without any hint of ego or self-importance, which made him an invaluable asset in the studio, both behind the board and in the band. Younger players could learn a lot from him, both musically and on a personal level, too. His superb musicianship and warm smile will be sorely missed.'