Chet Atkins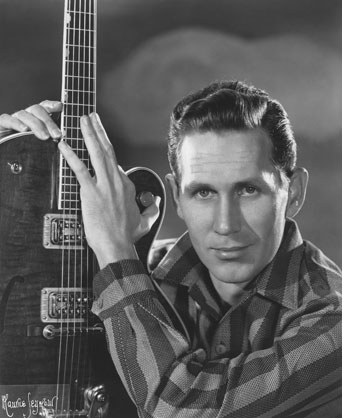 Chet Atkins, known as 'Mr. Guitar', was a guitarist able to tackle many styles, a pioneering Nashville record producer recognised as one of the main architects of the late 1950s 'Nashville Sound' and a successful record label executive. The most recorded solo instrumentalist in history, the quiet unassuming Chet Atkins was initially an aspiring vocalist when he was signed to an RCA Records back in 1948. With more than 100 albums to his credit, covering all styles of music, he has been a major influence on such guitar players as George Harrison, Albert Lee, Eric Clapton, and thousands more guitar-ace wannabes.

Chester Burton Atkins was born on June 20, 1924 in a holler two miles from rural Luttrell, Tennessee, just northeast of Knoxville. His father James was an itinerant music teacher and his mother Ida played piano and sang. Able to play guitar, fiddle and banjo from quite a young age, his first instrument was a ukulele when he was just five years old. He would replace any broken strings with wires pulled off a screen door. His parents divorced in 1932, and young Chet began playing fiddle and later guitar with his brother and sister and their stepfather Willie Strevel.

Chet idolised his elder half-brother Jim Atkins, who played guitar regularly on the National Barn Dance radio show and later formed a trio with guitarist Les Paul. Like most aspiring country musicians in the 1930s, Chet listened a lot to Jimmie Rodgers, but also absorbed himself in jazz and blues. A big influence came when he happened to hear Merle Travis playing guitar live on Cincinnati station WLW. He was amazed by the thumb-and-finger-picking style developed by Travis. Not being able to see how he was playing, Chet developed his own two-finger-and-thumb style of picking.

Interestingly, Chet didn't begin his musical career by playing guitar. On the recommendation of his older brother, Lowell, he began playing the fiddle as a child. He got his first job, at 17, playing with a radio station orchestra in Knoxville. A year later he toured with Archie Campbell and Bill Carlisle, playing fiddle and guitar. When Radio WNOX's Lowell Blanchard heard Chet's guitar playing, he put him on the station's daily barn dance show, Midday Merry-Go-Round. At the same time, he moonlighted as a jazz guitarist with the Dixieland Swingsters. He moved on to WLW in Cincinnati, and the following year joined the touring show of Johnnie & Jack. He worked briefly at the National Barn Dance on Chicago's WLS. When Red Foley left WLS in 1946 to host the Prince Albert Show on Nashville's Grand Ole Opry, he took Chet along with him.

That same year he recorded with Wally Fowler's Georgia Clodhoppers on Capitol and made his first solo recording Guitar Blues for Bullet Records. He went on to work at other radio stations around the country, but was frequently fired on account of his unorthodox style. He moved on to KWTO in Springfield, Missouri, where he was befriended by Si Siman, who pitched him as an artist to different record companies. After the station fired him because his playing was too polished for hillbilly music, Steve Sholes of RCA Victor signed him to a recording contract as a singer and guitarist.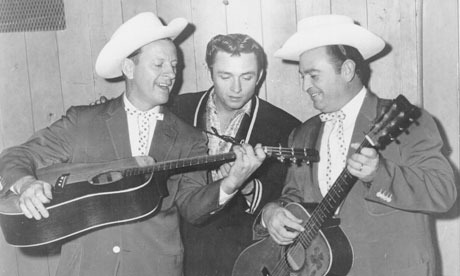 By this time, he was working with Maybelle Carter & the Carter Sisters, and had moved to Nashville. Possessing a pleasant, jazzy-voice, initially, he cut mainly vocal tracks, all of which failed to make an impression. Soon his guitar work was beginning to take over from his vocals, and he was being used increasingly as a session player. With the help and support of early country music pioneer Fred Rose, who developed the Acuff-Rose Publishing company and guided the career of Hank Williams, Chet soon became one of the Nashville's top session men. He played on Hank Williams' Your Cheatin' Heart, the Louvin Brothers' When I Stop Dreaming, Faron Young's Goin' Steady, Webb Pierce's There Stands The Glass, The Carlisles' Too Old To Cut The Mustard and dozens more country hits.

His guitar instrumentals were being released on a regular basis by RCA and Steve Sholes began grooming him to supervise in the studio. He scored his first country hit as Chet Atkins & His Gallopin' Guitar with Mister Sandman in 1955. By this time he had become a regular on the Grand Ole Opry and his instrumental albums like FINGER STYLE GUITAR, SESSION WITH CHET ATKINS, and STRINGIN' ALONG WITH CHET ATKINS were gaining him wide acclaim. Gradually Chet changed the way country music sounded, first with his guitar, then as a producer and record executive. Sholes was mainly based at RCA Victor's headquarters in New York, and increasingly began relying on Chet to supervise RCA's Nashville recordings. Those early sessions were done with portable recording equipment in rented garages or offices. In 1956 Chet arranged Elvis Presley's first Nashville sessions, resulting in the massive rock'n'roll breakthrough hit Heartbreak Hotel.

RCA decided to build a recording studio in Nashville, and Sholes made Atkins studio manager when the facility opened in 1957. Given a free hand, he started experimenting and pushing the boundaries. In an effort to keep country music solvent after the rock'n'roll invasion, he patented slick, pop-tinged recordings and in a three-year period, between 1957 and 1960, was responsible for such ground-breaking country-crossover records as Jim Reeves' Four Walls and He'll Have To Go, Don Gibson's Oh Lonesome Me, the Everly Brothers' Bye Bye Love, the Browns' The Three Bells and Hank Locklin's Please Help Me I'm Fallin'. Country records produced by Atkins, Decca's Owen Bradley and Columbia's Don Law & Frank Jones, were all over the pop charts and were referred to as the 'Nashville Sound.'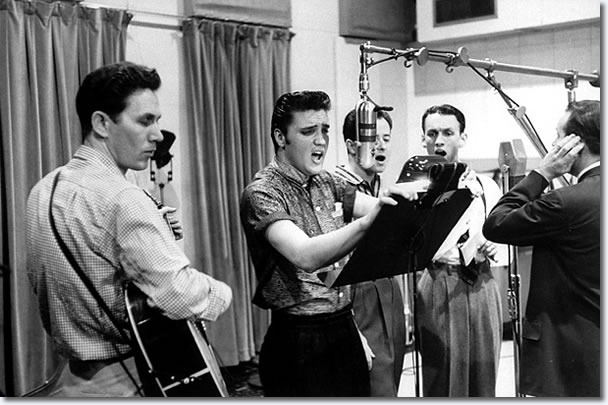 Years later, when asked to describe the Nashville Sound, Atkins reached into his pocket to retrieve a small handful of coins and began jingling them around as he replied: 'This is the Nashville Sound.' Some fifty-odd years later, very little has changed in the commercial world of Nashville and country music.


Chet soon managed all of RCA's Nashville operations and would run the label's office there until 1982. He played a part in the careers of Roy Orbison, The Everly Brothers, Eddy Arnold, Jim Reeves, Floyd Cramer, Bobby Bare, Dottie West, Skeeter Davis, Steve Wariner and many others. His revolutionary work as a producer, and his genre-altering decisions as a record label executive in signing such mavericks as Dolly Parton, Charley Pride, Willie Nelson, Jerry Reed and Waylon Jennings are unprecedented, unmatched and seemingly unsurpassable.

Alongside his production and office duties, Atkins also maintained a heavy recording schedule for himself as a world-renowned guitarist. Concentrating mainly on albums, he released such collections as CARIBBEAN GUITAR, FROM NASHVILLE WITH LOVE, GUITAR COUNTRY, IN HOLLYWOOD, PICKS ON THE BEATLES and POP GOES THE COUNTRY, the latter with the Boston Pops Orchestra. He also scored a handful of hit singles with Poor People Of Paris, Boo Boo Stick Beat, Teensville and Yakety Axe. Chet was often more adventurous on his own recordings, though never at the expense of the melody. He recorded with Indian sitarist Ravi Shankar in the 1960s, and teamed up with Jerry Reed, Mark Knopfler, Les Paul, Doc Watson and others for a series of guitar duets.


As a guitarist, Chet was without parallel. He played the guitar the way Fred Astaire danced. His fingers glided across the strings and the frets of his instrument so smoothly, so apparently effortlessly, that it seemed easy until you tried to replicate his movements. His intricate finger-picking style, in which his thumb supplied a bass line while his fingers created endless variations of melody and harmony, has influenced nearly every guitarist who picked up the instrument for the past sixty years. The Chet Atkins' style might have been easy listening, but it was challenging playing.

For 14 years he won Best Instrumentalist award in the Cashbox poll. His other awards include the Playboy Magazine Jazz Poll, Guitar Player Magazine Award, and Yamaha Music Award. At 49, he became the youngest to be elected to the Country Music Hall Of Fame in 1973. From 1967 to 1988, he was named instrumentalist of the year nine times by the Country Music Association. He also won 14 Grammys, the most recent coming in 1997 for best country instrumental performance with the song Jam Man, a track from his album ALMOST ALONE. Among country artists, only Vince Gill has as many. In 1993, the Grammy-granting National Academy of Recording Arts and Sci
ences presented Chet with its Lifetime Achievement Award in recognition of his: 'Peerless finger-style guitar technique, his extensive creative legacy documented on more than 100 albums, and his influential work on both sides of the recording console as a primary architect of the 'Nashville Sound.'

As a performer, he made appearances on almost every major television show of his time. He played the Newport Jazz Festival in 1960 and was invited to play the White House by President John Kennedy. He performed many concerts with Arthur Fiedler and the Boston Pops and in the early 1970s toured and recorded with Homer and Jethro, under the name the Nashville String Band. When Paul McCartney came to Nashville to record, he called Chet and asked him to set up a recording session for him to cut a song his father had written. Along with Floyd Cramer and several other musicians he took McCartney into the studio to record Walking In The Park With Eloise and Bridge Over the River Suite.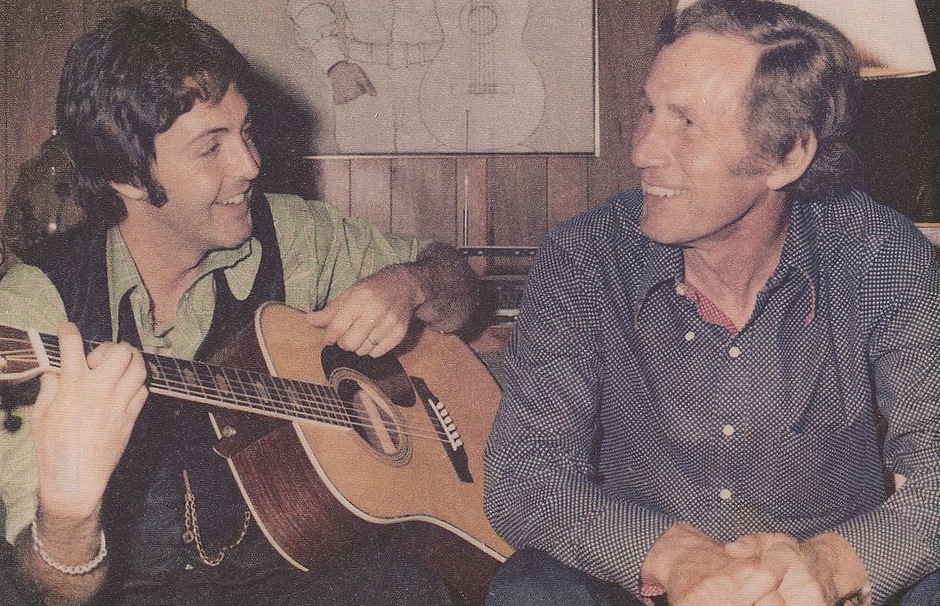 When the hierarchy changed at RCA and the label was resistant to the idea of Chet recording a jazz album, he left the label and signed with Columbia as a solo artist in 1982. The move rejuvenated his career as his recordings tended to lean more towards jazz/new age. He added the initials C.G.P. (Certified Guitar Picker) after his name and returned to the charts in 1985 with STAY TUNED, an eclectic jazz-tinged set that featured him on duets with contemporary guitarists Mark Knopfler, Earl Klugh, Larry Carlton, Steve Lukather and George Benson, which had originally been turned down by RCA.

Further albums for Columbia, such as STREET DREAMS, SAILS and CHET ATKINS C.G.P. all maintained a modern jazz sound. He achieved notable success in 1991 with NECK AND NECK, which found him teaming up with Mark Knopfler, who produced the album and also sang. Other artists he recorded with include Australian prodigy Tommy Emmanuel on 1997's THE DAY FINGER PICKERS TOOK OVER THE WORLD, Suzy Bogguss on SIMPATICO and Algerian Rai singer Cheb Mami.

In 1997, Chet Atkins' Musician Days, an annual city-wide festival in Nashville, was inaugurated to benefit the Chet Atkins Music Education Fund. Among the musicians who have paid tribute to Chet at the festival are Eddy Arnold, Mark Knopfler, Suzy Bogguss, The Jordanaires, Travis Tritt, Clint Black, Earl Scruggs, Marty Stuart, Vassar Clements, Duane Eddy, Vince Gill and John Fogerty. Chet also has a city street named after him in the Music Row area, and a bronze statue of him playing guitar, with an empty stool next to him, was erected in downtown Nashville.

Physician and guitarist Jim Coleman, one of Chet's doctors, recorded a tribute album, THE GUITAR THAT MADE AMERICA GREAT, a fifteen-song collection that covers such memorable tunes as Mr. Sandman, Cheek to Cheek, Vincent, Waitin' for Suzy B and I Still Can't Say Goodbye. Coleman holds the distinction of having played with Chet during his last public performance, on June 12, 1998, in Knoxville. In his liner notes, Coleman explains Atkins' connection to each of the songs and explains some of the more exotic tunings. He says he played his tribute album for Chet just a few months before he passed away and that his response was: 'You made a couple of mistakes, but nobody but me would notice.'

In 2010 Steve Wariner, one of Chet Atkins' many proteges released STEVE WARINER C.G.P., MY TRIBUTE TO CHET ATKINS, a superb collection of original tunes written and played in the Atkins style alongside Wariner's own interpretations of tunes associated with the guitar maestro.

To be universally recognised as 'Mr. Guitar' is as high an accomplishment as possible in the country music world. Certainly country music could claim him, but Chet Atkins was no less respected in the realms of rock'n'roll, folk, jazz or classical music. Not only did his records sell well all across the world, he also designed guitars for Gibson and Gretsch.

Chet Atkins died at his Nashville home on June 30, 2001 after long, repeated bouts with cancer that included the removal of a malignant tumour from his colon in 1973 and one from his brain in 1997. He was survived by his wife of more than fifty years, singer Leona Johnson, whom he said was the only woman he ever dated. They named their daughter, Merle, after Merle Travis. He always came across as a quiet, thoughtful man. His personality was marked by a dry, deadpan wit that delighted in risqué humour and corny gags and often intimidated new, awed acquaintances. In summing up his career, Chet told The Nashville Network: 'I'm not the greatest talent, but I have originality. I'm a famous guitar player, I'll admit to that. I'm good, there are many better players than me, I just got there first.'

Recommended Listening

Neck And Neck (with Mark Knopfler, Columbia 1991)
Sneakin' Around (with Jerry Reed, Columbia 1992)
Gallopin' Guitar (Bear Family box set 1993)
Read My Licks (Columbia 1994)
The Essential Chet Atkins (RCA 2007)
Me And Jerry/Me And Chet
(with Jerry Reed, T-Bird Americana 2011)