Charles Hedgepath - Mementos
Solaris Entertainment
****
As soon as I heard the first guitar notes of Bury Me Beneath The Willows I was hooked. I had never heard of Charles Hedgepath,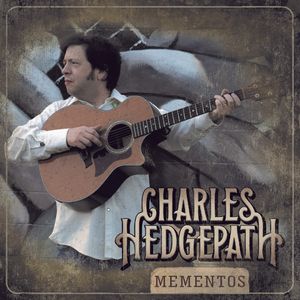 but when this album finished playing, I immediately undertook a little research. There's much to discover about this skilled guitarist and singer from Greenville, South Carolina. He is a member of various groups such as the Bad Popes, the Shady Recruits, the Work, Simple Syrup and plays a variety of solo and combo performances, mainly around his home state. He is also an in-demand session player and pick-up musician who has played gigs and recordings with such diverse acts as Bluegrass Underground, Peter Rowan, Dirty Dozen Brass Band, Marcus King, Matt Reynolds, Randall Bramblett, Bobby Lee Rodgers and many more. He has recorded several of his own albums including a Christmas set and a collection of Spirituals.
MEMENTOS is a kind of keepsake remembrance of songs that obviously mean a lot to Charles. Several of these are hundreds of years old but sound like they were written yesterday due to the vibrant musical arrangements. Like much of the finest traditional music, this set borders on the ecstatic and spiritual, but also knows when it's time to show a romantic side to counter-balance some of the darker moments. Deep River Blues, a song often credited to Doc Watson, actually goes back much further in time. This version is a warm and embracing number meant to be heard around the campfire with some fine picking and harmonies that everyone can join in with. Dark Hollow has the familiar bluegrass theme of roaming and rambling. Driven by Andy Carlson's sorrowful fiddle, Charles Wood's softly plucked banjo and Charles's own fluid acoustic guitar this is one of those songs that immediately works its way into your head and feet simultaneously. Hurricane is a song that I'm not familiar with. It starts off slowly then builds with good driving banjo from Karl Lauber and a pushing, pulsing rhythm held down by Sam Kruer's bass that makes it a toe-tapper, for sure. As the song develops things really let loose, with fiery acoustic slide guitar by Marcus King, blistering fiddle from Nicky Sanders and some extremely hot banjo. This leads more into jazz territory rather than old-time country but is still mighty good.
More in keeping with traditional country music is the melodic I've Got You, an infectious toe-tapping reaffirmation of true love featuring Charles' compelling lead vocals with rich harmony and a bit of counter-singing that is irresistible. There's a trio of classic gospel tunes beginning with I Am A Pilgrim and Wayfaring Stranger, both Sacred Heart songs going back more than 100 years. The final song Where The Soul Never Dies was penned in 1914 by William Matthew Golden whilst serving a prison sentence. A spirited rendition with mandolin, banjo and guitar contributing in some inspired licks, it's an uplifting performance just right for an album closer, and likely a good show-ender, as well. Though this is plainly Charles Hedgepath's album, the way the various musicians are given their heads musically and join in enthusiastically on the vocals gives the impression more of family get-together pickin' parlour than the sterile confines of a recording studio. That rapport makes this album all the more enjoyable.
August 2020