When I first set up this website in 2011, the plan was to feature exclusively my own writings on music. But when it became apparent that due to eye surgery I would have to miss this year's Country To Country weekend at London's O2 Arena, I decided to deviate from that plan and I invited Laura Baldwin, a young, aspiring journalist, to cover the Festival in my absence. Having seen some of her previous work, I had no worries about her capabilities to be honest and passionate about the weekend and that her write-up would sit comfortably alongside my work here … I wasn't mistaken as you can see below. I would also like to take this opportunity to thank Anthony D'Angio for the superb photos that accompany Laura's write-up. I think combined they capture the essence of Country To Country perfectly….
C2C Country To Country Festival
O2 London, March 15-16, 2014
Put on a music festival at one of the world's iconic venues, gather a stellar line-up and invite some of music's most dedicated fans and you're surely in for a treat. Country2Country's 2014 Festival at London's O2 Arena on March 15-16 promised a thrilling weekend for fans and artists alike.
Early entrants to the O2 sensed a buzz. An excited crowd wove between pop up stages brimming with talent from the UK, Europe and the rest of the world whilst merchandisers stalls provided a country-themed wrapper to the Town Square area. Music enthusiasts soaked up confident performances from The Dirty Beggars and McKay, cool Americana from Alan West and the polished sound of Star Lane. Jill and Kate came to perform from Nashville whilst home-grown bands Dexeter and Raintown drew some of the biggest crowds and most admiring glances.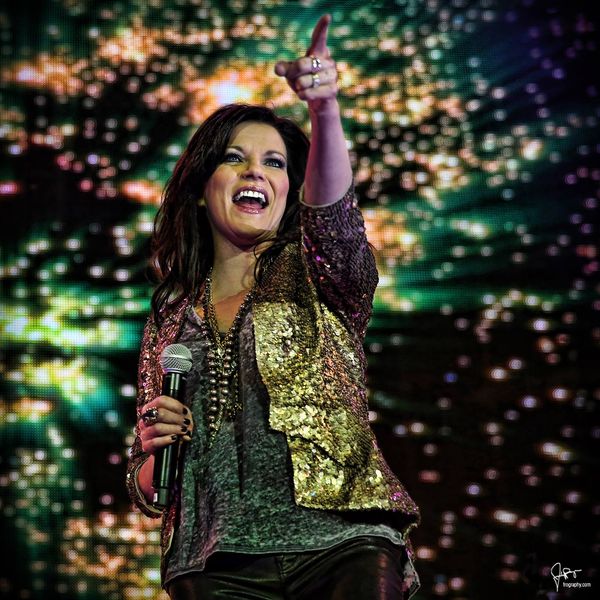 The Town Square area was a themed hub for pre-show activity and hosted the weekend's stand-out performance from one of Nashville's hottest duos; the hugely talented Striking Matches. Sarah Zimmerman and Justin Davis, alumni of the prestigious Belmont University, wore 'I Believe In Nashville' t-shirts and represented everything that's great about Music City and its conveyor belt of young talent. Their distinctive sound, underpinned by powerful, pacy guitars and towering harmonies simply went down a storm. Just as they turned heads at the CMA Songwriters Series the previous evening, their performance demonstrated why they are already regulars at The Grand Ole Opry, having graced the iconic circle over 20 times before a debut album has been released. They enthralled their audience with mesmeric musicianship and a unique sound that will assure this dynamic duo a very bright future.
The festival has grown in confidence this year, selling out both days and adding bonus events such as the European premiere of Dierks Bentley's RISER documentary, screened for 50 lucky fans. Dierks arrived to introduce the film himself and then casually sat at the back of the cinema, observing an audience captivated by his down-to-earth story. The British Music Experience also hosted sessions with legendary Nashville songwriter, Bob DiPiero as well as Striking Matches, to give a fascinating insight into their song writing approach.
Soon it was time for the main arena show to start and Bob Harris' familiar tones provided the perfect introduction for an audience high on anticipation. Country royalty kicked off the weekend as Martina McBride stepped out to a very warm reception. Sure-fire, sing-along winners including
Independence Day
and
This One's For The Girls
were mixed with previews of her forthcoming album EVERLASTING. A departure from pure country, EVERLASTING comprises of a range of covers from different genres and she chose a rather straight version of Elvis'
Suspicious Minds
to showcase this. The biggest applause was saved for an emotional performance of
Broken Wing
, a reminder of the connection that Martina enjoys with her loyal audience.
Martina's big vocals were followed by big energy in the shape of Dierks Bentley. Super-charged by the success of his new album RISER
,
that rocketed straight to the top of the US country charts, he bounded onto the stage and impatiently paced its extremities. He soon made forays into the crowd, handing over his guitar to one fan during
Lot Of Leavin' Left To Do
while he sat back, sipped beer and waved his cap in admiration.
What Was I Thinkin'
was his cue to jump into the front rows, singing along with a fan appropriately wearing a white tank top. 
D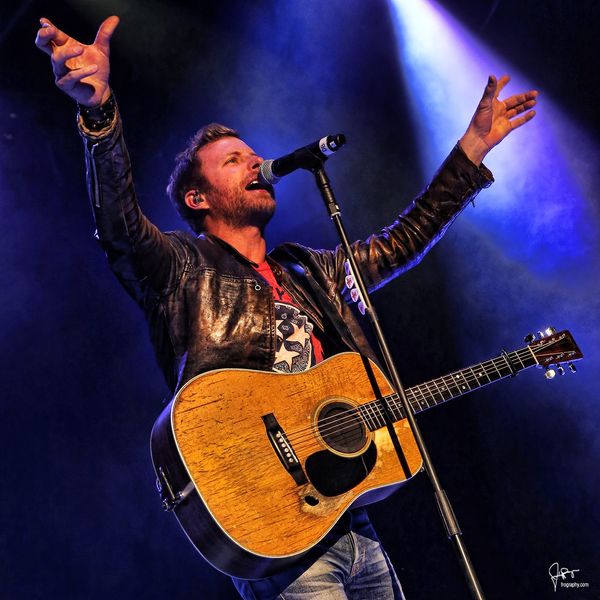 ierks' somehow managed to cram in songs from all of his albums, from the foot-tapping
Free And Easy (Down The Road I Go)
, an anthemic
5-1-5-0
, and the bluegrass inspired, banjo-fuelled
Up On The Ridge.
RISER delivered new material that demonstrated his natural momentum—the stand-out being the autobiographical
I Hold On
played on the treasured guitar that has been his companion since he arrived in Nashville, adorned with a George Strait autograph and a wear-and-tear hole from years of zealous strumming. A fearless, wild card nod to his British hosts was delivered in a short burst of Pink Floyd's atmospheric
Wish You Were Here
and a switched-up run at Avicii's summer hit
Hey Brother
had the crowd roaring for more.   Dierks closed with his number one single
Home
and a promise that he would tell his friends 'Luke, Jason and Miranda that country music has a new home in London.' He dropped to his knees, punched the air and found it hard to leave the stage—definitely one of the weekend's highlights.
Bob Harris introduced the Dixie Chicks to a crowd now fired up and ready for what they realised might be a unique opportunity to see one of country music's finest bands. Some eight years after their last UK visit, the band wasted little time in reminding the audience why their confident, punchy style and distinctive sound needs to be heard on the live stage. There wasn't much talking, in fact Emily and Martie didn't speak at all apart from thanking the audience at the end. However, this suited an audience gripped by Natalie's flawless, pure vocals and the sisters' beautiful harmonies. Once into their stride, Natalie kicked off her shoes and danced while delivering some powerhouse vocals on
Long Way Round
,
Landslide
,
Wide Open Spaces, Not Ready To Make Nice
and a version of Bob Dylan's
Mississippi
. There were high expectations for this renowned trio and their spirited performance did not disappoint.
Before headliners Zac Brown Band took to the stage, the audience were shown a preview of the video for Johnny Cash's recently discovered recording
She Used To Love Me A Lot
that is featured on his OUT AMONG THE STARS album, which had lain unissued in the Sony Music vaults since the early 1980s. Once reminded of one of the icons of country music, the audience then awaited one of the genre's most pioneering bands.
Zac Brown Band took to the stage with eight musicians (the addition of Matt Mangano on bass) and the tools of their trade. They were preparing to deliver the most eclectic and arguably challenging show of the weekend, opening with the speedy lyrics of
Whiskey's Gone
before rolling a bouncing crowd's energy into
Jump Right In
and
The Wind
. Zac led from the front with his usual passion and guitar-mastery, reinforcing the range of his influences in a heartfelt
Free
that morphed into Van Morrison's
Into The Mystic.
The band changed lanes and delivered a rock-infused
All Alright
and
Let It Rain
from their recent EP THE GROHL SESSIONS VOL. 1. Chris Fryar's impressive work during
Who Knows
reminded everyone of his drumming prowess amongst the frequent references to Grohl. Whilst there were crowd-pleasing classics in
Chicken Fried
and
Colder Weather,
during which Zac navigated a lap of the arena, some may have been disappointed that favourites such as
Highway 20 Ride
and
Sweet Annie
lost out to raunchy, drawn-out guitar solos in rock covers of Metallica's
Enter Sandman
and Led Zeppelin's
Kashmir
. Longstanding fans will have known about the band's eclectic musical influences and expected this sortie into new territories but at the same time simply ached to hear more of their favourite songs. Others less familiar with Zac Brown Band's penchant for rock wondered if they were still at the UK's premier country music festival—one thundering offering was bearable, it was clear that more was difficult for some to enjoy. They closed with an encore dressed in luminous skeleton suits—a regular feature of their US shows, exported to London. Zac and his band are supremely talented and have a loyal and growing following, their connection with the UK being heartfelt and genuine.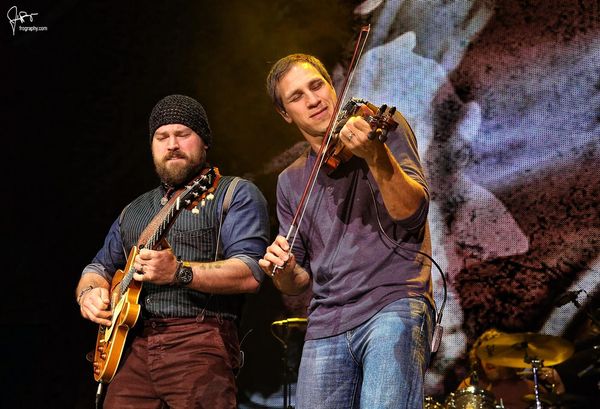 Sunday arrived and Tennessee native Chris Young kicked off the evening, quickly winning over his audience with his easy going charm. In a short set and to universal approval, he played a combination of 'drinking songs and falling in love songs.' From his recent album release A.M. he performed the upbeat title track as well as
Aw Naw
and the compelling mid-tempo
Lonely Eyes
and
Who I Am With You
. Rewinding the years he returned to
Voices
and
You
which got everyone up on their feet and singing along, as did his catchy, fun cover of ZZ Top's
Sharp Dressed Man
. Chris' passion for country music's heritage shone through when he referenced Conway Twitty before a verse of
I Can Take It From There,
making sure the crowd would cheer appropriately when he mentioned this country great. He ended with his 2011 number one hit,
Tomorrow
, singing to an appreciative arena, illuminated by the 21st century version of cigarette lighters—hundreds of mobile phone lights held in the air. Chris' modest style was endearing to new fans and warmed those for whom he was one of the highlights of their weekend. His rich tone, full of feeling and traditional flecks, enthralled the Country2Country crowd and marked him out as a fine young vocalist who is growing from strength to strength.
The Band Perry followed with a typically vigorous set. Kimberly bounded onto the stage and immediately took control of proceedings, conducting both the audience and her brothers as they raced through lively versions of
Done
and
Better Dig Two
. Their love of Freddy Mercury prompted an unexpected cover of Queen's
Fat Bottomed Girls,
a certainty for audience participation. However, hesitation reigned over a decision to play the British national anthem on a fiddle while parading a Union Jack across the stage, a rather exaggerated, unnecessary attempt to endear themselves to what was a multi-cultural arena. This was soon forgiven and forgotten as slower songs such as
All Your Life
,
If I Die Young
and
Pioneer
revealed the range of Kimberly's vocals; a softer side that was equally impressive as her lung-busting, stadium-grabbing moments. The Band Perry showed their mastery of large arena shows and their overall performance was admirable. 
Rascal Flatts were next and strolled onto the stage to deliver a string of tried and tested sing-along staples with
Fast Cars And Freedom
,
Here's To You
,
These Days
and
Why Wait
joined by the sweet ballads,
Bless The Broken Road
and
What Hurts The Most
. Gary, Jay and Joe Don were clearly wearing very comfortable slippers and took time out to introduce and compliment one another whilst the rest of the band was left standing in the shadows and received not a flicker of appreciation from the trio at the front. Gary's distinctive vocals were as impressive as ever, infused with playful riffs. Their single,
Rewind,
the title track of their coming album, brought some welcome new material and received a positive response from the O2 crowd, however there was a lack of warmth between the audience and a band who seemed to be almost nonchalant in their approach to the show. 
When the time had come for the closing act of the weekend, the audience was in a high state of anticipation. Bob Harris recalled how he had introduced Brad Paisley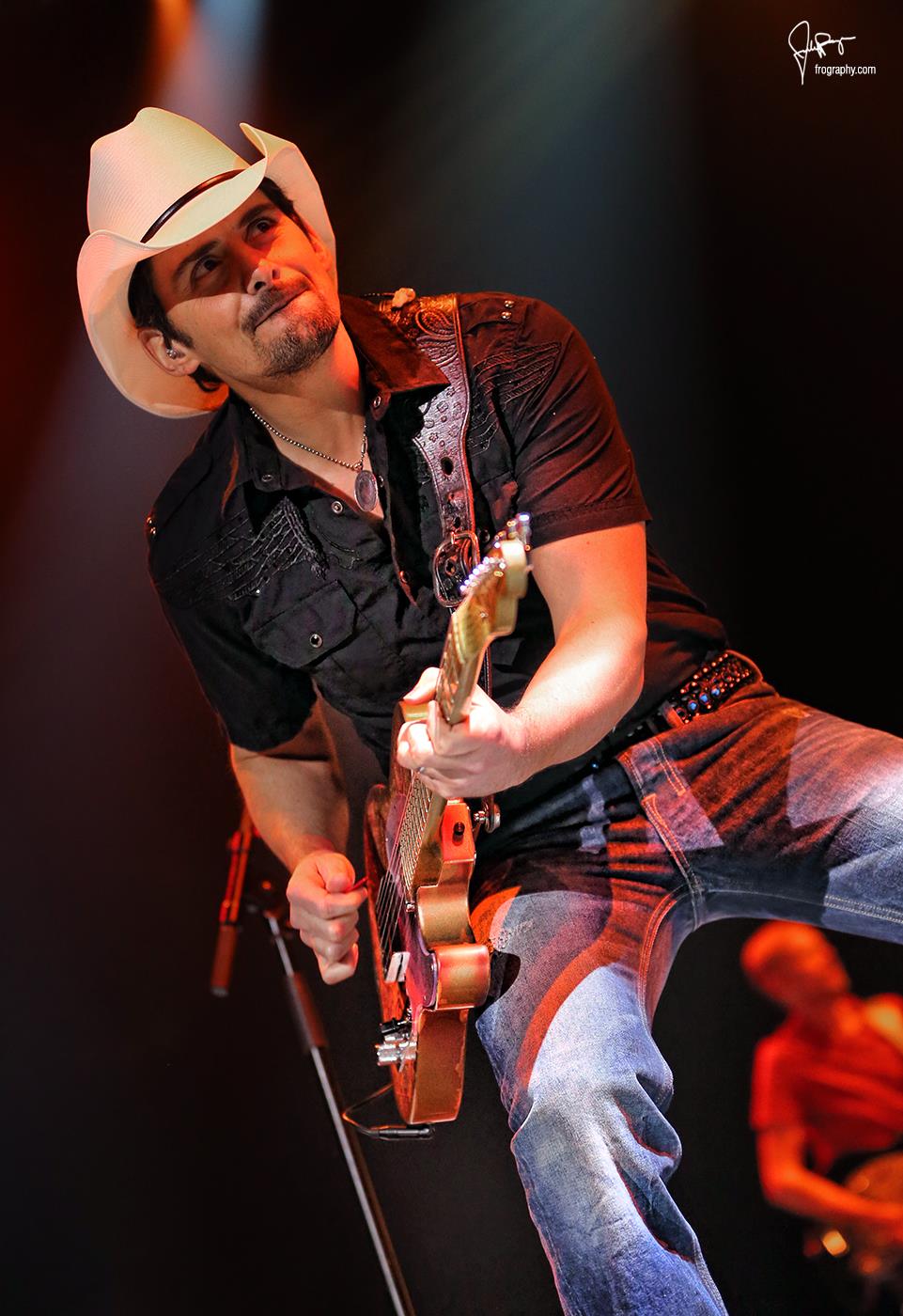 for the first time in the UK 15 years ago, a reminder of his longstanding commitment to international tours.
Southern Comfort Zone
was a well-crafted opening with the lyrics skilfully and amusingly changed to include English references—a theme that recurred when 'bangers and mash' found itself sitting in
American Saturday Night
. One of the most internationally aware artists in country music today, Brad knows how to work his audience. He spoke about Mick Jagger, shepherd's pie and was very happy to try out his British accent. Recognising that some of the audience might be enjoying country music for the first time, he reached out to them and led into
This Is Country Music
, honouring country legends on the big screen behind him and closing with a tribute message to the great George Jones at which point Brad got down onto his knees and tipped his white Stetson.
There was no experimentation from Brad; just crowd-pleaser after crowd-pleaser, performed with boundless charisma and an astounding mastery of his instrument. The guitar solos that pepper his songs were jaw-dropping in their dexterity but never veered close to self-indulgence. They always retained the country feel that reinforces his deep authenticity and underpins the strongest of connections with his fans that means he gives his audience what they have come to hear, from heart-warming ballads like
Then
and
She's Everything
, to the clever comedy infused numbers like
I'm Gonna Miss Her
and
I'm Still A Guy
. Halfway through his show Brad decamped to the back of the arena for a semi-acoustic performance of
Online
and
Mud On The Tires
explaining: 'I thought I'd come back here and sing to the people sitting where I used to sit'—a wonderful touch. He was happy to share the limelight, inviting The Band Perry to join him for the haunting
Whiskey Lullaby
, while touring-partner Chris Young replaced Dierks Bentley in
Outstanding In Our Field
. His latest album, WHEELHOUSE also provided
The Mona Lisa
, which got a rousing reception and drew in the crowd with its easy refrains.
Brad brought the curtain down on the festival in fine country style, signing off by using a bottle of beer to play the slide guitar in his anthemic encore,
Alcohol
.  His peerless performance was a fitting finale to a superb weekend of entertainment— everyone left the O2 on a Brad-induced high.
- Laura Baldwin

All photos © Anthony D'Angio, Frography.com