Brooksie Wells - Stops Time
Down Home Dive Records
****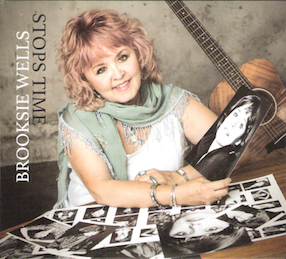 Singular is too inadequate a word to describe Brooksie Wells. Her mixture of tempo, melody, and imagery—each often changed within a single song—would be enough to make even the most travelled purveyor of singer-songwriters sit up and take notice. Nearly every one of her releases has felt familiar, even intimate, to date, and this latest, is no exception. She has a warm way with her listeners even if the sentiments come clouded in rich imagery or sad tales. The album primarily concerns itself with love, acceptance, community, and their preservation during troubling political and environmental times. These are not radical themes; they have long been the backbone of folk music. What ties it all together is, of course,
Brooksie's distinctive voice, never overpowering and consistently ceding to her team of talented players. Folk music is at its best when it helps uplift the listener in a deeper sense and she has lavishly honed that ability throughout STOPS TIME. Sometimes artists like Brooksie Wells tend to slip through the cracks in the frenzy of the world. But this LP, full of delicate noise and artful sophistication, deserves a pause in a harried time.
I felt listening to this record that all the songs just landed so perfectly, such a perfect beautiful listening experience. From its very first bars, Three Songs From Home is an intimate and direct conversation between artist and listener, a missile aimed straight at its target. It's all about returning home and the songs that get you there. The songwriting process on this one strikes the chord of an inner chakra in a vaporous swirl of voice and emotions bolstered by rich Dobro interweaved with mandolin and acoustic guitars. Sometimes is a blissful acoustic rendering of heartfelt emotion as fiddle, Dobro, fingerstyle guitar and vocal harmonies swim together in an affecting basin of sound as she takes listeners on adventures of the heart and mind. Tend the Nets is a quite stunning, richly enveloping song about offering support, friendship and compassion, especially during desperate circumstances, when chaos seems to loom. With its dreamy mandolin accompaniment this feels like you are experiencing a sweet musical destiny.
The up-tempo Talk To You features smart lyrics coupled with exquisite music that makes for a track that is pure brain-tickling ear candy. Brooksie's mastery of the casual melody is the backbone of every song here. Snakes In the Trees, Sweet Remembrance and Thinking About Fame all feel effortless as they float along in sequence. She revives a couple songs that she recalls from her younger days, both of which are given fresh interpretations. Gordon Lightfoot's Early Morning Rain is driven along by tender mandolin and sweetened by Paula Launy's fiddle in the background along with exquisite vocal harmonies. Neil Diamond's upbeat I'm A Believer, originally made famous by the Monkees, is given a more subdued downbeat reading, again with great interplay between mandolin and fiddle and ethereal harmonies.
Brooksie Wells is a talented songwriter and the truth of it is born out utterly by this latest collection of inspiriting modern folk tunes that burst with accessible melodies and gorgeous harmonies. She sings about love, loss and life's nuances in relatable ways. It takes patience, attention and self-awareness, qualities her music amply displays. The album bursts with optimistic energy that feels positively needed in the world right now.
November 2021