Brooksie Wells - In My Pocket
Down Home Diva Records DHD102
****1/2
Brooksie Wells is a singer-songwriter who has been touring and recording just below the radar for more years than she would probably care to remember. An artist of deep feeling and exhilarating talent, Brooksie's rich poetry and playful humour have made her a formida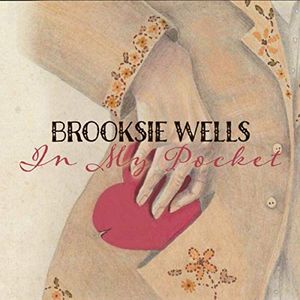 ble live performer. IN MY POCKET is her most intimate and elegant record; a wonderful, whimsical collection of enchanting, sometimes melancholy acoustic folk. She possesses a crystal-clear voice that draws you in to her compelling narratives, conveying equal amounts of yearning, vulnerability, innocence, and hard-earned wisdom. Her songwriting and storytelling abilities are undoubtedly strong and this album showcases them.
These new songs are infused with Brooksie's unparalleled dexterity on the guitar, cut with moments of songwriterly reflection. From her rallying vocals on the opening Love On to the humorous bluegrass-flavoured Bell Buckle and the closing optimistic In My Pocket, Brooksie dazzles vocally with her emotional, effortless delivery. The captivating Maybe Not is a lovely piece of work, graced with her characteristic lyric clarity and architecture of melody. The nostalgic Rappahannock County is the kind of illicit love story from days gone by, the one you learned about from your grandparents and their generation, when times were simpler and so was love. It's the love story we all still want to believe in. The interplay of Robert Bowlin's fiddle and Mark Stoffel's mandolin enhance the rustic backswoodsy feel of the tale. Brooksie's finger-picking—intricate and highly melodic—is a major presence on the largely acoustic Honeysuckle Rose, but never overshadows her well-crafted lyrics of missing a loved one. The sunny, glistening melody is perfect for the waning sunlight of summer as she paints a perfect portrait of her Virginia rural homeplace. In Captain John connections are made from the very beginning, tying memories together and weaving a story that leaves you wanting to listen over and over again while getting lost in the gently swaying music. She also adds in a wondrous rendition of Jackson Browne's Rock Me On the Water, one of my favourite songs from the early 1970s.
Brooksie Wells has created a winning record, filled with astute production, well-crafted lyrical content, enticing chords, beautiful melodies and sun-soaked choruses. An enticing collaboration of voice and guitar with intangible moods and resonances--a collection that calls you to reflect and be hopeful. Seek out this gorgeous album for her melodic sense, excellent guitar playing, rich voice and mix of sunny optimism with heartache.
June 2019