The world's favourite hobo, Boxcar Willie was a fine entertainer whose train whistle impressions helped him become a UK favourite before he had established any real reputation in his homeland. A dishevelled figure in his train driver's overalls, worn out shoes and a battered badge-studded trilby and usually sporting two day's growth of beard; designer stubble well before it became fashionable, Boxcar Willie always cut a formidable picture. He had this wonderfully infectious booming laugh, a genuine love for traditional-slanted country music and one of the friendliest personalities of any entertainer.

He was born Lecil Travis Martin in Sterrat, Texas, on September 1, 1931, into the world of trains, hobos and country music. The son of a railroad worker, the family home was just a few feet from the railroad tracks. He started to perfect his famous train whistle from the age of two. His father played fiddle and he was raised on the music of Jimmie Rodgers, Ernest Tubb, Roy Acuff and later was heavily influenced by Hank Williams. As a teenager he performed under the name of Marty Martin in the Dallas area, and by the time he was 16 was a regular on the Big D Jamboree radio show. Then he enlisted in the US Air Force. After 22 years of military service, he worked in many jobs while pursuing a part-time profession as an entertainer. He helped start the Cowtown Hoedown, a radio show out of Fort Worth, and had sporadic success with his music and recorded his first album, simply titled MARTY MARTIN, for a small independent Texas label.

He adopted the Boxcar Willie look and name in the early 1970s after seeing a freight train pass him by one day in Lincoln, Nebraska, as he was stuck in traffic. "There was an old boy sitting on a boxcar, dressed the way I dress today, and he looked like a buddy of mine named Willie Wilson," he explained. "I said: 'There's Willie in a boxcar,' and that's where it came from." In 1975, he decided to move to Nashville and try to make it in music. It was a tough time for him as his music was completely out of sync with what was happening in Nashville. One night in 1977, he filled in for an ailing George Jones at Nashville's Possum Hollow Club. Spotted by Scottish booking agent Drew Taylor, he was signed to play his first British tour the following year, playing in small clubs. Dealing mainly in material of a traditional nature, Boxcar Willie became one of the most popular country artist in the UK throughout the 1980s following a rousing debut at 1979's Wembley Country Music Festival. Audiences immediately fell for his charming authenticity and he became an overnight success after pounding the roads for more than 30 years. His name and the use of train whistles in his songs led to wide recognition and more than a little ridicule, but Boxie, as he became known to friends and fans alike, took it all in his stride.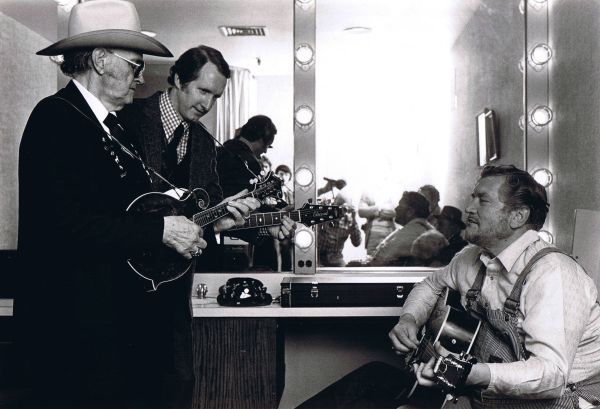 His KING OF THE ROAD album was heavily TV-advertised in 1980, reaching No.5 on the pop charts and becoming a huge seller. During the next ten years he achieved 15 gold and four platinum albums and recorded duets with Roy Acuff, Willie Nelson and Hank Williams Jr. His single Good Hearted Woman, recorded with German country singer Gunter Gabriel, was sung partly in English and partly in German. Though he remained a major crowd-puller in Europe, he failed to make much of an impact in the USA. He made his first Grand Ole Opry appearance in 1979, winning a standing ovation and became a member in 1981. He joined the cast of the TV show Hee Haw in 1982 and portrayed a hobo in Sweet Dreams, the Patsy Cline biopic. He recorded a self-titled album for, MCA Nashville. Thereafter he recorded a series of albums for Mainstreet. He only enjoyed scant chart success, charting ten singles in the early 1980s, the most successful being Bad News which made No. 36 in 1982. His signature Train Medley featuring seven train songs, charted in 1980 and again in 1983, but only reached a peak of No. 61.

In 1987 he settled in Branson, Missouri, with his own 900-seater theatre, making him one of the first to make that music town his regular venue. He did at least six shows a week, nine months of the year, until his health began to fail. In 1990 he opened the Boxcar Willie Railroad and Airplane Museum and the Boxcar Willie Motel next door to the theatre. Though never a big star name in his homeland, his larger-than-life personality delighted the inquisitive country fan. He died on April 12, 1999 in Branson, Missouri. He was 67 and had been battling leukaemia for several years. The larger-than-life Boxcar Willie really was a happy-go-lucky personality, very down-to-earth and always sporting a wide, infectious smile, he counted your friendship above all else and always took the time to talk to the media, his fans, in fact anybody who would listen. His passing left a void in the country music world.

Recommended Listening

Last Train To Heaven (Mainstreet 1983)
The Boxcar Willie Collection (Castle 1993)
Two Sides Of Boxcar (Prism 1993)
King of the Road (Platinum 2003)