First published in Country Music People, June 1973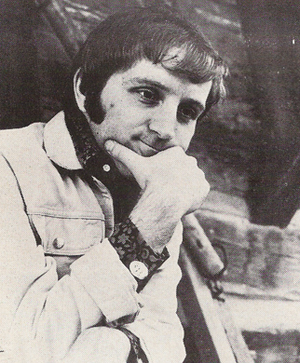 Bobby Bond is one of the many young talented writers that exist in Nashville, but don't receive their due recognition from the fans until they have had several years struggling to make a worthwhile living, then suddenly they are hailed as genius, or the greatest living poet of all time. This happened to Mickey Newbury, also to Kristofferson and is currently rubbing off on John Prine and Steve Goodman.
Bobby Bond's style of writing, though, is totally unlike those, his lyrics don't appear so deep as Newbury's, and his melodies are certainly not as adventurous as Kristofferson's, but he does possess the knack of being able to communicate with the listener, and through his songs he describes much about life which is easy to relate with.
I first discovered Bond's talents as a songwritter in 1968 with George Hamilton's version of
Back To Denver
, and since this recording Hamilton has recorded about a dozen of Bobby's songs. It's odd when you consider that most of Bond's songs deal with travelling, as the man himself prefers home life, and hates being away from his famliar surroundings for too long. This dislike of travelling could be attributed to his childhood in Michigan, where his mother was a pianist who taught music and also played at churches. She also travelled extensively, and as Bobby Bond grew up he searched for roots to settle down, these he has found with his wife Colleen and young son Mark in the suburbs of Nashville.
Bobby Bond was born on February 9, 1943, in Grand Rapids, Michigan, the only child of William and Monica Reinhardt. He changed his name while in his late teens as many people found Reinhardt a difficult and confusing name, and embarking on a career of music, this proved a stumbling block. He began his musical career with a high school rock band in the early 1960s, in his native Grand Rapids. It was a back-up group for the most part, playing behind visiting artists. Bobby at the time was keenly interested in country music, but he found that he was out on a limb. Determination was his habit, and in early 1962 he sent a tape of his songs to several publishing houses in Nashville, and was inspired to write more when some of his compositions were accepted.
After graduating from high school Bobby formed a new group and for almost a year they travelled around building up a reputation, not only in the small towns and hamlets, but also in the cities like Chicago and Dallas. Bobby was not really happy with all this travelling and when the group disbanded he moved to Nashville in the hope of establishing himself more firmly in country music. He had dreams, but as so often happens these dreams began to fade. He found the going tough and he left and and went to San Francisco. There he found more scope for just existing, and he played guitar in various clubs just to keep from starving.
In 1964 he realised that he was getting nowhere, and just living from day to day. This was no way to build a career, so he returned to Nashville with the intention of settling down and working on a solid career in music. While in Nashville he took a job working in the mailroom of a department store. This enabled him to return to his first love—songwriting. He never really enjoyed being on the road, and for another thing he liked to fool around with words.
His first chance to record came through one of the many budget albums, recording 'cover' versions of other people's hits, and receiving a set payment with no royalties to follow. His first album was the ROGER MILLER SONGBOOK for the Somerset label, which sold more for the name Roger Miller than Bobby Bond, but showed that he had a pleasant voice, which appealed, but certainly didn't excite. His next album on Somerset was dedicated to the late Jim Reeves and enjoyed large sales, but again it did nothing to establish Bobby Bond as a singer.
As a songwriter, though, things were different. His songs were beginning to crop up on albums, and being signed to the Acuff-Rose publishing company, he had all the necessary promotion he needed. A third album cropped up on the Time label (ON THE COUNTRYSIDE) and alongside well-known country standards, were several Bobby Bond originals which were moulded in the folk/country sound that was so popular around the mid-sixties.
It took a while for Bobby to learn to write commercial songs. He likes his own writing and feels he must believe in it, but just as important whoever hears it has to believe in it too. George Hamilton IV was one of the first people to believe in Bobby Bond, and after taking
Back To Denver
into the Country charts at the end of 1968, he followed with several more Bond compositions like
Anyway,
Back To Where It's At
and
Then I Miss You
, which went pop for The First Edition.
George Hamilton and Bobby Bond songs seem tailor-made for each other, Bond admits that George sings like he writes, and styles a song just right. It seems that Hamilton and Bond have many things in common. Just when Hamilton was returning to his grassroots and began recording in a much more countrified fashion, along came Bond with just the right songs.
Back To Where It's
At
was one of the first songs that hit the charts with the message to get back to the country and away from the grime and pace of city life.
His influences are the best—and he rates the best as being Mickey Newbury, Bob Dylan, John D. Loudermilk and the underrated Red Lane. But never can Bobby Bond be accused of copying any of the above, his songs have a distinctive style about them, they are easy flowing, but complex enough to really hold the listeners attention.
His standout song is most probably
Six White Horses
, which gave Henson Cargill a hit a couple of years ago. The version to listen to though is from Waylon Jennings, who really brings the story to the listener, and makes the story really convincing.
In 1968 Bobby Bond hit the charts himself with
One More Mile
on the Warner Brothers label. Although the record only hit the lower rungs of the charts, it was enough to get Hickory Records more interested in Bond. Hickory was part of the Acuff-Rose group, and being signed to the record company that was owned by the publishing company that he worked for enabled Bobby Bond to be under one roof.
Bobby Bond would like to develop his own style, to be an individual, but part of the new country sound. Not with strings, but with the basic country instrumentation used in the style of today. Singers and writers of today are exposed to different types of music, and consequently this rubs off on their attitudes towards music. Although Bobby Bond accepts that he is part of country music, he doesn't want to be tied down to the tight confines that one style of music can impose.
Naturally he wants to be famous, but with some limitation. Success means having enough money to do what one likes. Having a small farm, living life with comforts and being accepted as a successful songwriter. He's not really interested in being a big star. Just recently though he's begun performing and actually admits to enjoying it—you never know but Bobby Bond could well become one of those reluctant  big stars—he has the talent.