Bill Kirchen - The Proper Years
The Last Music Company LMCD208
****
I've loved the music of Bill Kirchen for more years than I care to remember without fully realising it. Way back in 1972 one of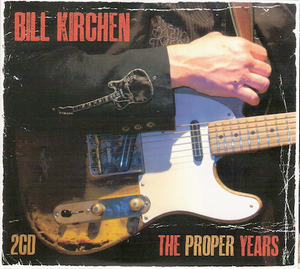 most surprising hits of the year was an inspired remake of Johnny Bond's 1960 roadhouse classic Hot Rod Lincoln by a previously obscure band that, as their name suggested, seemed to have appeared out of nowhere from the depths of space—Commander Cody and His Lost Planet Airmen. The song's monologue-like vocal recounting of a drag race was by George 'Commander Cody' Frayne, but for many, it was Bill Kirchen's turbo-charged, full-tilt Telecaster boogie that stole the show and made the record an instant classic for a second time. Bill was to grace the Commander's records for the next ten years, every single one of them landing in my rapidly expanding record collection. I didn't really think about Bill Kirchen for years until the autumn of 2004 when Micky Kemp, a good friend, asked me if I'd be interested in promoting a gig featuring himself and this guy from the States called … Bill Kirchen. I almost fell off my chair in my enthusiasm. The gig was not as well supported as I'd hoped, but the evening turned out to be an unalloyed joy from beginning to end. That led to me doing a little bit of a catch-up on Bill's recordings, many of which are collected on this 2-CD compilation covering his releases on Proper Records between 2006-2016.
Bill's music is hearty and out of step with current trends: guitar-powered rock-country songs steeped in West-Coast twang and 1960s honky-tonk, marked by rugged vocals intertwining with infectious guitar melodies and head-nodding rhythms which all adds up to a must listen for me. These 38 tracks are an impressive body of work that upholds the finest garage tradition. Any young pretenders can sling those jangling guitar chords and bouncing rhythms into ear candy, but the true greats are the ones who spin things in their own unique  direction and Bill Kirchen gives evidence of the talent that's kept him a cult figure of sorts for many years and through many musical fads. An indication of how highly he is regarded is this list of guest singers and musicians who appear on the various tracks—Nick Lowe, Geraint Watkins, Commander Cody, Dan Hicks, Maria Muldaur, Paul Carrack, Elvis Costello, Norton Buffalo, Jorma Kaukonen, Butch Hancock, Gurf Morlix, Rick Richards, Cindy Cashdollar, Chris Gaffney, oh and the aforementioned Micky Kemp. Some of the tracks feature Bill's regular trio Too Much Fun (from the title of a Commander Cody hit): Johnny Castle (bass) and Jack O'Dell (drums).
It's impossible for me to mention each and every one of these tracks, so to give you a little taste, I'll just hone-in on a handful that have made the biggest impression on me over the years. Being a massive Arthur Alexander fan, I cannot ignore If It's Really Got To Be This Way. This sombre song unfolds with the easy grace of a dusty sunset and an open-road drive with tinkling piano, swirling steel and some restrained yet muscular electric guitar behind Bill's matter of fact yet regretful vocal. Merle Haggard's non-hit classic Shelly's Winter Love fits the lanky guitarist like a pair of well-worn boots. A plaintive love ballad in which the mellowed-out guitar paired with his vocal creates an atmospheric, vaguely eerie vibe on a song made for late-night smooching around a dimly lit dance floor. Truck Stop At The End Of The World is a reprise of a song written by Kirchen and Frayne nearly 40 years ago, a fantasy about driving that 18-wheel Kenilworth down the last post-apocalyptic stretch of four-lane amid a world laid ruin. One of those songs that begs to be blasted with the windows rolled down while you cruise backroads trying to avoid the cops and have a good time. There are several more truck-drivin' songs featured here including Semi Truck, an infectious West Coast country-rocker with a chipper enthusiasm reminiscent of Buck Owens in his 1960s heyday. With its rhythmic bass line to the lively Telecaster accompaniments, it's a track that's hard not to love. Womb To the Tomb is a plodding gothic song straight out of the old Dick Curless songbook and Mama Hated Diesels, though a co-write by Bill with Commander Cody, evokes the sound of Red Simpson to perfection. Naturally, there's also a superb revival of Hot Rod Lincoln, in which Bill shows-off his guitar prowess paying tribute to everyone from Duane Eddy to Grady Martin, the Ventures to Doc Watson.
This wide and varied collection is an excellent testament and tribute to Bill Kirchen's everlasting talents as a musician. He matches the songs with guitar sounds that showcase not only his mastery of the instrument but imbues them with a feel and nuance that complements each and every one. The sound is rough but warm, full of turns and twists through a soundscape of honky-tonk, rootsy rock, Americana twang, western swing and his own original touches, unbound by genre. He invokes the forgotten past of dimly lit Texas barrooms of decades past and the humble musicians who populated them. We're all lucky to hitch a ride on this road to honky-tonk heaven.
May 2020