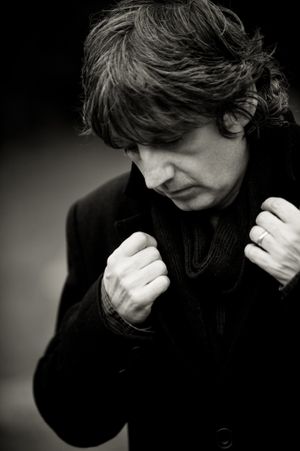 Irish singer-songwriter Bap Kennedy, the one-time lead singer with rock band Energy Orchard, passed away on November 1, 2016, following a lengthy battle with cancer. He was 54. Though I had Energy Orchard's 1990 self-titled debut album, it wasn't until the late 1990s that I can say that I genuinely became acquainted with Bap and his music. I caught several of his London performances, mainly at the Borderline, and interviewed him a few times, finding him to be a genuine, down-to-earth guy.
Though he cut his musical teeth on punk rock and was deeply involved in the late 1980s London rock scene, his passion was always country music. "Hank Williams is a huge influence because of the sensitivity and deep simplicity of his music, which is something I try to bring to my own songs," he said a few years ago. "There's a big difference between a throwaway line and a simple, profound line, but they can look very similar to the casual observer. For me, it's about trying to find a phrase that sums up a feeling."
Bap Kennedy had this natural skill of being able to write about everyday feelings and emotions and matching them to inventive and memorable melodies. Over the past 20 years h
e quietly released his own albums to widespread critical acclaim and a growing fan base, ringing the musical changes, but maintaining a strong songwriting ethos that married his love of American music with his Celtic roots.
He was born Martin Christopher Kennedy on June 17, 1962 into a staunchly Catholic family in the Falls Road, Belfast. His nickname comes from being part of an Irish baker family. If you walk into a bakery in Ireland and ask for a 'bap,' you'll walk out with a bread roll. There are lots of sons of bakers called Bap running around Ireland.
Bap grew up, like so many in the 1960s and early 1970s, completely enthralled by everything American. To distract himself from 'the Troubles' in Northern Ireland he immersed himself in music. In 1978 a 16-year old Bap Kennedy turned up at a Belfast club with a hastily formed punk band called Sellout to support local legends Uncle Waldo—a rock covers band who could actually play their instruments! That was the beginning of his musical career.
A couple of years later, having played in several other local bands, Bap formed the band 10 past 7, achieving national recognition when they appeared on the cult Channel 4 music show The Tube in 1983. The band was signed to the Good Vibrations record label by Terri Hooley—who had discovered The Undertones several years earlier—and they released two singles before disbanding when Bap left Belfast for London to pursue a recording contract.
The promised contract never materialised and for a time Bap was stuck in London on 'dole street.' In the meantime he was working on building sites, scratching around and trying to do little pub gigs to make some money. A couple of the guys in the band from Belfast made the move to London, including his younger brother, Brian Kennedy, who was to be the lead singer of the new band, Energy Orchard, that they were putting together.
Brian departed for a solo career and Bap took over the reins as rhythm guitarist, lead singer and primary songwriter. Highly regarded on the tough London gig scene, Energy Orchard came to the notice of Nashville country-rock singer Steve Earle, who was instrumental in them signing with MCA Records in 1988. Two years later they released their self-titled debut album to critical acclaim and toured the UK and America, including support slots with Van Morrison and Steve Earle.
The second album STOP THE MACHINE followed in 1992. It was recorded in Los Angeles with legendary producer Glyn Johns (Beatles, Led Zeppelin). By 1993 the band had left MCA and signed to Transatlantic Records. Two more albums, SHINOLA and PAIN KILLER, kept the band on the road until 1996, when everyone felt it was time for a change. ORCHARDVILLE (1996) was a farewell live album from Energy Orchard for the fans, recorded at a raucous St Patrick's night gig at the Mean Fiddler, one of London's best known venues and a favourite of the hard living Belfast boys.
"We were just six young guys from Belfast who thought they knew what they were doing and didn't have a clue," Bap recounted. "We had bad management, bad attitudes, and too much money. In the end, it was a very bad experience, but I learned a few hard lessons. I think I came out of it a stronger person and a better writer. I suppose it was a bit of an apprenticeship."
Energy Orchard had been a wild and crazy ride—a dream come true for the band—but for Bap Kennedy there were new ideas to explore, and he was determined to continue to make music as long as he could breathe.
After Energy Orchard split up, Bap received a phone call from Steve Earle, who offered to produce his first solo record. It was in June 1996 that Bap walked into Room and Board Studio in Nashville with a suitcase full of songs. The sessions were built around the heartbeat of the Train A'Comin' band, including the great Roy Huskey Jr on bass, Peter Rowan on mandolin and guitar, Jerry Douglas on Dobro. The tracks were cut in just a week.
All the songs on DOMESTIC BLUES were written by Bap except
Angel Is The Devil
, which was written by Earle. The album was released on Earle's record label E-Squared and became a commercial success, charting at number eight on the Billboard 200. For me it was an excellent re-introduction to Bap Kennedy and his songwriting and I was totally smitten. The whole album was full of great lyrics, memorable melodies and exquisite musical arrangements. The bonus is the wonderful, lived-in-voice of Bap Kennedy; here was a guy who had been around the block, faced several heartaches and enjoyed some good times, and was willing to share his experiences with the listener.
Several songs from the album were used for movie soundtracks, including
Vampire
appearing in the soundtrack for the Oscar nominated film You Can Count On Me, which also won the Grand Jury Prize at the Sundance Film Festival. Three other songs from DOMESTIC BLUES were also used in the film Southie. In 2012, the album's title track was used as the theme song for BBC Radio 4 comedy Happy Tuesdays.
Following in the footsteps of Earle, Bap set up his own record label, Lonely Street Discs, in London in 1998. His first release was the self-produced HILLBILLY SHAKESPEARE, a fond tribute to his idol Hank Williams. This album was not widely distributed, but remains for me, one of the finest and most sincerely felt treatment of Hank Williams songs, with BJ Cole in excellent form on pedal steel guitar.
Of course, the label was named after one of Hank's best-known songs, as was Bap's next full album, LONELY STREET. Released in 2000 it was a concept based loosely on the lives of Hank and Bap's other musical hero, Elvis Presley. There was what can only be described as a traditionally-slanted country feel throughout, with many of the songs, such as
Good Times On Franklin Road
, inspired by his trips to Nashville. A particular favourite of mine is
Be Careful What You Wish For
, with some timely harmonica weaving in and out of the basic rhythm track and guitar work lifted straight out of the early 1950s. The timeless ballad
Moonlight Kiss
was later used in the soundtrack for hit Hollywood movie Serendipity (starring John Cusack and Kate Beckinsale).
For his next recording project Bap received much help and encouragement from fellow Irishman Van Morrison. Released in 2005, THE BIG PICTURE was recorded at the Wool Hall, (Morrison's Bath studio) and Garage Studios, East Grinstead. Produced by Bap and Martin Smith, the album featured a host of players including Ed Deane, James Walbourne, Martin Hughes, Rory McFarlane, BJ Cole and Kieran Kiely. It was a stunning album in which Bap seamlessly melded his Irish roots with a deeply-felt country influence, emphasising the spiritual common ground that had long united the disparate elements of his musical persona.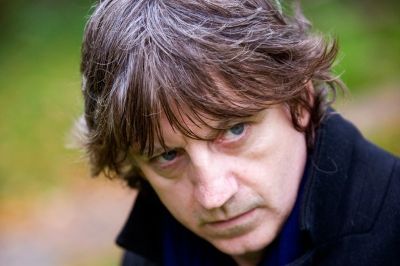 Following the release of the album, Bap was invited by former Dire Straits frontman Mark Knopfler to tour as his support act. This led to Bap touring the USA and Europe as Knopfler's special guest, including a five-night stint at London's Royal Albert Hall. During the tour there was much discussion about Knopfler producing Bap's next album, but it became increasingly more difficult to schedule studio time that worked for both of them.
In the meantime, Bap moved back to his native Belfast. Shortly after returning, he hosted a songwriting workshop at the Belfast to Nashville Songwriting Festival, where he met author and former lawyer Brenda Boyd, who was participating in the workshop. The two soon became a couple, and they were married in 2008. Brenda, who has written several advice books for parents of children with autism and Asperger syndrome, became a regular member of Bap's live band, as his bass guitarist and backing singer and has also provided backing vocals on his recordings.
Brenda played a major role in Bap, a one-time heavy drinker, becoming teetotal. With a regular musical partner, Bap was eager to get back in the studio to record a new album, and rather than waiting on Mark Knopfler, decided to self-produce 2009's HOWL ON. A concept album, it was inspired by childhood memories of the 1969 Moon Landings, cowboys and otherworldly rock stars like Elvis Presley, Hank Williams and Jimi Hendrix.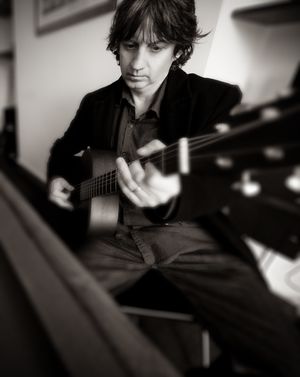 The first album that Bap had recorded in Northern Ireland, HOWL ON had an honest rootsy feel that reflected the new spirit evident, not only at home in the North of Ireland, but also filtering across from the land of dreams, America. There appeared to be a new hunger for authenticity and real values that manifested themselves in the catchy tunes that Bap had written for the album. The only non-original was
Hey Joe
, chosen as a nod to that time period, as it had been the last song performed by Jimi Hendrix at the Woodstock Festival.
Finally Bap got to work in the studio with Mark Knopfler on
THE SAILOR'S REVENGE. Two years in the making, the album was r
ecorded at Knopfler's British Grove Studios in London and released in 2012. Seamlessly the album united the Irish and American musical traditions in a series of captivating original songs. "I've always looked to America for my inspiration, but there are also a lot of Irish influences in this record, especially with the musicians who are on it," Bap pointed out at the time. "Irish and American instruments work together because they're supposed to, but I haven't heard many records that unite those instruments and those grooves. It just sounds like what I want to hear."
Knopfler surrounded Bap with a crack Irish-Anglo-American studio band whose stylistic polarities are set off by the lap steel and Dobro of Nashville-based legend Jerry Douglas on the one hand and traditional Irish musicians Michael McGoldrick (flute, pipes, whistle) and John McCusker (cittern, fiddle) on the other. Knopfler played guitars and backing vocals, while Brenda Kennedy harmonised with her husband on
The Beauty of You
.
For his next album, LET'S START AGAIN, Bap recorded in his native Northern Ireland with producer Mudd Wallace. Wallace, who had produced several albums for Northern Irish alternative rock band Therapy?, was a long-time friend of Bap's and had worked as producer for his early band 10 Past 7. He used his regular road band
augmented by skilled Irish guest musicians on an album that leaned very much into the Americana idiom.
There were touches of old-school country, pure Texas honky-tonk, swing, easy-going calypso and south of the border Mexicali, all given a fresh and invigorating modern twist with a timeless sound for an ageless crowd. It remains my favourite 'country' album of 2014.
Bap Kennedy was very much a one-of-a-kind singer and songwriter. His greatest strength as a songwriter was the ability to create interesting characters and stories while branching out into a much wider range of musical styles. Plumbing depths of emotions he wrote songs that either break your heart or make you want to drink a bunch of Buds and shoot pistols in the air. He was taken ill in May 2016 with stomach pains and was diagnosed with pancreatic and bowel cancer. He started a Health Blog on his personal website, detailing his progress and remained very upbeat right to the end.