Autotelic/Thirty Tigers
****1/2
Allison Moorer is an artist who has a big, warm southern voice; also a great songwriter who does not get enough attention. Her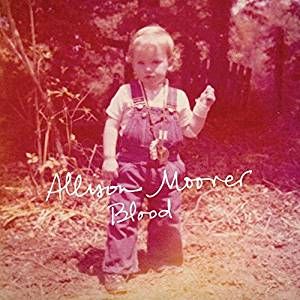 new album, BLOOD, is a dark and melodious collection of carefully culled, personal and obviously honest songs whose time has come. Allison's writing, which here strikes as an attempt at reconciling—or reckoning—the complicated and harrowing childhood that she endured with her sister, singer Shelby Lynne. For years they lived in a dysfunctional family in which fights, alcoholism, music, poverty, love, intimidation, abuse, passion and neglect were everyday happenings, sometimes all in one traumatic day. It all culminated when the girls in their mid-teens witnessed the horror of their father as he shot and killed their mother before turning the gun on himself.
Now, more than 30 years later, Allison has reached a point in her life when she is ready to lay bare her soul with the publication of her autobiography and this companion song cycle, that is so deeply rooted in her own first-hand experiences. The songs often take on the feel of a diary spanning an incredibly heartbreaking time in her life. Granted, heartbreak is hardly unique to her music, but few songwriters pull off the pain and loss with such consistency and aplomb. Raw, genuine and full of passion and grit, BLOOD is the album that Allison has avoided making for years; a timeless journey into life and loss that offers the listener some of the bravest, directly confessional work of any songwriter.
She has in the past recalled periods of her tough childhood in song, most notably with New Year's Day, which was told from the perspective of a young girl who tries to 'stay out of the way' as her parents fight. Then there was How She Does It in which she wrote about her mother sneaking out of the house and driving away to leave the misery behind. Another song, Cold Cold Earth, about her parents' last hours on earth, was a hidden track on her 2000 THE HARD PART album but is now revived for this new album. Unashamedly stripped back, the sorrowful song is strangely life-affirming … a tribute to the power of healing and reconciliation.
Allison Moorer's voice is not a pop voice, it's a genuinely country voice, and it's magnificent. Even on the bluesy, slightly gospel-styled Bad Weather, there's no doubt which side-of-the-tracks this feisty woman comes from. Her emotional depth is heavy and drawn out in her deep Alabama voice as she confronts depression and heartbreak with sensitivity and rare empathy. Poignant and oddly beautiful her calming words in Nightlight beckon to you through her melodic voice and delicate harmonies that belie the fearful plight of two little girls cowering in their bedroom through yet another night of drunken violence. With both bravado and solemnity mixed with passionate fervour, Allison's voice boasts an unrivalled, soaring strength that cuts right through The Rock And The Hill as she morphs from heartbreaking to soaring and every place in between.
I'm The One To Blame is a stark and stripped-back beauty that relishes in its own raw simplicity. The song began as unfinished lyrics that Shelby Lynne discovered in their father's briefcase to which she added music. A powerful and moving confessional the lyrics are so raw and vulnerable; bluntly honest songwriting with a core of pained emotional connection. With a voice that wavers between childlike wonder, precious frailty and weary resignation The Ties That Bind mesmerises with her flawless vocal delivery. There's a beautiful sense of balance to Blood, a deep breath that steadies the hand as she begins to sum up the story she needed to tell. She closes out her tragic tale with Heal, in which the tones and textures seem to disappear like breath off a fresh razor. But somehow the tranquillity and sense of recovery of the track lingers long after it's gone.
Allison Moorer's lyrics tell specific stories in the manner of the best country songs. They are haunting yet empowering; enticing with lyrics and vocals that demand to be heard and the instruments achieve soothing qualities that, just as poignantly, become jarring. Though this album is no easy listen, at no time does it become too difficult to hear. If anything, it has an hypnotic quality that demands you listen again and again, however painful that might be, as the healing properties of the songs engulf you.
October 2019