Ali McGuirk - Til It's Gone
Signature Sounds
****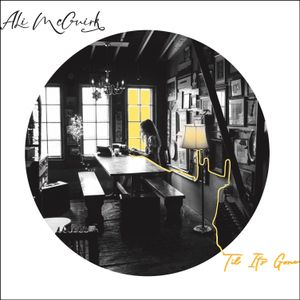 Why just sing songs, when you can build worlds? Over the course of nine songs, Ali McGuirk navigates perennial themes, including romance, discrimination, oppression and self-belief, all the while sustaining an optimistic tone, her soulful voice clear and passionate. The album gives us pause, a pause for reflection and renewal, which can be a cure if we want it to be. It is undeniably sad yet also affirming when considered in its entirety. Between her striking voice and ability to captivate one's vision with her lyrics, Ali creates an imaginative world while taking a deeper look at the one we live in. One that's not confined to any particular genre or selective set-up. She offers hooky melodies and evocative soundscapes, reconfiguring approaches associated with a wide array of genres, including r&b, soul, folk, rock and classic pop. The real strength of this album lies not just in the quality of the songwriting which is excellent throughout, but also in Ali's voice, which has a beautiful timbre that's packed with raw power and nuance.
The sinuous X Boyfriends rides a melancholy music bed that would have been at home on 1970s radio yet still sounds stunningly fresh and modern. It's complexion in disguise, perfectly aligning dynamic layers of guitar chords and a simple backbeat, this song is a lighthearted look back with fondness of past dalliances rather than bitter regret. The Work is so dense and immersive that it feels powerful without deploying the visceral elements typically associated with power. Dealing with the unspoken conversations of privilege, identity and oppression, Ali's vocals are wearisome yet honey sweet, but the band's inexorable groove suggests that the revolution is nigh, and it doesn't have to be violent. The sombre Let It Be You is full of a rawness and a melancholic streak all Ali's own, with a classic old school r&b vibe. It's a soothing meditation on the mysteries of life, the perfect sonic cushion to ease our increasingly chaotic day-to-day existence.
All Back is a spellbinding song for the slow crawl dead of night, a ghostly whisper in the ear. Echoes of Al Green and Willie Mitchell come to mind, though there's nothing deeply spiritual here; the stunning lyrics are laid on top of an irresistible groove. In a song about post-pandemic and change, Ali finds a way to draw the listener even deeper into her journey that we all need to follow. Her crystalline voice is in one swipe sugary and sultry at the beginning of Leave Me, her lyrics the lovelorn stuff of an earnest folk strummer. Then the song builds with lavish strings and electric guitar doodling leading into its extended psych-rock outro. This segues neatly to the closing Milk, which shows that she can just as easily write a banger as a stately ballad. The song opens with a rock-inflected riff that quickly blossoms into a growling blues shout. Guitarist Jeffrey Lockhart is all around the melody, wailing like a lost soul celebrating a rebirthday, knocking out windows and tearin' down doors. Ali grinds out the lyrics, by the last lines of the vocal refrain, her vocals rise to a full-throated howl, and she closes the song with a Joplin-like blues moan, sending the whole song up into the high ether as Lockhart's guitar winds the song down.
September 2022