Alex Williams - Waging Peace
Lightning Rod Records
***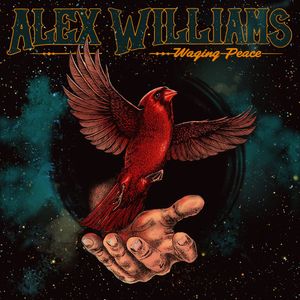 Five years ago Indiana-born outlaw country singer Alex Williams was signed to BMLG Records (the same label as Taylor Swift, Rascal Flatts, etc). It was akin to an opera singer being signed by PWL (Pete Waterman) in the mid-1980s. Though Alex's BETTER THAN MYSELF, debut album, was well-received, the BMLG folks really didn't know or understand how to handle the long-haired renegade and his music. The good news is that Alex is back, signed to a label more in-tune with his image and music. This superb sophomore album rumbles into his core of blue-collar, 'Regular Joe' country anthems as he delivers a dozen twangy, transportive tunes that evoke many of his beloved country forebearers, such as Waylon, Hank Jr, the Allmans, Paycheck and Jerry Reed. As a singer, songwriter, and composer, Alex is helping to move country away from oft-maligned tropes and bland hooks. And, along with other talented neo-traditionalist artists, he's helping to restore heart and quality to a genre rich in tradition and quality. Deadly serious about paying tribute to 1970s Outlaw country, and the acts that influenced its sound, his brand of robust, yet emotional country draws from an eclectic group of influences including partying, travelling, romantic and life mis-steps and growing up in general as he shows new maturity, blending Southern rock with stripped bare confessional cues to hang a tonal tightrope that's a pleasure to watch him walk.
Conspiracy charges forward with irrepressible energy, bolstered by ripping guitars and rollicking drums as he dismisses the 'conspiracy theories' of the past few years, as he boldly states that he is his own man with a mind of his own. His take-no-prisoners fury and snarky chorus is a vocal playground for the talented singer. Here's an artist willing to push the genre's boundaries while never coming unglued from his country moorings. Reminiscent of Ol' Waylon in his more reflective mood, Alex's lived-in baritone breathes genuine life and depth into The Best Thing. A co-write with harmonica ace Mickey Raphael, this is a melancholy, country-tinged piece about a man leaving his woman for her own good. Dan Dugmore's pedal steel and Raphael's harmonica add just the right amount of regretful pathos. He traverses down the truckers' highway with Double Nickle, bringing back memories of Dave Dudley, Dick Curless, Red Simpson & Junior Brown. Though his trips up and down Interstate 55 are for one-night shows, he utilises the truckers' lingo to tell his yarn. This is classic country, simultaneously classy as he blows his lungs out surrounded by the guitar players' barbed-wire licks, Dugmore tinkling along happily in the background.
The fuzzy Old Before My Time is a foot-stomping two-stepper anthem about confronting your demons, no matter how hard you may have tried to avoid them. There's a similar vibe to Rock Bottom as he channels the weariness of a late 1970s Waylon with his vocal delivery of this down-and-out saga. Suitable for a mellow late night whiskey session, this easy shuffle draws on moral fibres with a classic Jennings' rhythmic track that is irresistible. Muscularly melodic, Alex Williams hits an array of country and Americana styles throughout an album that you can definitely keep on repeat.
https://alexwilliamsofficial.com
October 2022