Alex Miller - Miller Time
Billy Jam Records
****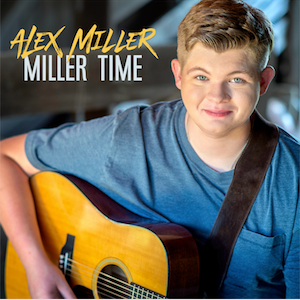 Just over a year ago, American Idol launched teenage country singer-songwriter Alex Miller into the spotlight. More than that, it also introduced traditional country music to a much wider, and dare I say it, younger audience. This aptly titled debut album continues that initial introduction with ten classic country tracks, several of which young Alex wrote or co-wrote, adding further credence to his blossoming talent. With its emphasis on archetypal country themes and sounds, this is a deliberate record of tight twangy songs and sad-edged ballads. Credit Alex and producer Jerry Salley with finding common ground within a template that borrows liberally from bluegrass, western swing and rockabilly, while also daring to push some parameters and venture beyond the tried and true. Alex comes across a lot older than his youthful years, a demeanor that perfectly fits his passion for genuine country music. He shares love and loss, some life lessons and those bits he hasn't quite figured out yet, too. It's affirming and invigorating, the songs delivered honestly, and it presents itself as an easy keep amongst today's traditional-sounding country records. That, then, is the essence of this album, an unabashed attempt at referencing the roots of a timeless tapestry. That's what enables Alex Miller to absolutely achieve his ambitions.
Salley, who also co-wrote four songs with Alex, realises his vision with clean, unfussy production and backing from some of Nashville's finest and most inventive musicians including Brent Mason (electric guitar), Mike Johnson (steel guitar), Dirk Johnson (keyboards), Jason Roller (acoustic guitar, fiddle), Robb Tripp (drums) and Kevin Grantt (bass). Breaking the Bank, sets an upbeat tone early on but the second song of the set, Through With You, rolls around, it becomes apparent that Alex's craft also extends to an ability to share soul-stirring sentiments in the midst of the more exuberant trappings. The easy-going Girls Must Be Clumsy, with its insistent toe-tapping rhythm, comes across like a long-lost Tommy Collins' 1950s classic that was unearthed from a long-gone archive. If you're familiar with You Better Not Do That or Untied, you'll know just what I mean. There's also some fiddle-fueled revelry with Don't Let The Barn Door Hit Ya, a western swing tune that allows each of the studio musicians to show off their skills and Alex to demonstrate his vocal versatility.
Though he didn't write Kentucky's Never Been This Far From Tennessee, the lyrics hit home for this Lancaster, Kentucky farm boy who is now entrenched in Nashville chasing his musical dreams. The longing in his voice for his loved ones just one state over, is so genuine and touching. The steady but assertive I'm Over You, So Get Over Me, is the song he performed on American Idol, but this new studio version takes the song down a rural highway. straight to some far-out saw-dust floored honky-tonk, full of couples two-stepping away on a Saturday night. Another song just right for that Saturday night shindig is I'm Done, a near-perfect two-stepper with natural interplay between fiddle, steel, piano and Brent Mason's tasteful electric picking, which is a million miles removed from the raucous rock guitars that dominate so much of today's co called 'country' music. Mason's fiery guitar further expands the sonic spectrum of Alex's revival of Freeborn Man without stepping one inch outside of the traditional country music boundaries. Alex Miller closes the album with Hank Williams' stirring I'm Gonna Sing, a fine slice of Southern gospel for which he is joined by the legendary Oak Ridge Boys for a fervent gospel rave-up.
April 2022