Abby Posner - Kisbee Ring
Self-released
****
A new name to me, Abby Posner is a skilled songwriter, singer and multi-instrumentalist based in Los Angeles, where she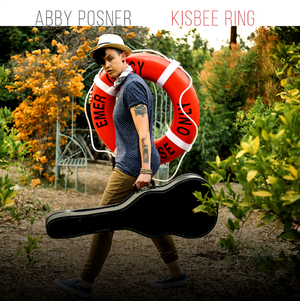 performs solo or as Abby and the Myth. She is also a renowned composer for films and TV including Old Fashioned, The Fosters, This American Life, The Art of More and Last Tango in Halifax. She has previously released recordings with the Myth, but KISBEE RING is her first solo album. A pure delight from start to finish that sounds like a real labour of love, it's almost a one-woman show. She sings, played most of the instruments, wrote all of the material and produced, arranged and mixed all the tracks. The only other musicians are M'Gilvray Allen (fiddle) and Ross Newman (backing vocals) on Wishing Well, creating an ominous, transfixing drone underscoring the stark grace of Abby's vocal performance.
Her songs are singular and hopeful and just so deeply good. The clever use of lyrics tell detailed stories yet allow the listener to feel as though it's an experience they have lived through themselves. She uses her music to confront personal experiences in both her past and present. Kisbee Ring is another word for Life Preserver and she uses positivity as a remedy for depression, anxiety, loneliness and heartbreak, as she chooses to articulate the lexicon of musicality. It is a lexicon that might prove redemptive for the audience, as music can offer both escape and entry, allowing the listener to break out of the trap of modern life and gain entrance into opportunities for understanding. It's the same sort of transcendence that makes a sad song effective because everyone has felt sad or makes a dance song work because everyone has felt an outburst of joy. The tunes are sublime, some upbeat, but all have a personal quality as she embodies one of the true beauties of creation: processing life through art and being born anew.
On the shimmery Fall Apart, Abby's woozy vocals mesh so sweetly with the jaunty sonic mood that you may not even notice it's a break-up song. It's waking up not knowing what new experience will be enjoyed or what mistakes will be made. It's feeling something for the first time. The Trilogy feels like a much-needed awakening, an empowering anthem simmering with so much cinematic intensity and emotion bubbling up through its glowing, dreamlike haze that it might just make you feel invincible. The flowing Low Low Low drenches the atmosphere with ethereal, finger-picked guitar and breathy vocals. It's bracing—like that early morning swim—initially pulsing, then still as when you close your eyes and can only hear the air funneling in and out of your nose. It ranges from desperation and doubt to acceptance and resilience, all without simplifying an unnavigable emotional storm.
The catchy Emergency Use Only explores dysfunctional communication breakdown and its effect whilst serving as an overture to the rest of the album. The song offers gratitude for the present moment, as well as a warm acceptance of an unknowable future. Achieving either is no small feat, but Abby makes it look easy
with its twilit grooves, enveloping textures and post-relationship ruminations. Sonically, Joshua Tree is reserved but rich and sticks mostly to a soft, slow sound, but plays with the addition of banjo. The award-winning Blind Spot is inspired by the racial tensions of the past year or so and doesn't shy away from sharing the blame on all of us for the ongoing situation. This is music that slowly unveils itself, scratching away each layer to find there's so much more lurking underneath. KISBEE RING is a record to live in and embrace, a new friendship to make that already feels like the start of something magical.
November 2021